Wearables
Samsung Gear S2 Goes Official With Standard And Classic Models
Packs in an e SIM meaning that it does not need you to lug around your smartphone.
While we have witnessed plenty of leaks and teasers, Samsung decided to jump ship and give in to fans and those eager to have a look, by announcing its Tizen OS-powered, Gear S2 smartwatch today, before its IFA unveil.
And while we were expecting to see one Gear S2, Samsung announced two of models of the Gear S2, the standard and a polished classic model as well. Samsung will also launch two versions of the Gear S2 and the classic, one that comes with the standard package and a slightly larger variant with an e-SIM.
While we were already impressed with Samsung's design chops in the Gear S2 teasers, the classic model looks more traditional, while the standard model goes for a modern and minimal look.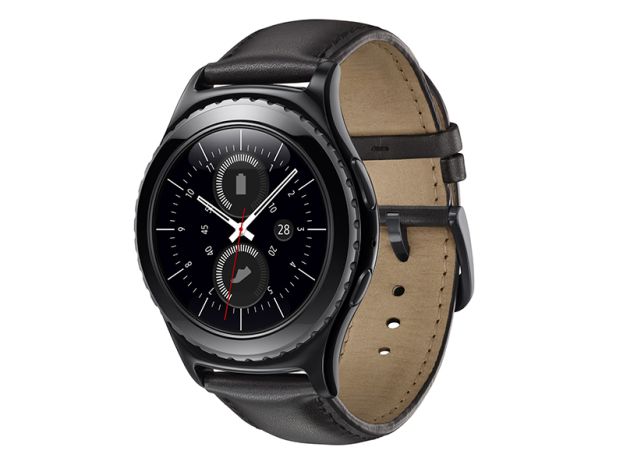 Coming to the hardware specs of the Samsung Gear S2:
We get a 1.2 inch circular (yes, it is a complete circle) Super AMOLED display, sporting a resolution of 360 x 360 and a commendable 302 ppi
Inside, there is a 1 GHz dual-core CPU with 512 MB of RAM (remember it runs Tizen so it is light) and 4 GB of internal storage
For once Samsung did the smart thing and opted out of a camera on the S2
As for the connectivity options, we have Wi-Fi, Bluetooth 4.1, NFC and 3G network connectivity on some models
The standard Gear S2 models will feature a 250 mAh battery, while the 3G variant will pack in a 300 mAh one
The 3G model of the Gear S2 will also be larger in size, 44.0 x 51.8 x 13.4mm (at 51 grams) versus the 42.3 × 49.8 × 11.4mm (standard) and 39.9 × 43.6 × 11.4mm (classic) non - 3G Gear S2 models. The casing of both the smartwatches are made of stainless steel. The standard Gear S2 will be available in silver/white silicon band and dark grey/black silicon band options. The classic will be available in just one option black with black leather strap.
Coming down to the software bits, the smartwatch runs Samsung's Tizen OS and the company states that it will have an app bank available at launch. More details about its connectivity to Android and iOS will be available at launch on the 3rd of September.
[Related: Five Problems With Smartwatches Today]
TAGS: Samsung Gear S2, Samsung, wearable, smartwatch
This Is What The Next Motorola Smartwatch Looks Like
The leaked press image comes from @evleaks.
The next generation smartwatch from Motorola refuses to maintain a low profile. If those photographs posted by a user were not enough, press images of the next Moto watch are out thanks to the popular "leakster" @evleaks.

In the tech world, there are leaks and speculations we take with a pinch of salt. And then, there are the ones from @evleaks, which are mostly right on money.
The Moto 360 has been one of the most loved Android smartphone so far. The latest leak confirms early rumours of two dial sizes and a change in the placement of the crown.
.@RDR0b11 Mine too pic.twitter.com/ODeN2ou72Y

— Evan Blass (@evleaks) August 30, 2015
Based on the
information from GSMArena
, the next gen Moto 360 will run on Android 5.1. The watch will have display resolution of 360×360. That's a bump from 320x290 on the original Moto 360. Depending on its dial size, next Moto smartwatch will pack-in 270 mAh or 375 mAh battery.
Looking forward for more details? Well, the watch is expected to be showcased during IFA 2015 later this week.
TAGS: Motorola Moto 360, Motorola
The Samsung Gear S2 Certainly Looks The Part In This Instagram Post
And it comes straight off the hands of Samsung's head of Mobile UXCA.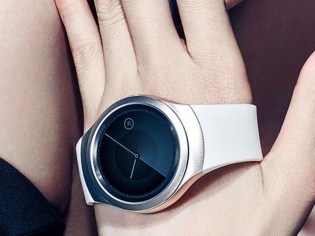 We all know that the Samsung Gear S2 is going to be big. It will be big for two reasons,with the first one being its looks with a round display. Second, would be its rotating bezel that will be used for its UI interaction.
Having seen it in the press shots in Samsung's look book that was revealed at the Galaxy Note event a few weeks ago, its not exactly a surprise.
But today, we are seeing it in a completely different space, on Instagram. And it sure looks good. More watch that smartwatch in fact. Seems like Samsung has found its balance after all.
The image comes from the Instagram account of none other than Dennis Miloseski, head of Samsung Mobile UXCA in the US. So yes, this is a pretty legitimate live image.
It shows off the round rotating bezel, the round display, and the two buttons on the right with a cavity for the mic.
Indeed, what makes the Gear S2 special, are the rumours about it being able to run on a nano SIM. This means that it will be able to work independently, without the need for a Samsung smartphone. This also means that you will be able to place calls and run apps with it, similar to its ugly predecessor the Gear S.
Let's just hope that Samsung has managed to rope in plenty of developers and businesses to get its app bank ready in time for its IFA launch in September. This is more so because the company had pushed out its SDK for the device back in May.
TAGS: Samsung Gear S2, Samsung, smartwatch
Five Problems With Smartwatches Today
Wearables are the future, but as of today, they are not quite there yet.
Google was not the first company to promote a smartwatch. The revolution started a long time ago with brands like Sony and Pebble, followed by Samsung. Then one fine day Google steps in, and thanks to Android, decides to introduce Android Wear as a platform for manufacturers to better their wearable offerings and bring them all on common ground like it did with the Android smartphone.

Progress with wearables as we knew it, had halted, and you can blame Google for it. We soon had a number of smartphone brands announcing Android Wear powered devices, that not only looked chubby and geeky, but also sported a similar interface (a fate similar to Android's current range of smartphones).

A year later, there seems to be an exodus with brands leaving Google's Android One aside and building their own hardware and software; tuning and optimising it to deliver better battery life and what they think will be a simpler UI.

But there are still plenty of problems with the smartwatch of today:


Battery Life

Pick up any of the Android Wear smartwatches and even with minimal use, it will switch off by the end of the day. Battery is the smartwatch's biggest enemy. It was the problem with the LG G Watch and it is still the problem with Apple Watch as well.

Moving away from Android Wear selection, we now have watches like the Alcatel OneTouch and the Pebble Time that deliver more than a day (2-7 days) of use. So Yes, this theory does work.

However, bigger batteries, are not really the answer, its GPS module that utilizes less power and an e-paper display that utilizes minimum battery life while on.


High Cost

What good is a smartwatch when it dies out in a single day and costs a pretty penny? Pebble's Time Steel is the answer to this, but it can only offer a 10 day battery and is yet to hit mass production. Paying a premium price for an ugly but functional Samsung Galaxy Gear S makes little sense.

Its geeky looks turn heads for all the wrong reasons. Moreover, smartwatches these days look more like bling compared to good looking traditional timepieces that showcase quality, durability and class.


Shorter life compared to traditional watches

As the days go by, technology will progress, but for now nobody is interested in buying a smartwatch that costs over Rs 30,000 (apart from Apple fans) simply because it will get outdated too soon. You are indeed better off with a a traditional watch (quartz or automatics) that will keep telling the time for decades without problems and still remain a masterpiece of mechanical engineering.

On the other hand an expensive Apple Watch will get outdated in a year and could be termed as a 'slowpoke' when the new model gets announced. Where is the value?


Complicated operating systems

Swipe up, Swipe down, Swipe to the left and swipe right. As of today, the Pebble and the Pebble Time still seem to be the simplest smartwatches to use. This can be attributed to the fact that it requires a gradual learning curve and no gestures at all. But this again limits it functionality and makes even the Pebble Time look pricey for what it offers.

Samsung's upcoming round, Gear S2 smartwatch is expected to use the bezel to navigate the smartwatch, but that does not mean that it is not going to have a touchscreen. So again, we have more than one way to interact with the UI, meaning that it is going to be complicated.


Need to tag along a smartphone

As of today, there is clearly no smartwatch out there which works all by itself. You will need to carry your smartphone to connect it to the web to download, sync and access app data and display contextual information.

Since all of this is done with assistance with your smartphone, it simply means that you now have an additional device to charge at the end of the day.

Google did unlock Wi-Fi capabilities on some Android Wear smartwatches. Still then it remains to be seen how long these devices last. This is considering that Wi-Fi does take up a lot more power compared to Bluetooth that just syncs data with your phone and lets your phone do the actually data syncing.


Smartwatches will get there eventually, but there is a long way to go. More importantly, smartwatches need to get independent and efficient before they find a commonplace on a geek's wrist, let alone replace the traditional watch.

Tags : wearable, smartwatch

Samsung Teases A Smartwatch That Actually Looks Good

The upcoming watch will be announced in September.

Samsung fans must have had a busy day drooling over the recently announced Galaxy Note5 and Galaxy S6 edge+. And before, the dust settles, the teasers of the Korean brand's smartwatch are talk of the town.

Samsung teased the Gear S2 smartwatch at the end of its phone announcement event. The company has even put up a webpage dedicated to that. Unlike the long list of tacky smartwatches so far from the company, the Gear S2 actually looks nice. As suggested by numerous rumours, the smartwatch features a circular dial.

The watch also seems to feature a neat user interface. Coming from a company that developed TouchWiz, the interface is unbelievably minimalistic.

Impressed already? Well, you would have to wait till 3rd of September when Samsung is expected to showcase this watch during IFA in Berlin, Germany.

Creators Of EVE Unveil Gunjack, An Arcade Shooter For Samsung Gear VR

Stunning graphics, that immerse you in a virtual world that works with your smartphone.

Seems like Samsung's Gear VR headset is finally getting some love after all. While VR or Virtual Reality is indeed a hot topic today, its focus clearly seems to be on gaming. And with smartphones that become more powerful in terms of processing by the year, we can expect massive leaps in mobile gaming to take place soon.

CCP, the developers who created EVE (the Massively Multi-player Online Roleplaying Game) wanted to deliver a game that became a part of their upcoming installation called EVE: Valkyrie.

While EVE is perfectly suited for gaming PCs, Gunjack is a simple VR arcade shooter that will deliver some stunning graphics to your Samsung Gear VR headset.

Clearly, Gunjack will be powered by your Samsung smartphone, the one that gets mounted onto the new Samsung Gear VR headset.

The game is pretty much a straightforward arcade shooter, but it is the made from scratch graphics for VR that will give it the wow factor.

In the game, you are in charge of a gun turret that is hovering around the Outer Ring section of known space (EVE talk). The gameplay looks pretty exciting in the video (after the break) and will clearly give a boost to VR usage in the mobile space.

Do keep in mind that the game has been developed exclusively for the Samsung Gear VR, a 200 USD untethered VR headset users in India will hopefully be able to purchase online, when the Korean tech giant announces its Samsung Gear VR platform this year. At the same time Samsung is also expected to announce its newer and more compact version of the Gear VR that should work with its recently announced smartphones.

Coming to availability of the game, Gunjack, well, the pick-up-and-play VR experience will be made available when the platform gets announced, so there is a bit of waiting.

TAGS: games, Gear VR, virtual reality, Samsung, Mobile Phones

Apple Dominates Smartwatch Market, But Can It Save This Product Category

Three months in the game, and Apple is already dominating this product category.

The Apple Watch is currently the market leader, and the Cupertino company's least loved product at the same time. The Watch was the first major product developed under the leadership of Tim Cook. The fact that he did not reveal the number of units sold indicates that the company is not very proud of the response its wearable has received so far.

In the latest quarter, Apple shipped over 61 million iPhones. If the research firm Strategy Analytics is to be believed, Apple moved as many 4 million watch units in the same period. This doesn't paint a rosy picture for the Watch fans, especially when some analysts were predicting that Apple's smartwatch will sell around 40 million units. Yet again, proving that most analysts are a bunch of morons.

If you put common sense to use though, it's easy to see that the Apple Watch has provided a much-needed push for the category that has been dragging for years. According to the data, in the second quarter of 2014, when Apple Watch did not exist, around a million smartwatches were sold. Off which over 7 lakh units were from Samsung. Giving the Korean company over 70 percent share of the market. Fast forward it to Q2, 2015, and Apple dominates the market with over 75 percent marketshare. What's more, Samsung that ruled the segment last year has seen its marketshare slide down to 7.5 percent

Apple has driven the smartwatches sales from a million in the Q2, 2014 to 5.3 million. That stands for the growth of 457 percent. Expecting a new product category to perform as good as Apple's cash-cow iPhone did not make sense. If you have to really compare the new product with the iPhone, look at the numbers of units the original iPhone sold in its first quarter. That's merely 270,000. SO, in reality, the Apple Watch has performed better than the iPhone in its first quarter.

Simply going by the numbers, Apple Watch seems like a flop. However, if you look at the bigger picture, Apple's Watch is the only thing that can provide a much-needed push for the stagnated smartwatch industry. This, however, does not change my opinion about smartwacthes being useless piece of hardware. Those who disagree with me can go and read why smartwatches are utter waste of money.

Tags : wearable, smartwatch, Apple, Apple Watch

Nokia May Unveil Its Virtual Reality Headset Sooner Than You Expected

This could be company's most interesting consumer product after the Microsoft deal.

After selling-off its handset division to Microsoft, Nokia has hardly unveiled any consumer hardware device save for the China exclusive N1 tablet. Despite that, the company has a knack to be in the spotlight. If the speculations of the once market leader re-entering the phone market in 2016 weren't enough, the latest round of speculations suggests that Nokia would soon introduce its first virtual reality headset.

According to recode.net, Finns will unveil a VR wearable as early as next week. The product is said to be developed by Nokia Advanced Technologies, a division that the Finns retained during the Microsoft deal.

With its handset division gone, Nokia will want to keep the buzz around its brand by announcing a consumer product. And in this day and age, what's hotter than a VR headset? With its history dating back to 1865, Nokia has changed with time. Over the period of time, it produced papers, tyres, chemicals, gas masks (for Finnish military), before emerging as the top phone maker in 90s. So, you can't really write-off this company.

This not the first time we are hearing such rumours. In 2013, similar reports made rounds when the American company Vuzix joined hands with Nokia to take the VR headset development forward. Vuzix licensed Nokia's see-through (Exit Pupil Expanding) EPE optics technology for its head mounted displays and video eyewear.

Nokia may not have experience in the VR field, but this is where a collaboration with Vuzix holds a key. The Vuzix M100 was the first commercially available VR after-all. Yes, Google Glass came first, but it wasn't available to consumers, remember? The task is not simple either. To leave a mark in the VR space, Nokia will have to compete with Oculus Rift, HTC Vive (made in collaboration with Valve), Project Morpheus from Sony, Google Glass, and Microsoft Hololens.

If I have to guess, Nokia's VR product is unlikely to primarily focus on gaming. I believe that it will be more on the lines of Hololens where the virtual reality is fused with the world around you. No doubt that Nokia is more than capable of delivering something impressive. The only problem I see here is whether developers will show confidence in its platform. Or maybe, will Nokia take the HTC route to make use of Valve's platform or turn to its old partner Microsoft?

Tags : wearable, virtual reality, Nokia

Xiaomi Launches Mi Headphones, Mi In-Ear Headphones In India

As part of the first anniversary celebrations, the company's two new products are said to go on sale on Thursday, July 22.

Xiaomi is currently celebrating its first anniversary in India. As part of the celebrations, the company recently launched the Mi 4i 32 GB variant and has been hinting about the new product launches and surprises during the whole week.

The new smartphone variant will go on sale next week on July 28 and registrations for the sale are no open.

Adding more sparkles to the celebrations, Xiaomi has now launched new Mi Headphones and Mi in-ear headphones in India priced at Rs 5,499 and Rs 999 respectively.

The devices are said to go on sale on Thursday, July 22 at 10 AM via Mi.com.

Speaking about the new Mi headphones, it sports an acoustic system with a large 50mm diaphragm that's 4 times harder than steel and 60 percent lighter than titanium alloy.

The headphone is capable of producing 3D sound enhancing the listening experience.

The device will be available in black and gold colour variants and weighs 220 grams.

On the other hand, the Mi in-ear headphones come with an aerospace-grade metal diaphragm and are said to have an optimised front cavity for improved treble performance.

Also, Xiaomi has modified the classic transmission line enclosure design with a patented sound chamber that incorporates spiral air-flow channels and extended bass output sound holes which is said top optimise mid-range and bass performance.

The device will be available in a Space Grey colour variant and weighs 14 grams.

The company has launched the Mi Store app for Android users and rolled out many discounts and offers as well.

TAGS: Xiaomi, Mi Headphones, Mi in-ear headphones, Mi Anniversary

The Apple Watch's Sketchy Future In India

A great product may not necessarily be a market success.

Xiaomi's Mi Band Finally Gets A Worthy Opponent, The Micromax YuFit

Offers more features for a similar price tag.

Intex Launches iRist Standalone Smartwatch With SIM Card Support

The smartwatch launched at the ongoing MWC Shanghai comes at a price of Rs 11,999 and runs on Android 4.4.2 KitKat OS.

Casio Becomes The Latest Entrant In An Overcrowded Smartwatch Market

Will unveil its version of the ideal smartwatch in 2016.

HDFC Bank Unveils App For Apple Watch

The bank also has plans of expanding to Android wearables by this year.

YouTube Videos On Your Android Wear Smartwatch? It's Possible!

If you thought that was unnecessary, it lets you 'cast' them as well.

Xiaomi Mi Band 1s To Come With A Heart Rate Monitor

A successful product gets a handy upgrade.

Huawei Unveils Honor Band Zero Smartwatch And Honor Whistle Bluetooth Headset

Both the devices were unveiled along with the much awaited Honor 7 smartphone.

Google Unveils New Medical-Grade Wristband

Unlike other wristbands, Google is aiming at using the device in clinical trials.

Fitbit Products Available For Pre-Order On Amazon India

While the company is yet to enter India, the products have already gone live for pre-ordering.

Google Pushes Out 17 New Watch Faces For Your Android Wear Smartwatch

15 of them are free to download.

Xiaomi Mi Band Available Without Any Registration On Flipkart

The offer is part of the Flipkart's Big App Shopping promotion.

E3 2015: Microsoft's Minecraft For Hololens Looks Stunning

The gadget has the potential to change the way we game.