Apple Heats-Up The Wearables War With Its 'Apple Watch' | TechTree.com
Apple Heats-Up The Wearables War With Its 'Apple Watch'
Thankfully, Apple's first smartwatch isn't called the iWatch.
Steve Jobs had a knack of pretending as if the Keynote is over and then saying his famous line "One more thing..." before unveiling the most important product. Apple's current CEO, Tim Cook, isn't as charismatic his predecessor, but today he did get a loud round of applause for using this phrase. And the product that followed this line was worth all the hype. The star of the Cupertino-based company's 2014 Keynote was undoubtedly the Apple Watch.
Apple isn't the first company to unveil a smartwatch as Samsung, Motorola, Sony, LG, and Pebble already have multiple products in the market. However, the Apple Watch is one of the very few smartwatches that look good. Seriously, most if the existing watches including Moto 360 are somewhat blocky to downright ugly. Motorola did manage to fool techies with sleek 3D renders, but the actual device turned out to be clunkier than the press images.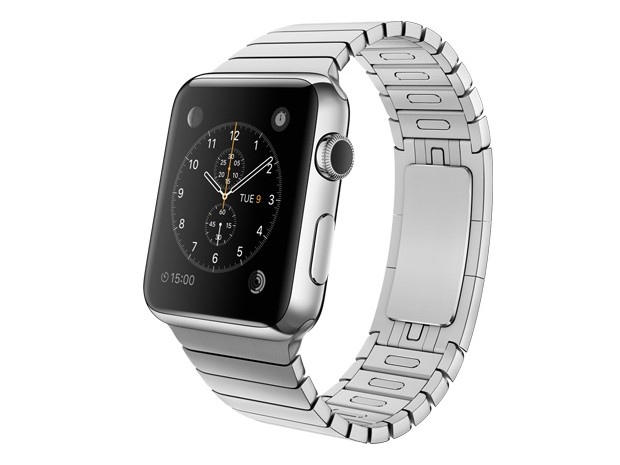 Like most Apple products, its Watch is meant to offer easy interaction. Its display will only light-up when when you raise your wrist. The Watch OS has a few elements of the iOS, but is mostly modified for the tiny screen. You can navigate the UI, pan or zoom images and maps with the touch screen.
With the Watch, Apple has also given a modern twist to the age-old Crown. Dubbed as digital crown, this input device that lets you zoom, scroll, and select on-screen objects without covering the screen. This is something similar to the scroll-wheels found on early BlackBerry phones.
Off course, the Apple Watch will work as a companion device for your iPhone. It will notify you about the incoming calls, text, and alerts. Thanks to the built in mic and speaker, you can answer a call directly on the Apple Watch. With the combination of heart-rate sensor, GPS, and accelerometer, Apple's smartwatch also works as a fitness band. It lets you set goals for each workout, and gives you a summary of what you've achieved. Later you can sync this data to your phone.
The smartwatch comes with many pre-installed apps including Calendar, Maps, Weather Stopwatch, Siri, and Photo gallery. Since Apple has opened up the development kit, expect third-party developers to create truckload of apps in coming months.
The Apple Watch comes in two dial sizes 38 mm and 42 mm (height). Depending on your requirement (and budget), Apple offers three versions of its Watch. First, simply called 'Watch' comes with a stainless steel case and a range of stylish bands. Next-up is 'Watch Sport' that features Anodised Aluminium cases and bright coloured bands. The 'Watch Edition' will allow Apple to compete with the jewellery brands as this version boasts of a 18-karat gold cases and premium bands.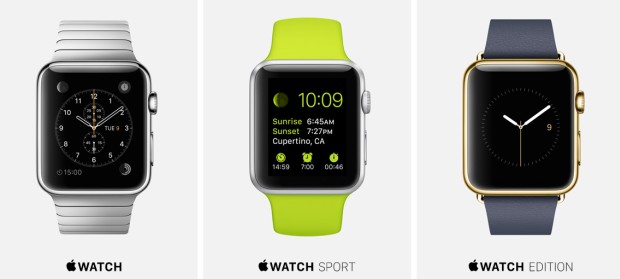 The Apple Watches are expected to hit the market early next year. The base price is USD 350 (approx 22,000).
[Also Read: Apple Joins Samsung's "Phablet" Party With A 5.5-Inch iPhone 6 Plus]
TAGS: Apple, smartwatch