Re-Review: Xolo Q1000 Opus — The Way It Should've Always Been | TechTree.com
Re-Review: Xolo Q1000 Opus — The Way It Should've Always Been
Techtree.com has a look at the Xolo Q1000 Opus again with the New Updated ROM.
Rating

3
/5
22nd Jan 2014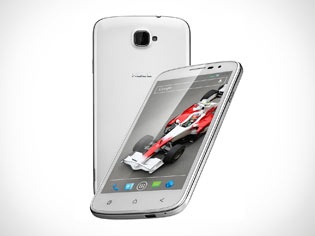 Pros:
Good performance for the price, Plenty of goodies in the box
Cons:
Mediocre screen, Poor camera, Muffled call quality
Update: Xolo has sent us a brand new Xolo Q1000 Opus today (20.10.2014). We report as it changes for the better!


Xolo Q1000 Opus
MRP- Rs 10,000
Street Price – Rs 8,700
Who Should Buy
- Those who want a large 5 inch screen on a budget
- Good performance overall, even in games
- Would like to be pampered with plenty of goodies out-of-the-box (Read What's in the box at the end)

Who Should Not
- Who dislike big screen with even a low resolution that makes the pixels bigger than you nose
- Want a better camera
- Want better audio quality in phone calls
Well the first device we got from Xolo was quite a dud and Xolo was quite upset with us about it. Understandably. However, they released another update which was under the works when we were reviewing the phone. Hence Xolo gave us a brand new piece and asked us to update the phone and Re-test the phone. And the results I assure you are a lot better than the first iteration of their ROM.
This brings me to certain thoughts…
- Am glad that the company has taken effort to correct something that was clearly broken.
- How can a company release broken software at this level? This clearly shows they were working under pressures/mis-management. Whatever be the case, Xolo please don't repeat this. It is your own customer that is at receiving end. No one wants fantastic things from you, just don't screw it up for yourself where things don't work in the first place.
Anyway lets continue with the NEW ROM experience. The changes should be obvious to the reader.
What is the perfect way to kill your brand? Simple, make a really bad product. Period. And this is what XOLO has done with their Q1000 Opus.
As much as it pains me to say it, this is true. We've tested XOLO Q600, Q700, Q900, Q1000S, T1000 and Q800 of which I've personally used; all these phones are good (except Q600) for their price brackets, but Q1000 Opus is a black sheep (actually white) of the family. In fact, the Opus is mere Hocus-Pocus!
Build
Nothing to really talk about here, it is as plasticky as plastic can get and looks pretty much like Q1000 family. Though if you are to choose a budget handset purely on looks, go for the Q700, it looks elegant in this price bracket.
The Screen
Q1000 Opus' screen proves that "Bada is not better", the screen is as big and as ugly as that of the Samsung GALAXY Grand. The resolution doesn't help beautify the display either. At 480x854 resolution, the pixels are glaringly loud. It is noticeably ugly and you'll notice colour shifts on the screen. Not much can be expected of a budget handset under Rs 10,000, but Xolo seems to trying to do a Samsung Galaxy Grand and they have succeeded by making the screen as ugly and unappealing as the Grand itself.
Using the Phone
Update (22.01.2013): With Xolo Q1000 Opus update, the phone is working wonderfully well, as it should always have had. No unwanted reboots or crashes. This is what we expected from Xolo and they have delivered.
So what changed? The 6MB update (dated 16.01.2014) delivered Over-the-air (OTA) has stabilised Xolo Q1000 Opus immensely. The initial update dated 20.11.2013 was clearly a rush job, due to which we thrashed the phone for its horrible performance overall (usage-wise). So for all those who have already bought the phone, update it immediately!
How to check which version you have?
- Click on the Left key, go to System settings.
- Scroll all the way down to About Phone.
- Click on it and scroll all the way down to see the "Build Number". Your build number should be 20140116 or later but not earlier of the year 2013.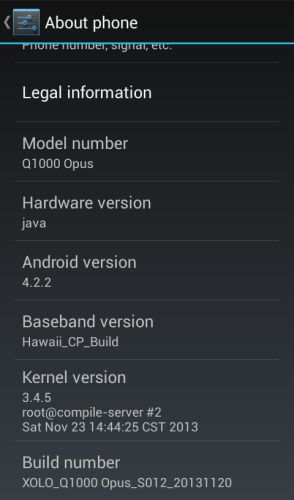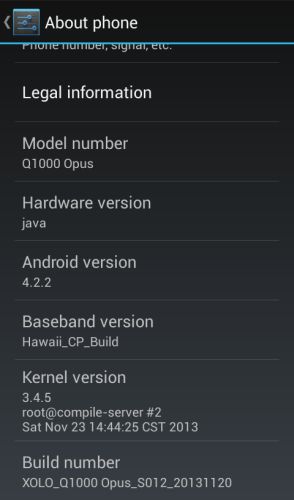 This is the most surprising part and the reason why we cannot recommend this phone. It just plain sucks. The phone loved to happily restart itself 3 times in a day and that too when I was talking to someone. We haven't experienced this with any other Xolo phone as has they have been pretty much rock-steady (as rock-steady as Android can get…rolls-eyes).
Taking out the SIM card helped here as the reboots/crashes stopped, however we noticed it wasn't as functionally smooth when playing games nor when using the camera. Xolo if you are listening, you have got to fix these issues or have many users hate your brand in the long run.
Camera
Update (22.01.2013): Finally the camera works as Xolo had promised us. While we are happy that it works now, it isn't something we like either. Don't get us wrong, the camera is quick to click and responds quite well. I personally liked the Lumia-esque interface which works smooth as well. Good job there Xolo! However, the camera quality itself is quite "meh". If my memory serves right, the Xolo Q800 camera felt a bit sharper. Here you can expect Q1000 Opus to drop a lot of details. So consider it more so as a "namesake" camera phone which can take a photo.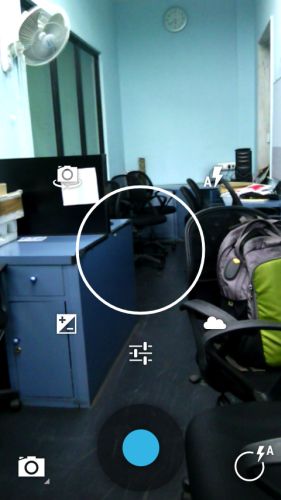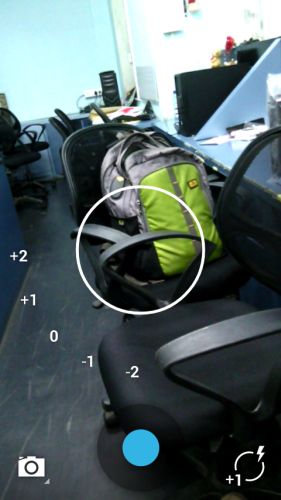 How's the camera you ask? We just don't know. It's one thing to say the camera is good, bad or ugly, but it's another thing when the camera just wouldn't work. We tried to click it a photo and after a few unsuccessful blank photos, the camera app gave up saying "Gallery isn't responding. Do you want to close it". What the….? This is the reason why poor Android OS gets the blame when a manufacturer screws it over so badly.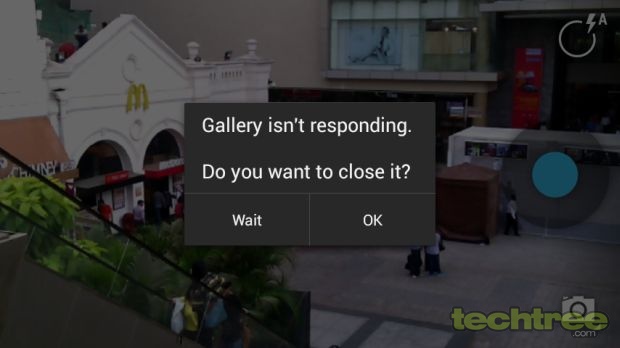 Performance
Update (22.01.2013): After the update, the Xolo Q1000 Opus has gotten faster actually? Well this is what Antutu benchmark seems to think as Q1000 Opus got a 1000 marks more with a score of 14,500 points. Whereas Quadrant gave us the same average score 3500 points.
What does this mean? Is there conclusive proof that it is faster and better? Well the update has clearly bettered the phone (which should've been like this to begin with) but faster? I'd reserve that opinion.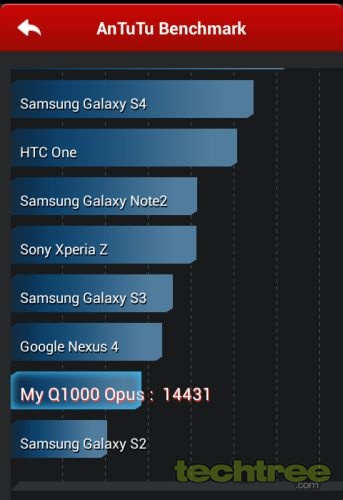 Antutu gave an average score of 13500 points, in comparison with Xolo Q700 which got 13097 mark with 1.2 GHz quad-core CPU (Mediatek MT6589W-M chipset). Quadrant gave an average score of 3500 points, in comparison with Xolo Q700 which got 4000 mark. So at least going by the tests, the performance of Q1000 Opus is Good.
What do these numbers mean? Just that Broadcom Quad-core chipset is very similar to its Mediatek counterpart.
Gaming
The phone is quite capable of handling games well. We ran it through our usual set of Temple Run 2 and Dead Trigger games and the games ran just fine. However, when playing we did feel that Mediatek chipset is a little smoother in performance than Broadcom. Another thing worth mentioning is that, Dead Trigger hung during gameplay and then resumed after several seconds. Not a good sign at all. Whether this is the Xolo's implementations that lacks or Broadcom that is the issue, we aren't sure. But we do know that you ought to be staying away from this phone altogether.
Update (22.01.2013):
Battery
We noticed with my normal usage of occasional wifi with 2G always on, including whats app, email updates and calls, the phone managed to give me little less than 2 days of usage. Mind you, I use an Android phone with 1320 mAh battery that gives me little more than a day of usage. Your mileage will vary.
Update (22.01.2013):
Weird Niggling Issues
Now, I don't mean to nit-pick but Xolo hasn't ironed out all the niggling issues from its new ROM (The same problem persisted in the old ROM too). Many times the screenshots taken would show only on the phone alone but when trying to copy them would indicate the screenshots as "0 bytes". Which is really weird. This isn't once but repeatedly and randomly happened inspite of using the official cable provided or another Micro-USB cable. The only way out, emailing myself these screenies for you guys.
Verdict
Update (22.01.2013): So in finality is Xolo Q1000 Opus a phone that is worth it? For under Rs 9,000, it is a decent phone, and you should be happy with your purchase more or less. However we have seen a tad better from Xolo before but nothing that is exceptionally better or worse.
We still feel there is an essential strategy shift from Xolo's end in terms of premium phones in a budget market. We've seen Xolo's brother Lava coming out with some premium looking phones on a budget which seemed to be more of Xolo's foray. Both Xolo and Lava are from the same company and we wonder if both teams are competing/eating into their mother company's treasure chest.
It comes as no surprise, the Xolo Q1000 Opus sucks! Please don't buy it. Going by the previous experience of Xolo handsets, we are tempted to call this an anomaly but reserve that opinion because…
- After Xolo Q700 and Q1000S, we noticed that Xolo has started to go for the plasticky Samsung looks
- The Q600 and Q1000 Opus both suck as budget phones and this shows Xolo's strategy changing somewhere from a budget handset with premium looks to just another "meh" smartphone!
Features: 3/5
Design and Build Quality: 2.5/5
Performance: 3/5
Value For Money: 0/5
Mojo: 3/5

Overall Rating: 3/5
What's in the box?
- Screen guard
- Flip cover
- Charger + USB cable
- Earphones
- Quick start booklet and warranty booklet
Specifications:
- Dual SIM
- 5 inch IPS LCD screen
- 480 x 854 pixels, (196 ppi)
- Broadcom Quad-core 1.2 GHz (BCM23550), VideoCore IV GPU
- 1GB RAM
- microSD, up to 32 GB
- 5 MP camera, 720p@30fps video,
- VGA Front camera
- 2000 mAh Li-Po battery
- Android 4.2
TAGS: xolo, Multi-SIM, smartphones, Mobile Phones