Review: XOLO Q600 | TechTree.com
Review: XOLO Q600
Has XOLO cut too many corners with its Q600?
Rating

2.5
/5
06th Sep 2013
Pros:
Good performance; Affordable.
Cons:
Plasticky build; Lackluster screen; Poor camera.
XOLO Q600
Street Price: Rs 8000
XOLO is one of the few Indian manufacturers that deliver quality handsets on budget. Their quad-core powered Q700 and Q800 are quite popular in the sub-10k category. Now to strengthen its Q-series further, XOLO has unveiled its most affordable quad-core device till date, the Q600. This new entrant offers Android Jelly Bean in a compact package. So is the Q600 another winner from XOLO?

Design And Build
Unlike most domestic brands, XOLO doesn't only focus on specs. With the Q700 and Play T1000, it's quite clear that the company can produce some stylish and sturdy phones. And that's the reason why we prefer it over other local brands. Sadly, in Q600's case, the company has missed a trick. Although only Rs 1000 cheaper than the Q700, the new Q600's aesthetics are significantly inferior to that of the former.




What you get here is a run-of-the-mill Android phone with glossy back-cover. The quality of plastic is nothing to write home about. To make matters worse, the sides feature Samsung-ish faux-metal finish that makes it look cheap. All is not lost though, as the phone is quite compact and fits perfectly in your palm. To make matters worse, the back-cover doesn't fit perfectly, and you are left to deal with a lot of squeaks and creaks.

For menu navigation, the phone features three capacitive backlit keys – Home, Back, and Options. On the left side, the handset sports a volume rocker. On the opposite side, there's a Lock/Power button. Finally, the top of the device houses a 3.5 mm jack and a micro-USB port.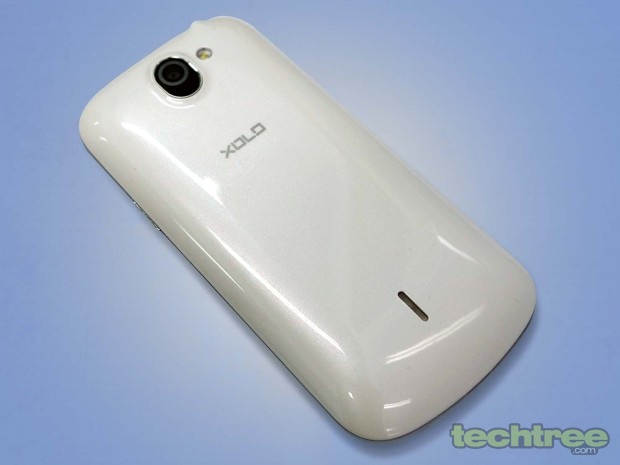 Display
The Q600 sports a 4.5" screen with 480x854 pixels. Obviously, it's not very sharp, but you can't exactly see the jagged edges either. Being a basic non-IPS TFT LCD display, the colours on this one look washed out. The contrast is disappointing. Moreover, the display has narrow viewing angles. The only saving grace here is the decent brightness. Overall, compared to the Q700's screen, this one is way below par.

Key Specs
This phone is powered by a 1.2 GHz quad-core processor based on the MTK6589W-M chipset. For photography, there's a 5 megapixel camera. Apart from that, you get 512 MB RAM, 4 GB of internal storage, microSD card slot, dual-SIM functionality, and 2000 mAh battery. Detailed tech specs are given at the end of this review.

UI And Apps
In terms of software, the Q600 comes with Android 4.2 (Jelly Bean). There's nothing new on the UI front. You have the usual multiple homescreens and menus that house apps and Widgets. Swiping down on a homescreen reveals a notification bar. Similarly, swiping down with two fingers brings up the settings panel that contains Wi-Fi, Bluetooth, auto rotation toggles. While XOLO hasn't made many changes to the stock ROM, the phone does come loaded with a few in-house apps: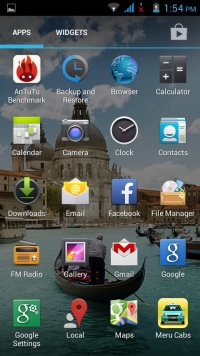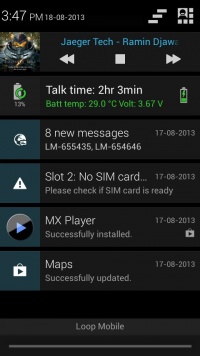 XOLO Secure
Set friend or family contacts that'll be notified as soon as the SIM card gets replaced. Using the same software, you can back-up your data on cloud server. There's even an option to track your mobile if it's stolen.

XOLO Switch
Using Switch, you can create up to four separate profiles personalised with different lock screen and wallpapers. Each of these profiles can be linked with different email IDs. Additionally, there's a Kids Mode where you can disable calls, messages, and app downloads.
XOLO Care
This lets you check for FOTA (Firmware Over The Air) updates. Moreover, it also offers a toll free number that's meant to connect you to customer care. To find out if it's really easy to get assistance, I tried calling them over a dozen times. And not once did they pick-up my call.
Considering its price tag, the phone is quite responsive. Apart from occasional slowdown, the Q600 offers quite a smooth experience. However, 512 MB of RAM and Android Jelly Bean don't mix well, and you realise that once you start multitasking. The apps and games take more time to load compared to the Q700. Also, if you switch back and forth between the games, they load all over again from the beginning.

While we prefer Q700 and Q800's performance over this handset, AnTuTu suggests otherwise. In this benchmark test, the Q600 clocks in at 13723, which puts it ahead of its siblings. However, as we have said this many times, the synthetic benchmarks are highly unreliable; hence, it shouldn't top your checklist when choosing a handset.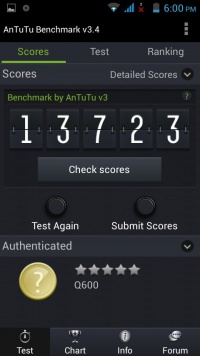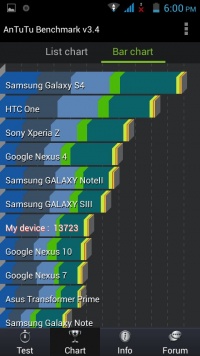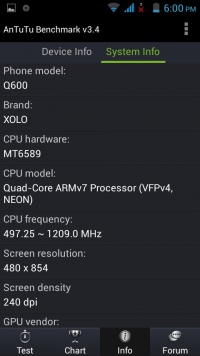 Multimedia
If you're a music loving person, you better buy a decent pair of aftermarket earphones, as the bundled ones are quite disappointing. On the bright side, the phone's output is quite good. The music player offers equaliser presets along with Bass and Reverb controls. Moving on to video playback, the default player supports limited video formats. There's nothing to worry though, as you can easily overcome this limitation by using third-party apps such as MXPlayer or RockPlayer.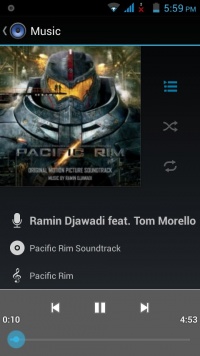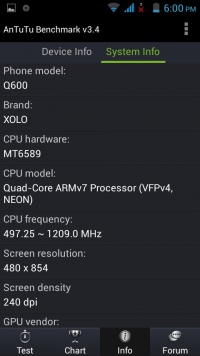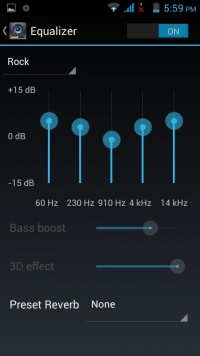 The phone comes with a 5 megapixel auto-focus camera with LED flash. The snapper allows you to control quite a few settings including white balance, exposure, and saturation. Camera modes include Normal, face beauty, HDR, panorama, and multi-angle. Another feature worth mentioning is Burst shot that allows you to take from 40 to 99 shots in one go. However, the most important aspect of a camera, the image quality, is horrendous. It completely fails to deliver resolved details. The colours bleed, and look inaccurate. Click here, to check the untouched sample. Moving on to video recording capabilities, the handset can record 720p videos. The clips are saved in 3GP format. Similar to the still images, the videos are also of poor quality. So basically, if you intend to do a lot of photography, stay away from this handset.

Telephony And Messaging
Like any other dual-SIM phone, the Q600 features an elaborate SIM management menu. The handset has no issues with network reception or call quality. On the messaging front, you get built-in SWYPE along with the standard Android keyboard.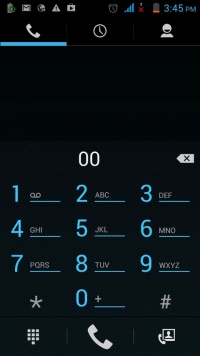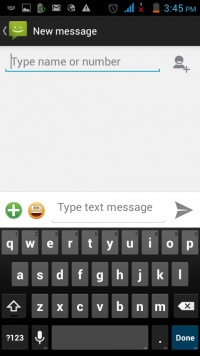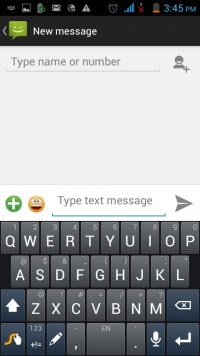 Battery
The 2000 mAh battery lasts for a day and half on a normal work day. In our video loop test, it managed to power the device for 5 hours 30 minutes. This is quite good for a quad-core Android phone.

Verdict
Available for Rs 8000, the XOLO Q600 has a lacklustre screen, plasticky build, and a disappointing camera. If you're looking for an all-round Android phone, it makes sense to increase your budget by 1k and get the Xolo Q700. Alternatively, if you're looking for a smartphone from a more trustworthy brand or willing to look beyond Android, go for the Windows Phone 8 based Nokia Lumia 520 that now sells for Rs 8900. As for XOLO, this handset seemed like a deviation from their otherwise neat strategy of not lowering their standards to match their not so quality conscious competitors. Let's hope they learn from this blip and stick to the reasonably good standards they have set prior to this.

Features: 3/5
Design And Build Quality: 2.5/5
Performance: 3/5
Value For Money: 3/5
Mojo: 2/5

Overall Rating: 2.5/5

Specifications:
4.5" TFT screen with 480x854 pixels.
1.2 GHz quad-core processor, 512 MB RAM.
4 GB internal storage, MicroSD card slot.
5 megapixel camera, BGA front-facing camera.
Wi-Fi, Bluetooth, A-GPS.
Dual-SIM (GSM) with 3G support.
Android 4.2 (Jelly Bean).
2000 mAh battery.

TAGS: Mobile Phones, Android, xolo