Next Android Version To Be Called KitKat | TechTree.com
Next Android Version To Be Called KitKat
Nestle agrees to give its product name for free with the idea of doing something "fun and unexpected"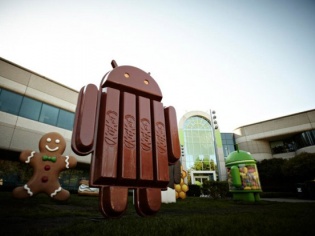 Its finally official, Android 4.4 will be called KitKat. Sundar Pichai, the SVP for Android, Chrome & Apps at Google, announced the name on Twitter and Google+ accompanied by the photo of the mascot placed outside Google HQ. The tweet also mentions that Google has managed to surpass one billion Android device activations.
According to BBC, the KitKat name was Google's idea and no monetary transactions were done during this deal. John Lagerling, director of Android global partnerships has stated that, "this is not a money-changing-hands kind of deal". According to him Google wanted something "fun and unexpected", so they went ahead with this deal that promises no revenue loss. He also said that the previously rumoured Key Lime Pie name was ditched in favour of Nestlé's chocolate bar because the former isn't very popular with the global audience, and KitKat was one of the snacks people at Google like to indulge during late night coding sessions. The name Key Lime Pie was used in internal communication as a decoy. The deal with Nestle was secretly done during the Mobile World Congress in Barcelona in February, but they had to stick with Key Lime Pie name in the internal documents and in official communication with its partners to make sure that no one at Google would get the whiff of what they were up to. Many Google employees came to know about the name when the mascot was raised outside their office campus.
Nestlé's marketing chief Patrice Bula agreed instantly to Google's deal and he also acknowledged the risks associated with this move. For example, if this version for some reason is unstable or malware prone, the good brand name of Nestlé would take a hit. He remains optimistic though, as there are plans to make and sell more than 50 million KitKats featuring the Android mascot in 19 countries which include UK, US, Brazil, India, Japan and Russia. The packaging was produced in the past two months, and in compliance with Google, Nestlé made it a top secret affair. Apple could take a few tips from them in terms of secrecy as their product leaks have become an everyday occurrence.
As IFA begins in Berlin today, we have seen some stunning developments, and if the past is any indication, surprises will continue. But until then, 'KitKat Break Toh Banta Hai!'.
Related Story: KitKat Bites Into Apple