Microsoft Acquires Nokia For Around $7.2 Billion | TechTree.com
Microsoft Acquires Nokia For Around $7.2 Billion
The acquisition includes Nokia's Devices & Services business and 10 year patent agreement.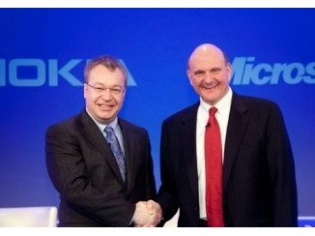 Just a week back, Steve Ballmer had announced that he'll be stepping down within a year. However, before his impending exit, the Microsoft CEO has sealed the biggest and perhaps the most important deal for the big M by acquiring the Finnish phone manufacturer Nokia. According to a press release from Nokia, the software giant will pay EUR 5.44 billion ($7.2 billion approx) in cash. This includes EUR 3.79 billion ($5 billion approx) to purchase pretty much all of Nokia's Devices & Services business, and EUR 1.65 billion ($2.1 billion approx) to licence patents for 10 years. Post-acquisition, Nokia will still retain HERE maps and NSN businesses.

The transaction is expected to wrap up by the first quarter of 2014. Under the terms of agreement, Nokia's President and CEO Stephen Elop will step down from these roles and assume the responsibility of Executive Vice President of Nokia Devices & Services. Meanwhile, Risto Siilasmaa, the Chairman of the Nokia Board of Directors has been assigned as the Finnish company's Interim CEO. At any rate, the stars seem to be in perfect alignment for Stephen Elop's almost inevitable ascension into the role of Microsoft's CEO.
For consumers, Nokia has promised to continue the work they've been doing. Hopefully, with added resources from Microsoft, the phone-maker will be able to accelerate growth. Finally, it seems like the probability of Nokia building an Android device has just gone down to zero from near zero.
The developments aren't over yet, so watch this space for more updates.
TAGS: Mobile Phones, Nokia, Microsoft