Review: Panasonic P11 - Not For Shutterbugs
A well-built handset let down by performance.
Rating

3
/5
12th Dec 2013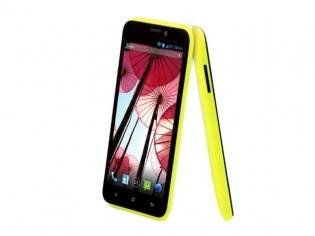 Pros:
Solid construction; Sharp display; Extra back panels bundled.
Cons:
Sluggish user-experience; Lacklustre multimedia performance; Below average camera.
Panasonic P11
Street Price: Rs 14,500



Who Should Buy
- Those who want a well-built Android phone from a fairly known brand.
- People who want a good looking phone with a HD screen in sub-15K budget.
- Those who like to swap back panels of their phone often.
Who Shouldn't Buy
- Those who cannot put up with sluggish user-experience.
- Those who want a phone for enjoying music and movies.
- People who want a very good camera on their smartphone.

The P11 is Panasonic's second offering in the Indian smartphone market. Unlike most budget handsets, this phone packs in a quad-core chipset manufactured by Qualcomm; Snapdragon 200 to be precise. But is it any better than those tried and tested MediaTek SoCs? As mentioned in our hands-on article, the phone manages to grab your attention, but can it impress us with its features? Let's find out.

Look And Feel
The phone looks a lot like its elder sibling P51. The phone has premium looking edge-to-edge glass. But unlike the P51, this phone sports typical Android capacitive keys — Home, Back, and Menu, below the screen rather than on it. What also separates the P11 from the P51 is its removable back panel. Panasonic has been generous enough to throw in a couple of extra covers too. And love it or hate it, you simply cannot ignore the florescent yellow/green panel.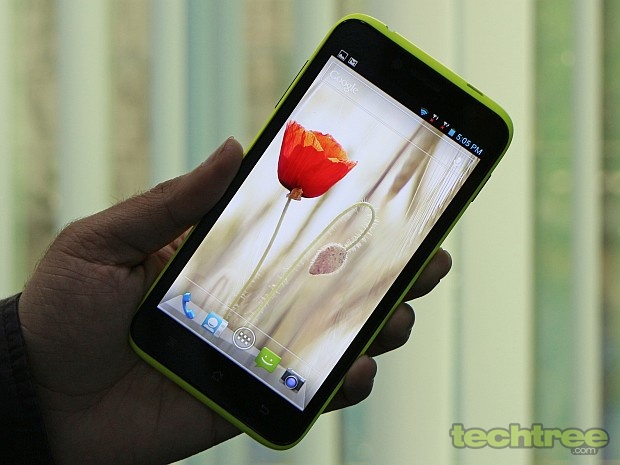 The phone's construction is quite sturdy. It can easily take a few knocks and drops and not show up. You don't really need to care about the back-panel as there are two extra back panels in the package. Coming to the subject of ergonomics, like every other over-sized phone, this 5-incher isn't ideal for single-handed use. Thankfully, the lock/power button is placed on the side, so you don't have to stretch your index finger all the way to the top to unlock the phone. Overall, the P11 fares better compared to most phones from the Android camp.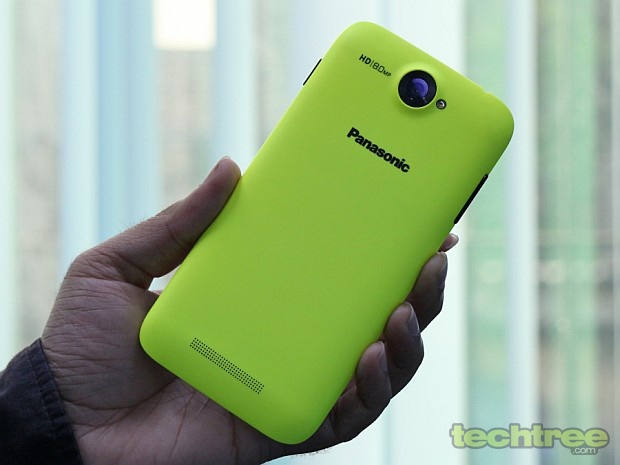 Screen
Display is one of the most important aspects of a smartphone, and the P11 makes sure not to disappoint in this space. The 5" IPS screen offers good colour reproduction. However, it isn't as vibrant as that of the P51. With pixel dimensions of 1280x720, the display is quite sharp. What's sorely missing here is a scratch-resistant layer. So make sure not to put your phone and keys in the same pocket.
Specifications
The P11 is powered by a quad-core Snapdragon 200 SOC with the processor clocked at 1.2 GHz. For photography there's an 8 megapixel rear camera, and 2 MP front snapper for selfies. The phone has 1 GB RAM, 4 GB of internal storage (2.8 GB user accessible), microSD card slot, dual-SIM (GSM) support, Wi-Fi, Bluetooth, A-GPS, and 2000 mAh battery.
User Experience
The P51 offers slightly dated Android 4.1 out-of-the box. Panasonic hasn't made many changes to the stock ROM, so the interface is quite clean. In short, unlike Samsung and Sony, Panasonic has refrained from spoiling the interface by putting a skin on top of vanilla Android. And that's a good thing.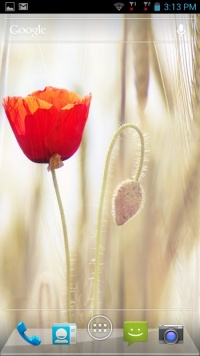 However, the same can't be said about the phone's performance. The Snapdragon 200 chipset struggles to keep things smooth. There's consistent lag and stutter throughout the interface. To put things into perspective, the P11 feels noticeably sluggish than its MediaTek counterparts. The onboard Adreno 203 GPU is quite dated, and performs mediocre at best. Even when playing casual games such as Angry Birds: Star Wars and Temple Run, you feel that the frame-rates are not up to the mark.
In AnTuTu, the P11 scored 10907 points. In another popular test Quadrant, the phone clocked in a score of 4540. That's very much in line with HTC Desire 600's scores which has the same SOC. However, thanks to HTC's well-optimised Sense UI, we found the Desire 600's user-experience much better. Also, the Snapdragon 200 chip doesn't pack in enough muscle to optimally power an Android device with HD screen. It is better suited for those with pixel dimension of 960x540 or lower.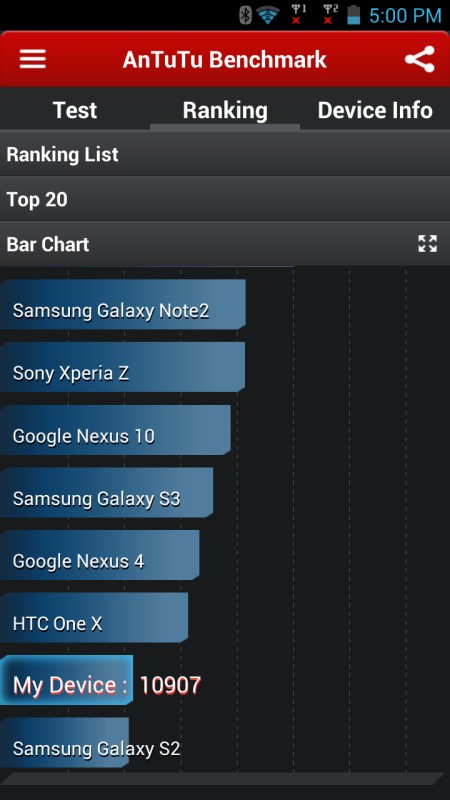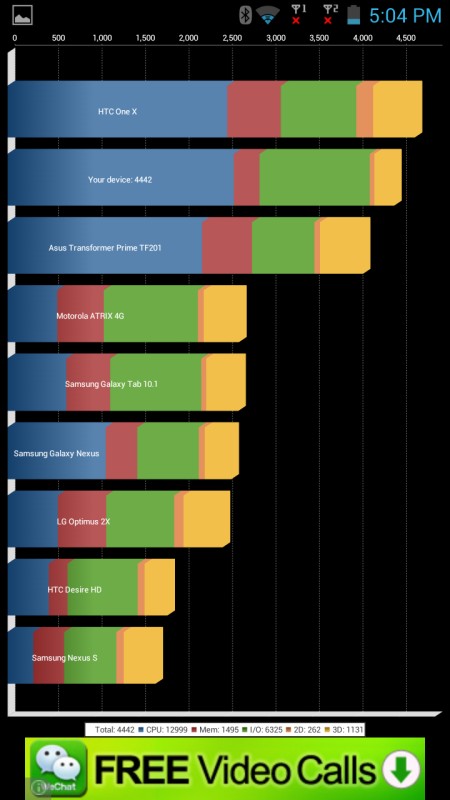 Camera
The 8 megapixel auto-focus camera comes with the usual set of features such as face detection, geo-location tagging, ISO, and exposure settings. Then there are different camera modes including Normal, face beauty, HDR, panorama, and multi-angle. It's unusually slow at taking photographs. What's even worse are the resulting photographs. The images contain too much of grain, most likely introduced due to aggressive sharpening. The post-processing algorithm also seem to make the colours look unnatural. Click here, to view the untouched camera sample. The phone is capable of recording 720p videos at 30fps. Similar to still photography, the over-sharpening plays a spoilsport here.
Multimedia
Compared to the P51, this phone's sound quality is disappointing. The bundled earphones are poorly made. So we did give it another chance with after-market IEMs from Cowon and Sony, but there was hardly any improvement. This is clearly not a phone for music enthusiasts. Coming to the subject of video playback, you can overcome the codec limitation with third-party apps such as MXPlayer. However, the video playback becomes jittery for videos with 720p resolution or above.
Telephony And Messaging
Phonebook is a standard Android affair. To handle two SIM cards, there's the usual SIM management tool. The phone's network reception and call quality are very good. The on-screen keyboard is well laid out, but isn't very responsive. You can sense a delay when trying to type fast.

Battery
The smartphone's 2000 mAh Li-ion battery easily lasts for more than a day under standard usage. In our video loop test, it managed to power the device for a little over 5 hours. This is not bad, but even affordable phones such as XOLO Q800 pull off better battery performance.

Verdict
Design and sturdiness are the high-points of the Panasonic P11. Thanks to its vibrant green back panel, the phone stands-out in the Android crowd. However, priced at Rs 14,500, the phone disappoints with its sluggish user-experience and below-average camera. It's gaming and multimedia performance are nothing to write home about. All and all, we were quite disappointed with this handset, especially after the high standards set by it's sibling, the Panasonic P51, which sells for just a couple of thousand rupees more but is well worth the premium. If you're shelling out almost 15k, we would suggest you go for the XOLO Play T1000 — an Android phone with very good gaming performance. Or if you're ready to look beyond Android, the Nokia Lumia 720 is another option. For other smartphone options under Rs 15,000, click here.

Features: 3/5
Design And Build Quality: 4/5
Performance: 2/5
Value For Money: 3/5
Mojo: 2/5
Overall Rating: 3/5

TAGS: Mobile Phones, Android, Panasonic