Review: Nokia Lumia 720 | TechTree.com
Review: Nokia Lumia 720
A classy phone with an impressive camera and great low-light performance.
Rating

4
/5
03rd May 2013
Pros:
Elegant design; Sturdy Build; Impressive low-light photography; Sleek and fluid UI; Offline voice-guided Sat Nav; Rich social networking experience; Great sound quality; Good battery life.
Cons:
Lacks FM radio; Not many games available; Some games not compatible due to low RAM.
Nokia Lumia 720
Street Price: Rs 17,900

Not just apps, there had been a void in terms of handset options for those willing to switch to the WP8 platform. Therefore, Nokia wants to make sure that there's a Lumia in most of the price segments. The Lumia 720 bridges the gap between their 820 and the budget-friendly Lumia 620. Announced in MWC 2013, the handset has been receiving a lot of attention. Let's find out if it is worth all that hype.
Design And Build Quality
The 720 is yet another good looking device that belongs to the Lumia family from Nokia. It sports the same Fabula design language that we've seen on the Lumia 800, 900, and the current flagship 920. The handset sports a polycarbonate unibody with curved edges. Even the screen is curved around the edges, which makes the transition between the display and body look seamless. However, Nokia has refined the design further and this one feels a lot slimmer.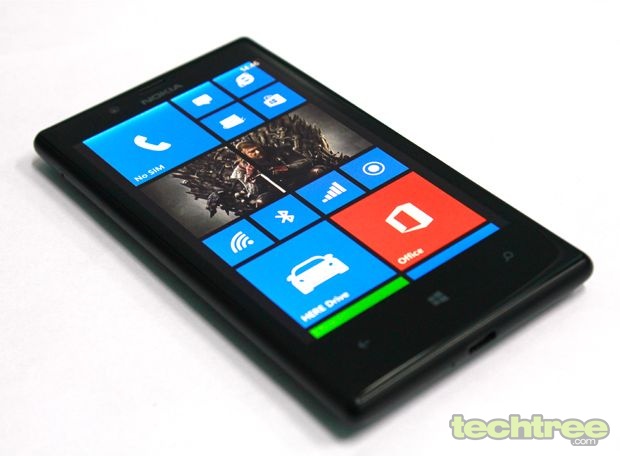 Nokia's love for colours continues as this handset comes in Red, Yellow, White, Cyan, and Black. The last two come with a matte body, while the rest of the lot sports a glossy finish. I'm a sucker for minimalism, and that's exactly what this phone focuses on. While the looks are subjective, at least in my books, the Lumia 720 is one of the best looking handset in its class. It is compact and ideal for single handed usage. Attention to detail is very good and there's nothing to complain about when it comes to sturdiness.
The WP handset features the standard set of capacitive keys: Windows (Home), Back, and Search. The Volume rocker, Lock button, and camera key are on the right side. A 3.5 mm jack is at the top, along with a micro-SIM slot that can be pop-opened using a paperclip. On the left is a similar looking slot that houses a microSD card. The phone has three contact points for the snap-on wireless charging covers, which aren't available in India yet.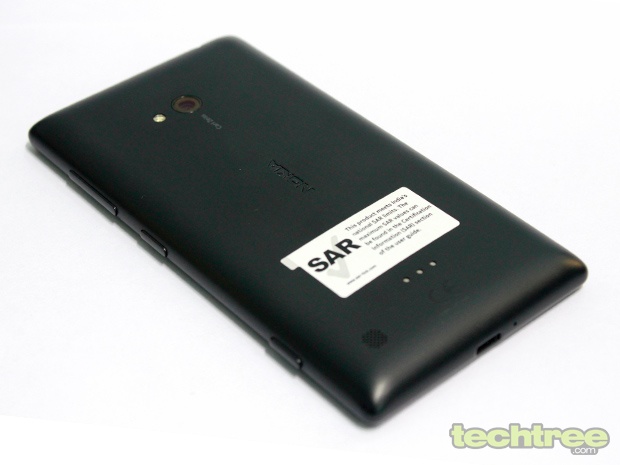 Display And Specs
The 720 features a 4.3" IPS screen protected by Gorilla Glass 2. Similar to the Lumia 820, this phone has pixel dimensions of 800x480. The screen is bright and has wide viewing angles. The colour reproduction is also good. Thanks to Nokia's ClearBlack tech you get great sunlight legibility. The blacks look far better than what you get to see on similarly priced handsets. Still, I would any day choose the 820's AMOLED screen over it.
This phone is powered by a Qualcomm Snapdragon S4 chipset with a 1 GHz dual-core CPU and Adreno 305 GPU. Other features include a 6.7 megapixel auto-focus camera with an LED flash, 512 MB of RAM, 8 GB internal storage, and microSD card slot (up to 64 GB). Full specifications are at the end of this review.
UI And Apps
In its latest iteration, the Windows Phone OS has caught up with the competition in terms of features such as Bluetooth file sharing and USB mass-storage mode. The cosmetic changes include more flexible Live Tiles, improved lock screen that can pull updates from your inbox, social networks, or any other apps. The user interface is fluid and feels more cohesive than Android. Unlike the dead icons found on the competing operating systems, the WP Live Tiles get updated in real time. This makes sure that you don't to miss any important notification, and also explains why Microsoft's platform doesn't require the Android like notification bar. Speaking of aesthetics, the WP platform can easily give the iOS a run for its money. As far as the stability is concerned it's as good if not better than Apple's mobile platform.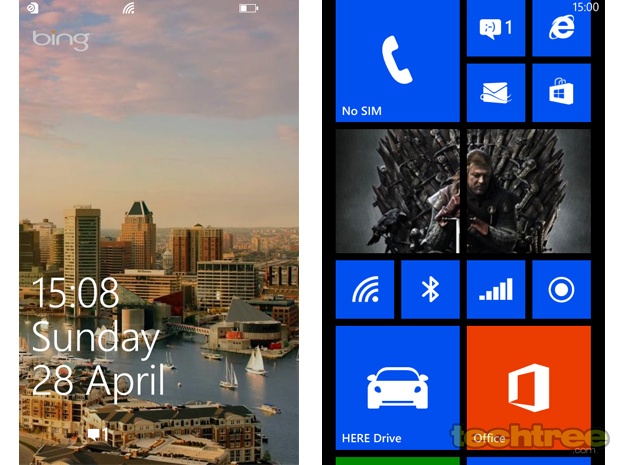 The OS is well optimized and therefore, runs smooth on a 1 GHz dual-core processor. Since the phone features 512 MB of RAM, the apps take slightly more time to load as compared to Lumia 820 and 920. Another annoyance is that due to the relatively low RAM, a few games such as Dark Knight Rises aren't compatible with the 720.

Rather than depending on third-party apps, the Windows Phone OS delivers most functionality out of the box. For instance, Facebook, Twitter, and LinkedIn are integrated right into the UI. Thanks to Microsoft's Office Suite, you don't have to hunt for document or spreadsheet editor. Moreover, the deep SkyDrive integration makes sure you don't miss Dropbox. Another nifty feature is Kid's Corner, which lets you create a separate homescreen for your kids (or even wife). You can choose as to what content appears in this section. This way, you can let other people check out your phone without compromising the privacy.
In addition to that, you get Nokia's HERE+ Maps. The app offers free voice-guided navigation in offline mode. The tried and tested location service is packed with features, and there's even an option to get voice instructions in Hindi. The device's GPS performance is impressive; even in offline mode, it never took more than a minute to lock onto satellites. Other Nokia exclusive apps worth mentioning are PhotoBeamer and City Lens.

The Windows Phone store houses over 130,000 apps, and is growing at a good pace. Most of the popular apps are available in the store. If not, there are alternatives, which are sometimes even better than what you were looking for. Take for example, Dictionary app by Flow Simulation, which puts its Android and iOS counterparts to shame.
Coming to the subject of gaming, there are enough titles to keep the casual gamers happy. However, the catalogue has a long way to go before catching up with the iOS and Android repositories.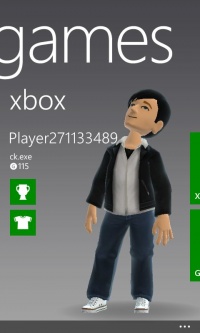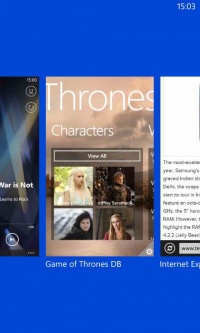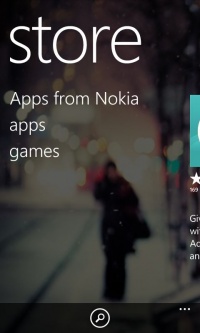 Multimedia
Apart from Microsoft's default music and video player, the Lumia 720 comes with Nokia Music. Not only does it bring equalizer settings and Dolby enhancement, but also offers unlimited free track downloads for a year. The device's sound quality is very good. Radio lovers will be disappointed though due to the lack of FM receiver.
Coming to the subject of video playback, the handset managed to handle 1080p MP4, WMV, and AVI without an issue. The guys at VLC are soon expected to bring their app on this platform, but till then there's no way to play MKV files on Windows Phone devices.
Camera
The Lumia 720 packs in a 6.7 megapixel auto-focus camera that boasts Carl Zeiss optics. The camera's daylight performance is slightly better than its younger sibling 620. The images shot with this phone deliver natural colours and plenty of detail. Click here, to download the untouched sample.
Similar to the Lumia 920, this mid-range handset offers excellent low-light shots. We compared its performance with the similarly priced (in fact pricier) Samsung GALAXY Grand. The results showed that there was no "comparison"! Then we decided to pit it against the iPhone 5, which costs 2.5 times the Lumia 720. To our surprise though, Nokia's handset managed to outperform the mighty iPhone 5.


Low light photo comparison (without flash).
Similar to the high-end Lumia 920, this one packs in Nokia-exclusive lenses such as Cinemagraph, Smart shoot, and Panorama. To find out the usage of these camera plugins, go through our detailed article about Nokia's nifty camera tricks.
Telephony and Messaging
People Hub is one of the selling points of WP handsets. It brings all your contacts from Facebook, Windows Live, Twitter, and LinkedIn in one place. For messaging, you get an extremely responsive on screen keyboard. Finally, there was no issue with Lumia 720's Wi-Fi, or network reception. The sound during the voice calls was loud and clear during our tests.

Battery
The phone packs in a 2000 mAh Li-Ion battery. In our 720p video loop test, it lasted around 6 hours and 40 minutes. With normal usage, it's good enough to keep the device powered for almost two days.

Verdict
The Lumia 720 is quite a looker and comes in variety of bold colours. Its multimedia performance and screen are very good. It has got enough firepower to offer fluid WP8 experience. However, it's the camera's outstanding low-light performance that sets it apart from the crowd. Both the Lumia 720 and its rival HTC 8S are available for Rs 17,900. However, be it camera, display, or exclusive apps, the 720 come across as a better deal.
Features: 4/5
Design And Build Quality: 4.5/5
Performance: 4/5
Value For Money: 4/5
Mojo: 4/5

Overall Rating: 4/5

Specifications:
Windows Phone 8 operating system.
Quad band GSM 2G, 3G.
1 GHz dual-core Snapdragon S4.
512 MB RAM.
8 GB internal storage, 7 GB cloud storage
microSD card slot to expand up to 64 GB.
4.3" ClearBlack display, with pixel dimensions of 800x480.
6.7 MP rear camera with F/1.9 Carl Zeiss Tessar lens and LED flash.
1.3 MP F/2.4 wide angle front camera.
Wi-Fi, GPS, Bluetooth 3.0, Tethering, NFC.
2000 mAh battery with wireless charging option.

TAGS: Mobile Phones, Windows Phone, Nokia, Lumia