Review: Panasonic P51 | TechTree.com
Review: Panasonic P51
How to make a premium Dual-SIM smartphone without cutting many corners. Or simply, the 'Grand' killer.
Rating

4
/5
25th Jun 2013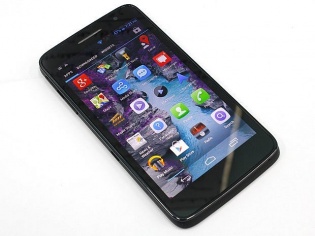 Pros:
Excellent screen; Sturdy build; Very good camera; Dual-SIM functionality.
Cons:
Paltry internal storage; Lock button not easily accessible.
Panasonic P51
Street Price: Rs 22,400

The P51 marks Panasonic's foray into Indian smartphone market. Thanks to its large portfolio of consumer electronics, the brand is no stranger to our country. In fact, it carries quite a good reputation in India. While entering the crowded market, the company has decided to bank on a premium 5-incher with dual-SIM functionality. The handset runs latest Android 4.2 (Jelly Bean), which is enough to please most Android fans. Apart from that, you get a quad-core CPU and an 8 megapixel camera. Let's find out whether Panasonic has nailed it with its very first smartphone in India.

Design And Build
The P51 is quite a good looking device with equally nice soft-touch matte finish. Especially, the edge-to-edge glass on the front is a nice touch. In case, you missed its launch news, the phone features a unibody design. The lack of removable back panel means that the battery isn't user replaceable. Like the Google Nexus 4, the phone lacks physical or capacitive navigation keys. On the left side, there are two notches for SIM cards, guarded by a plastic flap. Besides it, sits a micro-USB port. On the opposite side, there's a volume rocker and microSD card slot. Like every other over-sized phone, this 5-incher isn't ideal for single handed use. Another annoyance is that the Lock button is placed on the top side, which is quite difficult to reach.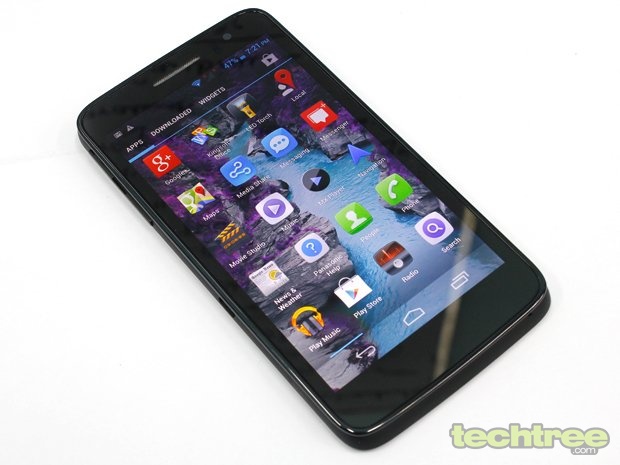 The phone comes with a magnetic flip-cover that snaps nicely on the phone. The cover isn't smart though, as closing it doesn't automatically turn off the display. Since I like to flaunt the phones, I prefer not to use flip or any kind of covers for that matter. That being said, I'm sure many people would prefer protecting their phone with a cover. At 135 grams, the handset feels surprisingly lightweight considering its size. Overall, the company has done a good job with the aesthetics and build quality. The only thing that looks out of place is the protruding camera lens.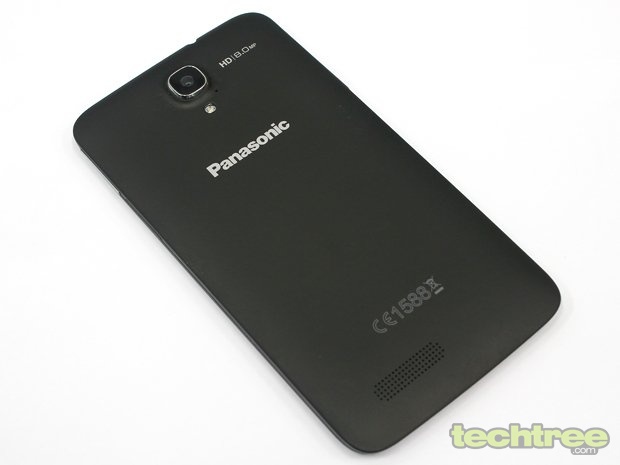 Screen
The 5" IPS screen on the P51 is pretty impressive. With pixel dimensions of 1280x720, the display is quite sharp. The colours look vibrant, and the viewing angles are wide. The sunlight legibility is decent, but blacks could have been better. The display sports an oleaophobic layer, which helps it remain smudge free. For scratch resistance, Panasonic has used Asahi Dragontrail glass, which is claimed to be better than the popular Gorilla Glass. We cannot verify if it's better but it is effective for sure. The screen remained totally scratch free after a week of testing, and having used it without the cover for almost the entire duration.
One thing I would like to mention here is that though this is a HD display, it looks noticeably better than Sony Xperia Z's Full HD screen thus proving the point that we have been trying to hammer in for a while now that on a 5-inch screen, 1080p resolution doesn't look any better than 720p.

Key Specs
The P51 runs Android Jelly Bean 4.2.1 and is powered by a 1.2 GHz quad-core MediaTek CPU. There is a rear camera with 8 mp image sensor having auto-focus and LED flash, capable of 1080p video recording. Moreover, you get 1 GB of RAM, Wi-FI, Bluetooth, 3G, dual-SIM functionality, and 2500 mAh battery. The phone comes with 4 GB of internal storage, of which only 1.22 GB is user accessible. Thankfully, the phone packs in a microSD card slot. More tech specs are at the end of this review.

UI And Apps
To complement the exterior, Panasonic has decided to go with a clean interface. The UI navigation has been taken care off by the on-screen keys. Since Panasonic hasn't made many changes to stock Android (version 4.2.1), it almost feels like using a Nexus device. Upon close inspection though, you can see the difference between the icon styling. The company has done away with transition animations. Another unique aspect of this handset is that it supports landscape mode throughout the UI. The phone supports Quick start feature that lets you boot the phone in just 10 seconds. However, once the battery has been entirely drained, the phone takes around 40 seconds to start-up.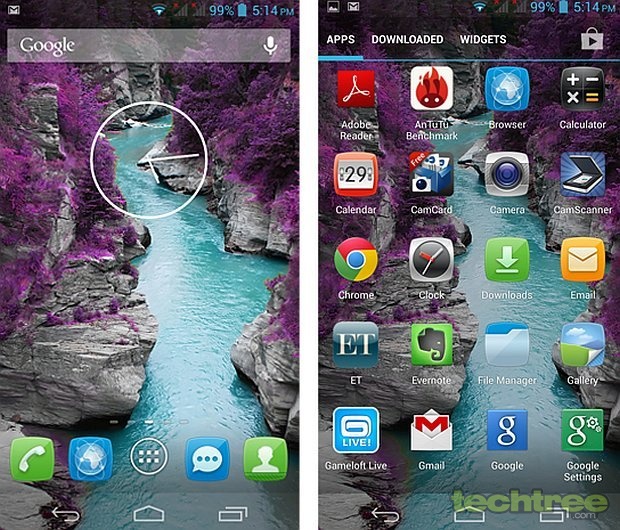 Despite the quad-core CPU ticking inside, the P51 does miss a frame or two occasionally while swiping between the home-screens. I guess that's due to the MediaTek 6589 chipset, which is mostly seen in budget quad-core devices that start at around Rs 12,000. In terms of gaming, the phone lets you play most of the latest games. But, don't expect all of them to run smooth like they do on the Snapdragon 600 chipset.
Similar to the Samsung GALAXY Note series of handsets, the P51 comes with a stylus. However, Panasonic did not supply us with one with our review unit, so we can't comment on it.
Multimedia
The default music player's interface is quite basic. Not only does it lack the eye-candy, but equaliser settings are also missing. In terms of audio quality though, there's nothing to complain about. While Panasonic didn't send us the bundled earphones, the sound output via after-market earphones was quite good. Under device's audio settings, there's an enhancement called 'BesAudEnh'. You better turn it off, as it spoils the sound quality. Coming to the subject of video playback, the phone had no issue handling full-HD videos.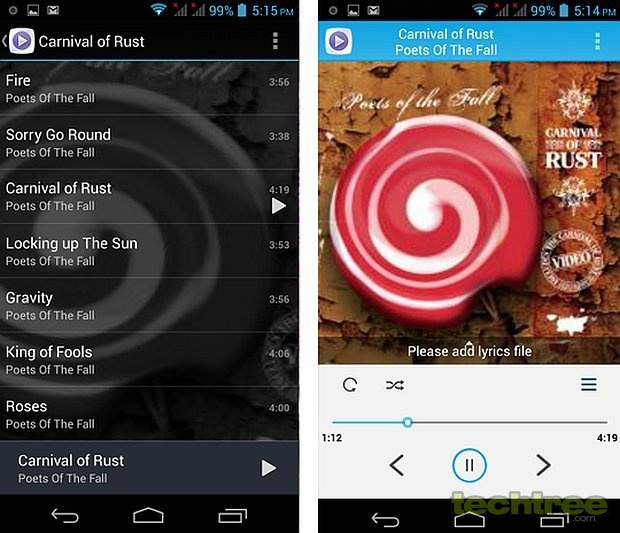 Camera
The rear 8 megapixel auto focus camera has usual set of features such as face detection, zero shutter lag, geolocation tagging, ISO, and exposure settings. The zero shutter lag works like a charm. It captures the image as soon as you touch the shutter key. Then there are different camera modes including Normal, face beauty, HDR, panorama, and multi-angle. The resulting images are sharp and contain a lot of details. However, the colours look exaggerated.
Like any high-end phone, the Panasonic P51 can record 1080p videos. The resulting 3GP clips are fine, but I wish Panasonic had used MP4 format as it's supported by most media players.
Telephony And Messaging
The P51 is probably the only dual-SIM smartphone that crosses the Rs 20,000 mark. For SIM management, the phone offers quite elaborate settings. After using it as my primary phone for a few days, I found no issues with its network reception and call quality. The on-screen keyboard is decent, but a weird smiley near the text box looks out of the place. Check out the image below to find out what I'm on about.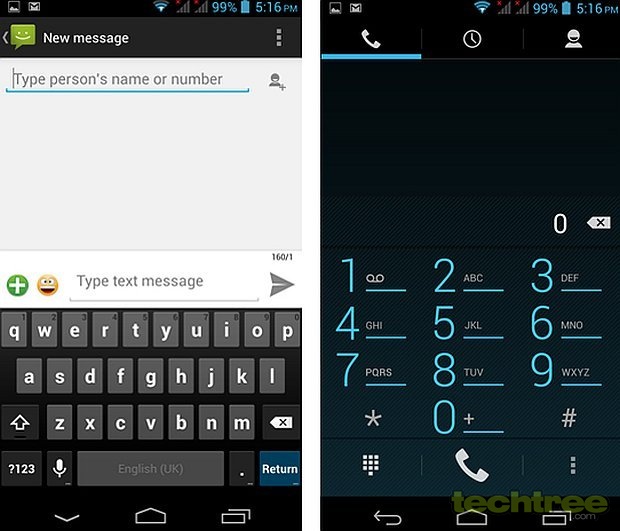 Battery
The smartphone's 2500 mAh Li-ion battery easily lasts for more than a day under standard usage. In our video loop test, it managed to power the device for almost 6 hours. It's quite good for an Android phone with a 5" screen, but I was expecting better from a 2500 mAH battery.
Verdict
The Panasonic P51 is available for Rs 22,400. For this price, the handset packs in a sharp and vibrant screen. The phone's design is quite pleasant, and the build quality is also very good. Moreover, its camera is impressive and there's nothing to complain about its music quality.
As mentioned in the article, there are few niggles such as slight stuttering while navigating the menu and the underwhelming internal storage. Considering the P51's price tag though, none of them are deal-breakers. More importantly, it's way better than its closest rival, Samsung GALAXY Grand, in almost every aspect. Therefore, if you're looking for a smartphone with a large screen in the mid-range segment, the P51 is the way to go.

Features: 4/5
Design And Build Quality: 4/5
Performance: 3.5/5
Value For Money: 4/5
Mojo: 4/5

Overall Rating: 4/5
Specifications:
Android 4.2 (Jelly Bean), Google Play Store.
Dual-SIM (GSM), Quad-band.
5" multi-touch capacitive IPS panel with pixel dimensions of 1280x720.
Display protected by scratch-resistant Asahi Dragontrail glass.
MediaTek MT6589 SOC with 1.2 GHz quad-core CPU, PowerVR 544 GPU.
1 GB RAM, 4 GB internal storage, MicroSD card slot.
8 megapixel autofocus camera with LED flash, 1.3 megapixel front-facing camera.
Wi-Fi, 3G, Bluetooth 4.0, A-GPS, FM radio, 3.5 mm stereo jack.
2500 mAh battery.
5.7" (H) x 2.95" (W) x 0.33" (8.5 mm) (D), 135 grams.
TAGS: Mobile Phones, Multi-SIM, Android, Panasonic