Review: Nokia Lumia 620 | TechTree.com
Review: Nokia Lumia 620
Easily one of the best value for money smartphones currently available in India.
Rating

4.5
/5
22nd Apr 2013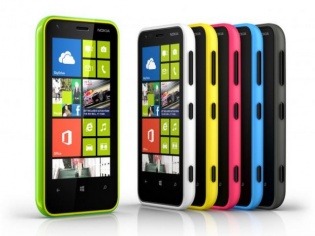 Pros:
Excellent build quality; Thoughtful design; Crisp display; Impressive camera, Sleek and fluid UI; Offline voice-guided Sat Nav; Rich social networking experience; Great sound quality.
Cons:
Lacks FM radio; Not many games available.
Nokia Lumia 620
MRP: Rs 16,000
Street Price: Rs 14,000


After garnering positive responses in the top-end Windows Phone 8 smartphone range, Nokia is now focusing on the budget market. Last year, Nokia tried to crack the sub-15k smartphone segment with its Lumia 610 and 510, but with little luck. Going by their below-par specs and OS restrictions, you knew whom to blame for the dismal sales. But things look different now, with Windows Phone 8 and the latest Snapdragon S4 chipset in tow, the Lumia 620 is ready to fight off a myriad of Android devices.


Design And Build Quality
Similar to its older sibling, the
Lumia 820
, this phone also comes with replaceable outer shells. So if you get bored of the existing hue, you can simply buy a new shell and give it a new look. The covers are available in youthful green, yellow, and cyan. However, to cater to the not-so-young-at-heart audience, Nokia has also rolled out the serious black and white covers too.
All the shades offer matte finish except for green, which offers glossy finish.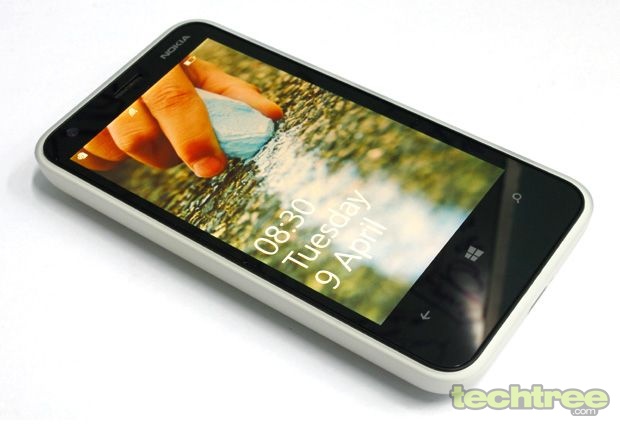 Upon close inspection, the shell reveals its dual-shot construction. In simple words, it features a layer of conventional coloured plastic with a translucent layer on top of it. This not only helps with the aesthetics, but also rules out the possibility of losing colour.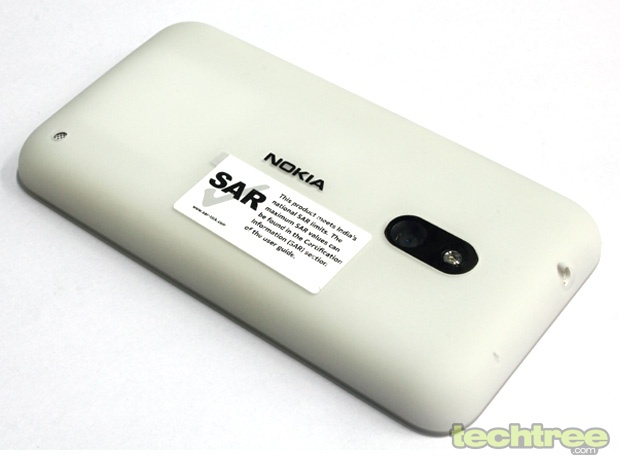 To accommodate microSD card slot and user replaceable battery, the Finnish giant has done away with the unibody design. However, the minimalistic design approach is still evident. At 11 mm, the 620 isn't thin, but it's compact and fits perfectly in your palm. Volume rocker, Lock button, and shutter key are on the right side. A 3.5 mm jack is at the top, while the bottom side hosts a micro-USB port. Of these buttons and ports, the headphone jack has been integrated in the back cover. In case the water goes inside the audio jack, the damage will be limited to that part only, and your hard-earned smartphone will be unharmed. So instead of seeing your handset stripped naked by a repair guy, you can simply get rid of the problem by replacing the shell. Overall, with the Lumia 620, Nokia has delivered a thoughtful design in a sturdy package.
Display And Specs
The 620 features a 3.8" IPS screen with 800x480 pixels, protected by a hardened glass. The screen is impressively bright and has wide viewing angles. The colour reproduction is unmatched by any of the similarly-priced handset. Thanks to the ClearBlack tech, the display produces deeper blacks. Sunlight legibility is another area where the phone shines. Overall, the display is outstanding for a budget smartphone.

This phone is powered by a Qualcomm Snapdragon S4 chipset with a 1 GHz dual-core CPU and Adreno 305 GPU. Other features include a 5 megapixel auto-focus camera with an LED flash to keep it a company, 512 MB of RAM, 8 GB internal storage, and microSD card slot (up to 64 GB). Full specifications are at the end of this review.

UI And Applications
The Windows Phone OS is no stranger for cellphone enthusiasts anymore, still I'll run through the most important WP8 features. In its latest iteration, you can now customise Live Tiles with three sizes. Unlike the previous versions such as 7.5 and 7.8, you get mass storage mode and Bluetooth file sharing options in WP8. And of course, you can share internet with up to eight devices using the Wi-Fi hotspot feature.

Another major tweak includes an improved lock screen that can display updates from apps, and pulls background images from Bing and Facebook feeds. As mentioned in earlier reviews, WP offers extremely deep social networking integration. So if you're a Facebook addict, this is the phone for you. Last, but not the least, the handset does not lag. Yes, I'm looking at you Android!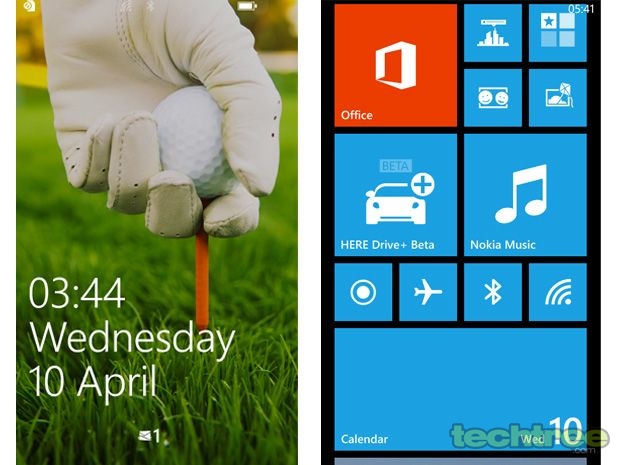 Leveraging on Nokia's $8.1 Billion acquisition of Navteq, the 620 brings offline voice-guided Sat Nav to the table. Now branded as HERE Drive+, the app allows you to download map data right on the device. Depending on your needs, you can either choose to install the all India map, which fits in 603 MBs or opt for the individual data pack for each state. The voice instructions are available in more than 50 languages including Hindi and Tamil. During my week's usage, not once did it take more than 30 seconds to lock onto satellites, even when there was no SIM card.

Nokia's PhotoBeamer is one of the most underrated app. Leaving aside all the technical mumbo-jumbo, this nifty software allows you to share your pictures on any web-enabled device. Just visit photobeamer.com on a device where you wish to display the photograph. Open the PhotoBeamer app on your phone, and simply point it at the QR code that appears on the website. The photos on your device get mirrored on the other device (the speed depends on the internet or Wi-Fi connection speeds).

Apart from these Nokia-exclusive apps, you get Microsoft's Office Suite. Needless to say, it comes with SkyDrive integration. The mobile version of IE10 is HTML5 compatible, and offers zippy page rendering speeds. Other MS apps worth mentioning are Xbox 360 Smart Glass and Bing Vision. For details, go through our Lumia 920 review.

Microsoft's app repository now houses over 130,000 apps, and is growing at a good pace. It's undoubtedly enough for a normal user. However, I'm sure that the lack of Instagram will drive many hipsters away from this phone. And, going by the sheer number of games, the WP platform has a long way to go before catching up with Google's Play Store or Apple's App Store.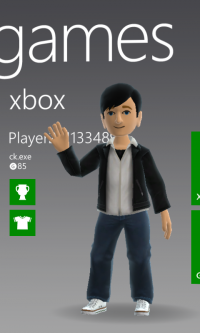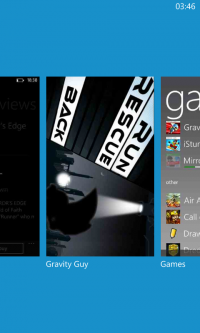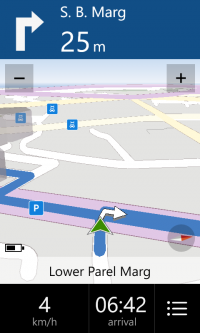 Multimedia
Going straight to the point, the handset's sound quality is great. The loudspeaker is indeed loud. Apart from the default music player, the phone comes with Nokia Music. It's better to opt for the latter since it offers equaliser settings and Dolby enhancement. Moreover, it offers unlimited free track downloads for a year. The bundled earphones are just ok, but not in the same league as Samsung, who ship much better IEMs with its phones.

Like every other WP8 device, this one also lacks FM radio. According to Nokia's official blog though, the Snapdragon S4 chipset consists of a radio receiver, so a future update might enable this feature. Coming to the subject of video playback, the phone is compatible with MP4, WMV, and AVI videos up to 720p resolution. However, MKV videos are still a no-go.

The 5 megapixel snapper is surprisingly good. The resulting pictures contain incredible amount of details for a budget phone. More importantly, the colours look natural. Click here, to download the untouched sample. Similar to the high-end Lumia 920, this one packs in Nokia-exclusive lenses such as Cinemagraph, Smart shoot, and Panorama. To find out the usage of these camera plugins, go through our detailed article about Nokia's nifty camera tricks.
At max quality, the Lumia 620 can record 720p videos at 30 fps. The clips are saved in MP4 format, and offer quite smooth playback.


Telephony And Messaging
The People Hub not only takes care of your phonebook, but also integrates your Facebook, Windows Live, Twitter, and LinkedIn contacts at one place. I really like the way how the alphabet tiles help you find the desired contact with minimal scrolling. Moreover, the OS offers extremely responsive on-screen keyboard, when compared to Android. The handset's call quality and network reception were excellent during our tests. Other connectivity features such as Wi-Fi and 3G also worked fine.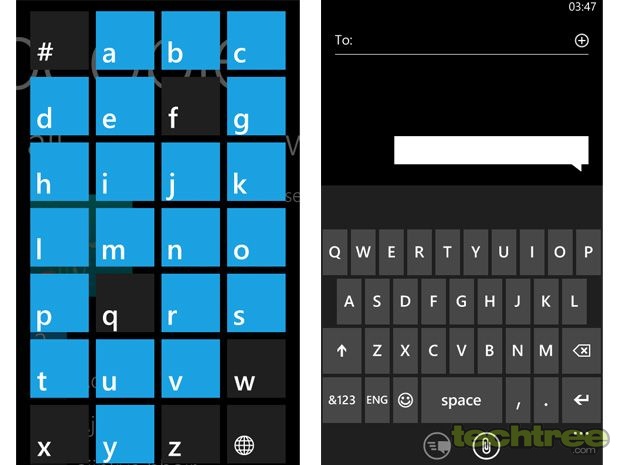 Battery
The 620's 1300 mAh Li-Ion battery may look underwhelming on paper. However, it's good enough to keep the device up and running for a day and half to two depending on your usage pattern. In our 720p video loop test, it lasted around 6 hours, which is quite good.


Verdict
Available for around Rs 14,000, the 620 offers outstanding build quality, great camera, and an impressively screen. Thanks to the 1 GHz dual-core Snapdragon chipset, you get to experience fluid interface at a budget price. Nokia exclusive apps including HERE Drive+, Nokia Music, and a bunch of camera apps sweeten the deal further. This phone's closest competitor, HTC 8S is priced at around Rs 18,000. Therefore, if you're looking for a sub-15k smartphone, the Lumia 620 should top your wish list. Unless, you believe in bigger the better ideology, and have decided to take the 'phablet' route.


Features: 4.5/5
Design And Build Quality: 4.5/5
Performance: 4.5/5
Value For Money: 4.5/5
Mojo: 5/5
Overall Rating: 4.5/5

Specification:
Quad-band 3G (850 / 900 / 1900 / 2100 MHz); quad-band GSM (850 / 900 / 1800 / 1900 MHz).
3.8" TFT WVGA ClearBlack screen with pixel dimensions of 480x800.
1 GHz Dual-Core Snapdragon S4 processor, 512 MB of RAM.
8 GB internal storage.
64 GB microSD card support.
5 megapixel rear camera with autofocus and LED flash; Video capture: HD 720p at 30fps.
VGA front camera.
NFC, Wi-Fi, Bluetooth 3.0, A-GPS (Glonass).
Micro-USB; 3.5 mm audio connector.
4.5" (l) x 2.4" (w) x 0.4" (11.02 mm) (d); weighs 127 grams.
TAGS: Mobile Phones, Windows Phone, Nokia, Lumia