Nokia Lumia 820. The Best Mid-Range Smart Phone? | TechTree.com
Nokia Lumia 820. The Best Mid-Range Smart Phone?
Largely overshadowed by the more expensive flagship, is the Lumia 820 going to be an 'also ran', or be a worthy addition to Nokia's portfolio?
Rating

4
/5
02nd May 2013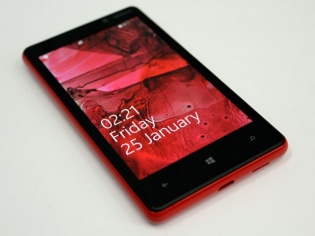 Pros:
Excellent build quality; Thoughtful design; Crisp display; Impressive camera, Sleek and fluid UI; Offline voice-guided Sat Nav; Rich social networking experience; Great sound quality.
Cons:
Not many games available.
Nokia Lumia 820
Street Price: Approx. Rs 26,000

Right from the time of its launch, the Lumia 820 had to dwell under the shadow of its older sibling, the Lumia 920. Thanks to the latter's pixel-packed screen and unmatched low-light photography (amongst other strengths), the 920 took its worthy place as Nokia's flagship, while the 820 hardly made any headlines. In my opinion though, the 820 has more potential than what one would assume from its underdog status.

Design And Build Quality
Instead of following the current trend of slim and light handsets, the Lumia 820 aims for sturdiness. To accommodate a removable battery, Nokia has done away with the unibody design that was a signature of the Lumia 800, the 900 and the 920. The quality of materials used for the handset's innards and outer shell are top notch. The precision build and attention to detail is impressive, as always with high-end Lumias.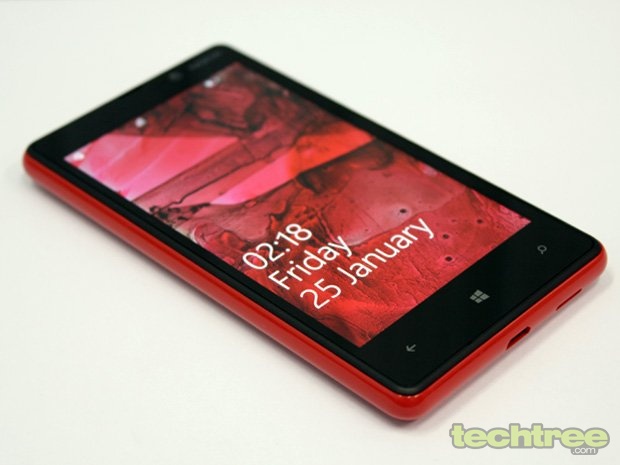 Nokia's affair with bright colours continues with the Lumia 820. The handset comes in glossy cyan, red, yellow, purple, and white. For those who prefer matte finish, the choice is between gray and black. Since the phone features exchangeable shells, you can buy extra panels if you get bored of the colour of the one that came with it. With the Wireless Charging Shell (not yet available, and to be bought separately), the Lumia 820 can take a power nap on Fatboy's charging pillow. Having used this feature on the Lumia 920, I can attest to the claim that it's a very convenient way of charging the phone.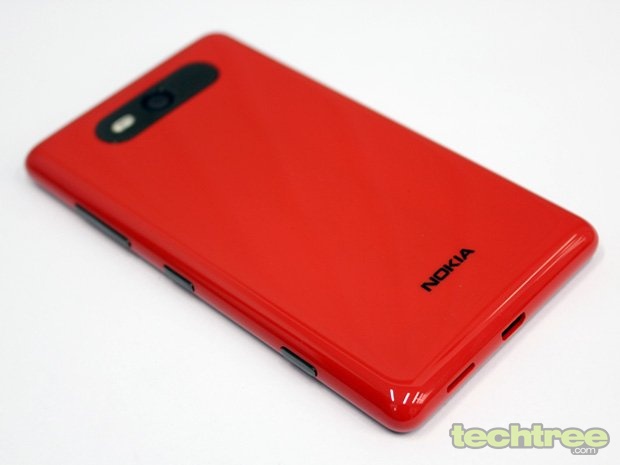 Recently Nokia has released a 3D printing guide to print custom back panels for the Lumia 820. While 3D printers are not easily accessible in India, I'm sure this will open floodgates of shells made by Chinese companies. I find this idea a little more exciting since it brings back the nostalgia of my decade old Nokia 3200. Before moving on to the next point, I'll have to tell you that removing the back-panel is a tough job if you don't have long (and strong) fingernails!
Display And Specs
The 820 features a 4.3" screen with pixel dimensions of 800x480. The pixel density of 217 ppi isn't great by today's premium smart phone standards, but not bad enough to complain. In comparison, the less expensive Android based 4.0" Sony Xperia P has 275 ppi; then the 4.0" HTC 8S which is the Windows Phone 8 competitor to the Lumia 820, has 233 ppi (same number of pixels, but on a slightly smaller display). Since the Lumia's Windows Phone 8 UI contains mostly tiles and straight lines, the effect of lesser number of pixels is less pronounced to the user. The display is bright and makes the colours pop-out. More importantly, black levels offered by the Lumia 820's AMOLED display is stunning. Since Nokia has used full-RGB matrix, there's no blueish ting, as found on most AMOLED screens including that of the GALAXY S III. Thanks to Nokia's ClearBlack technology, the screen delivers outstanding sunlight legibility. It's also one of the brightest screens out there on a mobile phone. To put things in perspective, we compared the Lumia 820's screen with its closest rival HTC 8S, and here's the result. Note that, brightness is set to maximum on both the handsets.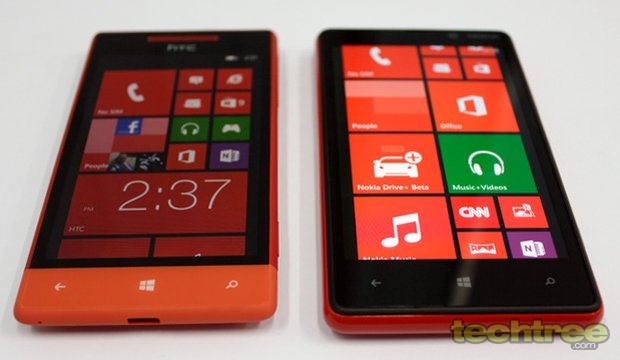 Similar to the flagship Lumia 920, this handset features Nokia's super-sensitive screen. It's operable with gloves, fingernails, and any metal object. The display is protected by a hardened scratch-resistant glass, but that isn't manufactured by industry leader Corning, which makes the famed Gorilla Glass.
The phone's compute power consists of a dual-core Snapdragon S4 chipset clocked at 1.5 GHz and 1 GB RAM. Other bells and whistles include 8 GB of inbuilt storage, and an 8 mp camera. Full specifications are at the end of this review.

Software
WP8's live tiles look refreshingly different than the grid of icons (which have now got tad boring) found on rival platforms. I think it's the most elegant UI you can lay your hands on. As I've mentioned in earlier articles, Microsoft's mobile platform is as fluid as Apple's iOS and at the same time offers features comparable to Android; and in the case of social networking integration, is better than competition. Since the Lumia 820 has the same chipset as in the flagship Lumia 920, performance is top notch. Not once did it lag or display any signs of slowdown during our testing. The new Windows Phone 8 features include Children's corner, improved lockscreen, and resizable live tiles. These features have been discussed in greater detail in our Lumia 920 review.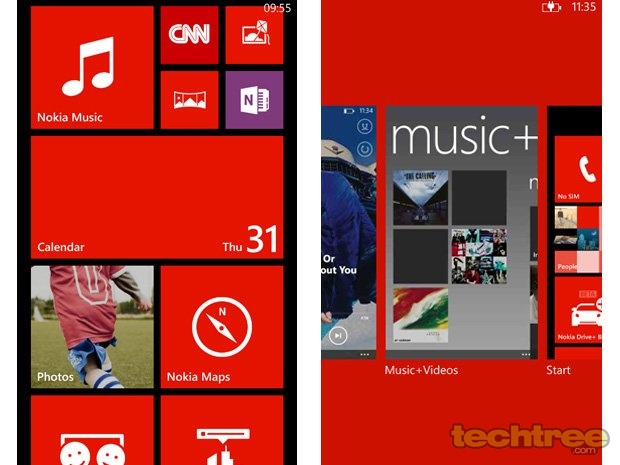 The mobile version of Microsoft's Office Suite and IE10 are part of the software package, and more importantly, Microsoft's Store now has enough apps to get you going, and the catalogue is growing at a good pace. Considering the fact that OEMs can't customize the WP8 OS, Nokia is using its exclusive app suite as a key differentiator. Out of the lot, my favourite is Nokia Drive, an app that offers offline voice guided sat nav for free. Other Nokia apps that deserve a mention are City Lens and Photobeamer.

Multimedia
Nokia ships the Lumia 820 with its own Nokia Music hub. This app addresses the Windows Phone 8's shortcoming such as the lack of equalizer settings. There's Dolby enhancement for those who prefer extra bass. What's more, Nokia Music offers unlimited free track downloads for a year. The catalogue includes songs from India and around the world. Since the tracks are DRM-free, you can share them.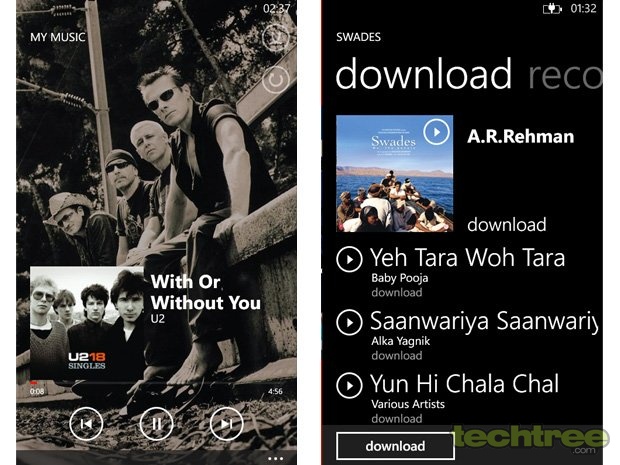 The device's sound quality is great, and the bundled earphones are of good quality too. Like other Windows Phone 8 devices, the Lumia 820 misses out on FM radio. Backed by the Snapdragon S4, the handset takes care of MP4 and AVI videos up to 1080p, but refuses to play MKV videos. Lack of subtitle support is another small annoyance.
[Listen Microsoft, if you don't want to address these niggles, just help out the guys at VLC who're working hard to bring their app on this platform!]

Camera
In the camera department, the Lumia 820 features an 8 mp Carl Zeiss lens and a dual-LED flash. There's no denying that this snapper is no match for the 920's Pureview tech. However, it does a fine job in its price segment. The resulting pictures contain fair levels of details. Colours look natural too. However, image noise is evident, but then, this issue is common across most mobile phone cameras. Click here, to download the untouched sample.
The Lumia 820 can record 1080p videos at 30 fps, mono audio, saving the clip in MP4 format.
Similar to the Lumia 920, this phone comes preinstalled with Nokia exclusive lenses such as Cinemagraph, Smart shoot, and Panorama. To find out the usage of these camera plugins, go through our detailed article about Nokia's nifty camera tricks.

Telephony And Messaging
The People Hub integrates all your contacts from Facebook, Windows Live, Twitter, and LinkedIn at one place. The result is a seamless social networking experience that runs throughout the UI. If someone pings you on FB, the message shows up in your Messaging Hub. Similarly, photos uploaded by your FB friends are automatically made available to the Pictures Hub. Beyond question, it's perfect for social network addicts. The handset's call quality and network reception were good during our tests.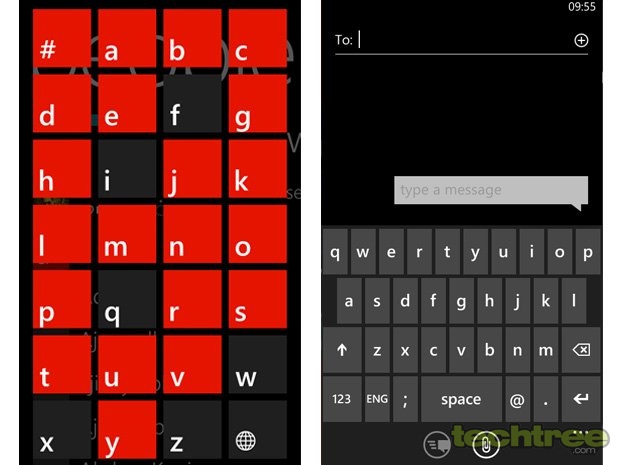 Battery
The 820's 1650 mAh Li-Ion battery provides sufficient juice for it to last from dawn to dusk during a normal work day. In our 720p video loop test, it lasted around 6 hours, 30 minutes which is quite good for a phone with dual-core CPU.

Verdict
The Lumia 820 is a solid piece of hardware, no doubt; and Microsoft has gotten its latest mobile OS right; which means, the fundamentals are covered. The bonuses come in form of the AMOLED display, multimedia performance, Nokia's exclusive navigation software, music service, and camera lenses (the software). If your budget for a smart phone is at the Rs 25,000 mark, and you are not stuck to earlier platforms, the Lumia 820 is the smartphone to go for [if you are an Android fan, you can only pick up a generation old flagship at this price].
Features: 4/5
Design And Build Quality: 4/5
Performance: 4.5/5
Value For Money: 4/5
Mojo: 4/5
Overall Rating: 4/5
Specifications:
4.3" AMOLED, ClearBlack screen (480x800, 217 ppi), 16.7 million colours, Polarization filter, High brightness mode, Sunlight readability enhancements, 15:9 aspect ratio, RGB stripe.
1.5 GHz dual-core Snapdragon S4 chipset, 1 GB RAM.
8 GB internal storage, 7 GB in SkyDrive (online storage), MicroSD slot.
8 mp auto-focus rear camera with Carl Zeiss Tessar lens, dual LED flash, F Number: 2.2, Focal Length: 28 mm.
1080p video recording @ 30 fps, Front 0.3 mp camera.
NFC, Wi-Fi with hotspot and Channel Bonding (DLNA certified), Bluetooth 3.1, Assisted GLONASS GPS (with offline navigation support and voice navigation).
Micro-USB 2.0, 3.5 mm audio jack (with Dolby headphone support), Noise-cancelling mic.
Proximity sensor, Compass, Ambient light sensor, Orientation sensor.
1650 mAh battery, 14 hours talk time on 2G (8 hours on 3G), 330 hours standby time, 55 hours of music playback, 5 hours of video.
Windows Phone 8 OS.
4.9" (l) x 2.7" (w) x 0.4" (10 mm) (d), 160 grammes.
Package Contents: AC-50N micro-USB charger, BP-5T 1650 mAh battery, Charging and data cable CA-190CD, Headset WH-208, Product user guide.
TAGS: Mobile Phones, Windows Phone, Nokia, Lumia