Samsung Ropes In 20 Million Pre-Orders For Its GALAXY S6 | TechTree.com
Samsung Ropes In 20 Million Pre-Orders For Its GALAXY S6
A pretty big number when you compare it to its predecessor.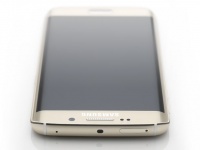 20 million, this is the number of pre-orders that Samsung has received from its major wireless carriers for its recently announced GALAXY S6 handsets at the MWC 2015.
The number that was obtained from an unnamed Samsung executive is big indeed, and shows that company was pretty much spot-on, when it came to delivering a flagship this year. While many say that standard GALAXY S6 looks a lot like the iPhone 6 at a glance, the S Edge is the one that stands out thanks to its dual-edge curved display.
While the S edge may not be all that functional, (its display is indeed novelty for now) its the QHD display, Exynos 7420 and the 3 GB of RAM that is attracting the all the attention for now.
20 million in pre-orders, is a big number indeed. This is considering that the GALAXY S5 did horribly when it came to sales and was mocked for its "band-aid" design right from day one.
Compare this to the GALAXY S4 that sold 40 million in six months and was a record breaker for Samsung back then. More so it is important to keep in mind that the handset was launched just a week ago.
Seems like Samsung is indeed going for gold this year. The GALAXY S edge seems to have one upped HTC One M9 already, and has the LG G Flex 2 in its crosshairs.
The HTC One M9 seems to have improved upon its One M8 whereas Samsung decided to build a smartphone from scratch using glass and metal; a move that for now seems to have already begun paying off.
TAGS: Mobile Phones, Android, Samsung, Samsung GALAXY S6, Samsung GALAXY S6 edge