HTC One (M8) Review: Beauty With Brains | TechTree.com
HTC One (M8) Review: Beauty With Brains
HTC's top-end phone offers a fine blend of aesthetics and performance.
Rating

4
/5
25th Sep 2014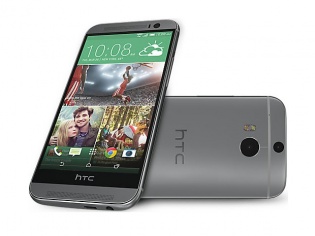 Pros:
Stylish unibody design; Crisp display; Excellent multimedia perofrmance; Interesting camera features; Can work as a TV remote; Excellent speaker setup; Good battery life.
Cons:
4 "ultrapixel" camera loses out on details; Not ideal for single-handed usage; Colours (on screen) look dull.
HTC One (M8)
Street Price: Rs 41,000
When HTC announced the One (M8), I was happy not because of its specs, but the fact that the Taiwanese company didn't call it the HTC One Two. Sad joke aside, this is probably the only Android phone that iPhone and Windows Phone users wouldn't mind picking-up. Improving upon its predecessor, the One (M8) promises to offer more power, bigger display, and a refined design. Priced at 41k, does it stand a chance against the iPhone 5s, GALAXY S5, and LG G3?
Design And Build Quality
HTC is one of the few design driven companies in the smartphone market. Like Apple and Nokia (now Microsoft), the Taiwanese brand is serious about the aesthetics and build quality. Its last year's flagship called the One, was clearly the most stylish Android out there. Things haven't changed this year either. In spite of countless Android manufacturers flooding the market, HTC remains the only handset maker from Google's camp to match the iPhone's charm.
The HTC One (M8) features a premium aluminium unibody. Its design is minimalistic, yet full of character. Especially, the front-facing speakers stand out. HTC has also put in a lot of efforts to achieve impressive detailing. Even after close inspection, I couldn't find a single rough corner on the handset. Small things such as speaker grilles are rendered to perfection. With the end of Beats Audio contract, the phone's back is no more crowded by branding. All you get there is a moderate size HTC logo and the duo camera setup.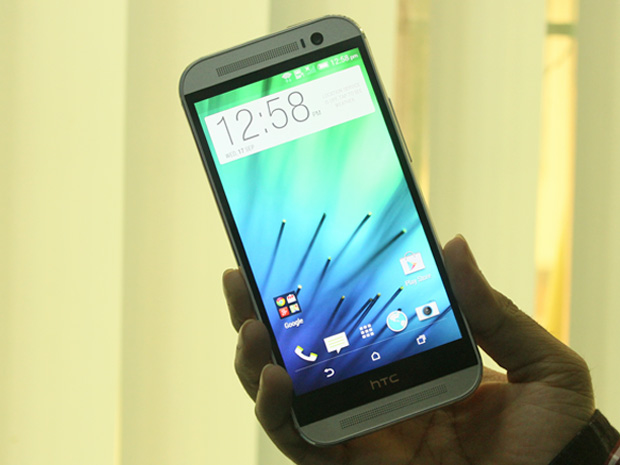 With a 5-inch screen, the new phone is certainly bigger than its predecessor, which makes it difficult for a single-handset use. I wish HTC had retained the 4.7-inch screen size. Compared to the predecessor, the HTC One (M8) has put on some weight. Holding a 160 gram is not something you want to crib about though. The capacitive buttons are gone, as HTC has decided to go ahead with the on-screen keys. What's annoying here is the Lock button, which is placed at the top of the phone. Try unlocking the phone with using one hand, and you're likely to drop it on the ground.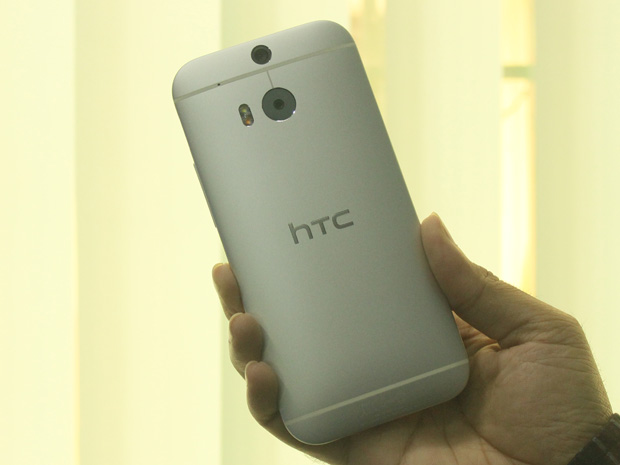 Display
The phone comes with a 5" Super LCD3 capacitive touchscreen. The Full HD screen offers pixel density of 441 ppi, which offers crisp viewing experience. The screen is bright as it should be. However, considering the phone's price, colour reproduction should have been much better. Compared to the GALAXY S5 (AMOLED) and LG G3 (IPS), the One (M8)'s display looks quite dull. Moreover, the sunlight legibility is also just about ok.
Specs
The One (M8) is powered by a quad-core Snapdragon 801 chipset clocked at 2.5 GHz, and there's 2 GB of RAM. Gaming is taken care of by the new Adreno 330 GPU. In the photography department, you still have 4 megapixel main camera with "Ultrapixel" technology. 16 GB internal storage, and 2600 mAh Li-Polymer battery. Taking the user feedback in consideration, HTC has added a memory expansion slot, which was missing in the previous iteration.
UI And Applications
The HTC One (M8) runs Android 4.4 Kitkat. It does, however, looks nothing like Google's stock ROM. HTC's Sense UI (version 6) customisation runs deep. We are not fan of custom skins, but HTC's Sense UI looks much better than Google's default Android interface. Its flat and clean layout complements the elegant hardware design of the phone.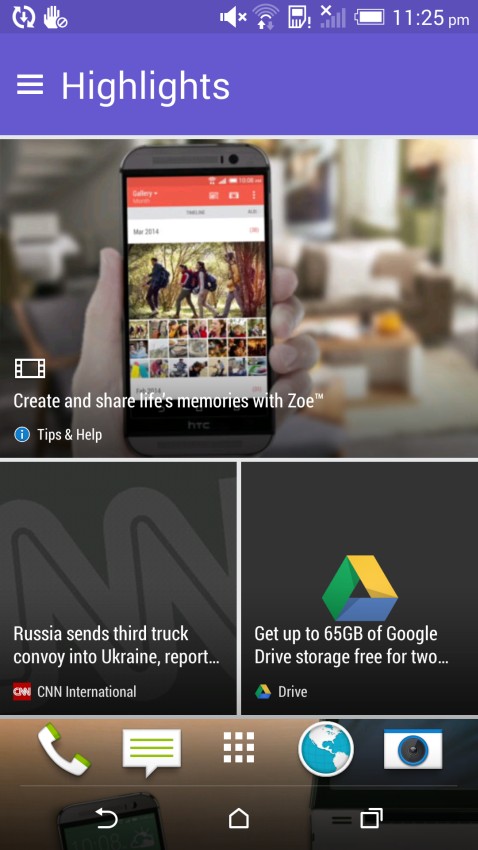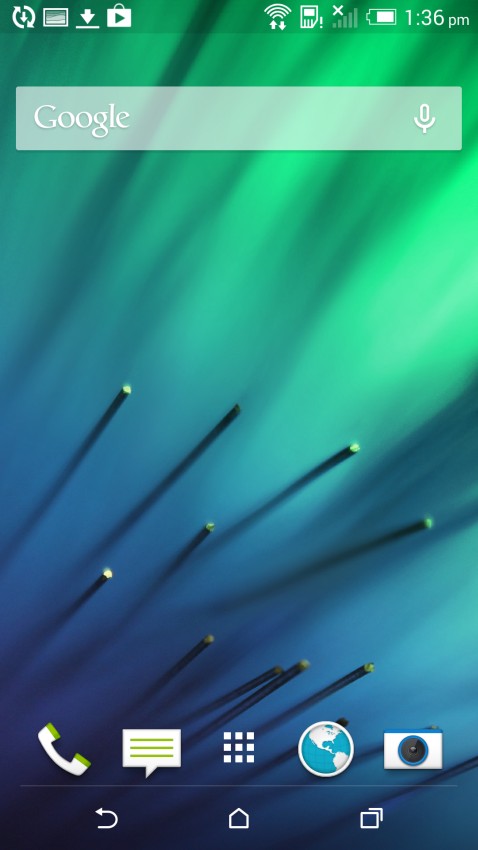 BlinkFeed is still present, but in its latest version managing the news feeds is a lot easier. In case you were wondering, BlinkFeed features a list of tiles containing information from numerous websites. HTC has refrained from crowding the notification bar with quick toggles for Wi-Fi, Bluetooth, and mobile data right from the notification bar. However, one place where things get crowded in the multitasking menu.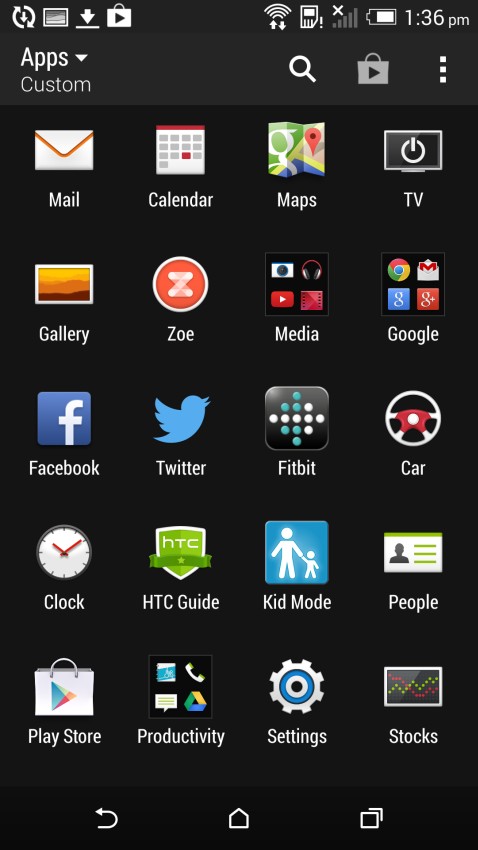 Apart from sleek UI, the One (M8) also offers snappy performance. The frame-rates however do drop a little bit with many apps running in the background. In gaming department, we tested everything from casual games such as Temple Run 2 to high-end titles including Real Racing 3. Not once did the HTC One (M8) let us down. Those interested in numbers can check out the Synthetic benchmark scores here:

AnTuTu: 43,116
Quadrant: 26194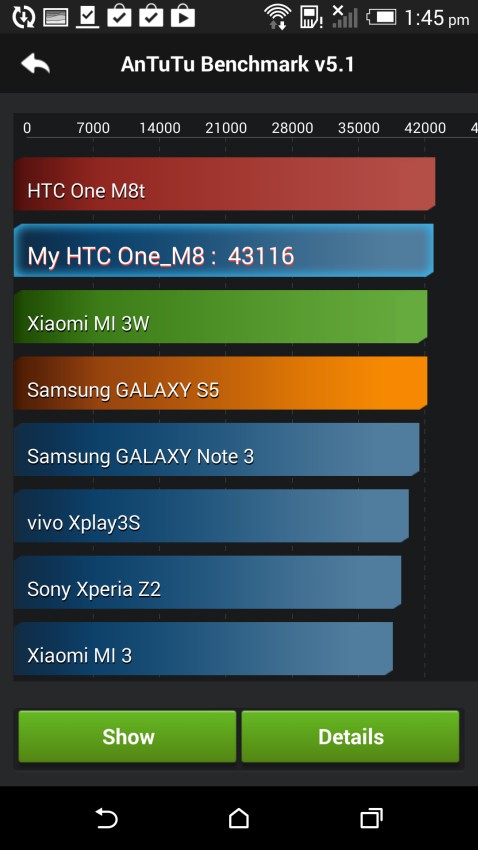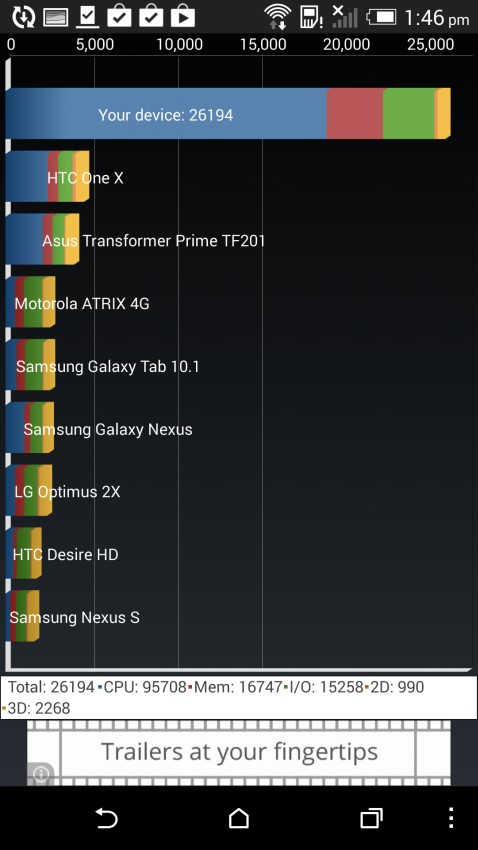 Multimedia
With Beats Audio going in Apple's kitty, HTC has come up with their own BoomSound tech. The front-facing speakers throw quality sound. I don't know what wizardry HTC has done, the audio output is loud yet mostly distortion free. Things get even better with the 3.5 mm jack. The output is clean and balanced. What's missing here are audio equaliser settings.
Moving onto video playback, with the help of MXPlayer the phone handles all the popular formats. The phone can also control your TV, home theatre, and cable set-top boxes using the IR port and HTC's remote software. If a particular model is missing in the presets list, you can manually program the software to make it work.
Camera
Similar to its predecessor, the HTC One (M8) comes with the "Ultrapixel" gimmick, which according to HTC enhances image sharpness by using bigger pixels. No matter how fancy that sounds, the camera sensor is 4 megapixel, which is nowhere near what competition offers these days.
The One (M8) is loaded camera features. It even offers manual mode where you can adjust different settings such as shutter speed, focus, ISO, exposure, and white balance. That's very much like what Nokia Camera offers on Lumia phones. However, these settings are buried inside, and those on-screen sliders are quite tricky to control.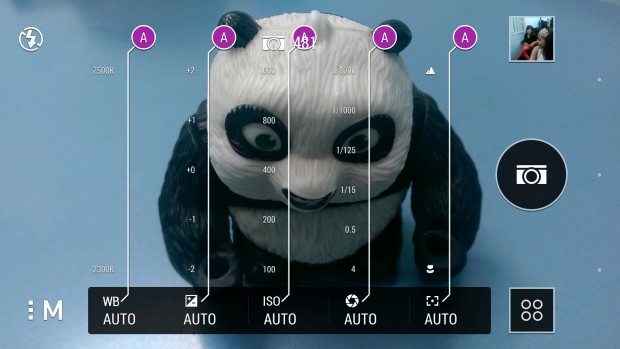 It's the first phone to sport HTC's dual-camera setup. The second lens here is actually a 2 megapixel depth-sensor. Using this hardware setup HTC offers interesting camera modes. Some of them are as follows:
UFocus
Using the information coming from the depth sensor, HTC one (M8) lets you change the point of focus in post processing. All you have to do is choose a picture, select UFocus mode, and tap on the area of which you want to be in focus. That's similar to Nokia's ReFocus app, but easier and faster.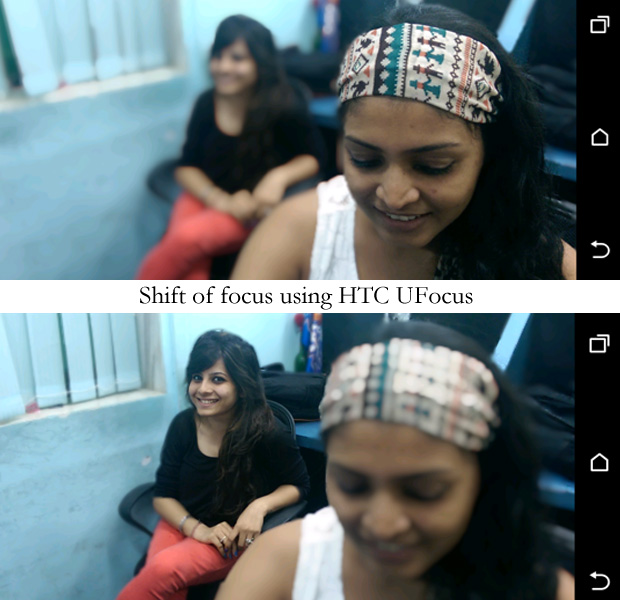 Dimension Plus
Now that you have extra data, why not use it to create some 3D effect? HTC hasn't missed this chance. The phone virtually adds another dimension to the image. In this mode, people appear as if they are 3D characters out of 3D Max or Maya software.
Since the phone has a backside illuminated sensor, the low-light performance is very good. If you like to use flash in dark scenes, HTC offers a white and yellow LED arrangement that offers natural tone.
The images produced by the handset are sharp. You get natural colours as well. However, due to the paltry 4 megapixel sensor, the details are under-whelming when checked on a computer screen. HTC should used at least 8 megapixel sensor.
The HTC One (M8) records up to 1080p quality videos at 30fps. The resulting MP4 clips offers smooth playback and stereo sound. There's also a slow motion mode that records HD video at 120fps. This high frame-rate video, when played at 30fps appears four times slower than actual speed.
Telephony And Messaging
The phone and messaging interface hasn't changed much from the original HTC One. You swipe sideways to access options such dialler, groups, and call history. Much like high-end Samsung phones, the One (M8) lets you receive calls simply holding the phone near your ear. In messaging, you get a neatly designed keyboard. It also comes with a built-in Trace keyboard feature, which is HTC's version of SWYPE.
Battery
The smartphone's 2600 mAh Li-polymer battery easily lasts for day and half under normal usage. In our video loop test, it managed to power the device for over 11 hours.
Verdict
HTC has done an excellent job in terms of aesthetics. It's undoubtedly the most premium handset from the Android camp. Along with its pretty looks, the handset is quite a beast when it comes to performance. Be it audio, video, or gaming, the One (M8) does a great job. Like any other phone, this one isn't perfect though. The biggest concern here is its 4 megapixel (ultrapixel) camera that stands no chance against the competition when it comes to image quality. Moreover, display could have been a lot better. Considering all aspects, the HTC One (M8) (Rs 41,000) is your best bet if you're looking for powerful and flaunt-worthy Android device. But, if the camera tops your list of priorities, you should consider the LG G3 (Rs 42,700).
Features: 4/5
Design And Build Quality: 4.5/5
Performance: 4/5
Value For Money: 3.5/5
Mojo: 4/5
Overall Rating: 4/5
TAGS: Mobile Phones, Android, HTC, One (M8), HTC One (M8)