Flipkart Adds A Price Tag For The Moto 360, Then Takes It Down | TechTree.com
Flipkart Adds A Price Tag For The Moto 360, Then Takes It Down
Considering that the other two smartwatches are still out of stock, the Moto 360 could not launch at a better time than this,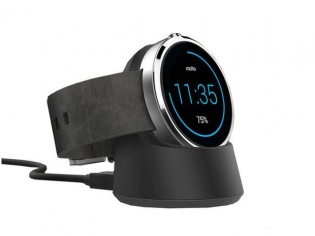 The Motorola Moto 360 seems to have gotten a lot of attention right from the very beginning, when Google first announced the Android Wear platform. Ever since, consumers have been dying to get their hands on one. Google satiated the needs of many by launching the Samsung Gear Live and the LG G Watch in India (pretty quickly we might add), but the Moto 360 is still the smartwatch that not only looks better but comes with that (almost) round display as well.
The smartwatch was listed on Flipkart's website for long, but never had a price tag on it. Good news is that it had finally arrived. The online retail giant had finally attached a price tag of Rs 17,999 for the smartwatch that had been listed as 'coming soon'. Sadly though, that joy was short-lived as Flipkart has now taken down the price tag. May be the smartwatch will be available at a lower price, considering that Asus and LG did showed up with some interesting offerings at and before the IFA Berlin that would force the Moto 360 to go on a diet.
Motorola clearly could not have chosen a better time to launch the smartwatch as the festive season is approaching. Again, we are pretty sure that considering the demand for smartwatches here in India and the short supplies that get here, we could expect a lot of them to go on sale with higher price tags in the grey market.
The Moto 360 comes with round 1.5 inch touch screen display of 320 x 290 pixel resolution and is powered by an Texas Instruments OMAP 3 SoC with 512 MB of RAM and 4 GB of ROM. The chunky yet retro-modern design of the smartwatch allows Motorola to pack in a lot of sensors including a pedometer and an optical heart rate monitor to name a few.
Even though the design is a bit chunky, and even though it costs Rs 18,000 we should expect the Moto 360 to get sold out in a few minutes as stocks will indeed be limited (similar to every other Android-Wear smartwatch that has entered the Indian market).
TAGS: wearable, smartwatch, Android Wear, Motorola Moto 360, Motorola