Motorola Pokes Fun At Apple Maps In New Ad
Points out the inaccuracy of the mapping application as compared to Google Maps.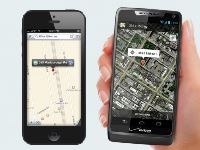 After recent taunting ads by Samsung, it is now Motorola Mobility's turn to take a jab at Apple. The mobile company, which is now owned by Google, has put up new posts titled "The real world that's fit for your hand", on Twitter, Facebook, and Google+ with images showing an iPhone 5 running Apple Maps placed next to a Motorola Droid RAZR M running Google Maps. The word "real" has been emphasised, while the hashtag #iLost appears below the iPhone 5. Blatant goof-ups in the mapping application have created a lot of grief for iPhone users for some time now. The comparison shows how the new mapping application in iOS 6 displays scarce details that are inaccurate as well, while the same location query is answered with great details and precision on Motorola's handset.
One of the tweet states, "Looking for 315 E 15th in Manhattan? Google Maps on DROID RAZR M will get you there & not #iLost in Brooklyn", while another one boasts of the live traffic reporting feature of Google Maps that is not available in Apple's app. A Motorola follower has attempted to help Apple solve this problem by providing a solution that you can see in the image gallery below this article. Apple has officially not replied to any of these provocations — it's probably relying on its loyal army of fanboys to counter-attack.
TAGS: Mobile Phones, Android, iOS, Apple, Motorola, iPhone, RAZR, Jayesh