I/O 2012: Google Nexus 7 Tablet Announced | TechTree.com
I/O 2012: Google Nexus 7 Tablet Announced
As predicted the 7" tablet features NVIDIA's Tegra 3 quad-core chipset and Android 4.1 (Jelly Bean); expected in India by August.
We've been hearing about the Nexus tablet for a while now, and thanks to some slip-ups, even had a hint of what was to come. As expected, Google has taken the wraps off its new Nexus 7 tablet. Manufactured by ASUS, the device will feature state-of-the-art hardware. It will run on Android 4.1 (Jelly Bean) and will feature a 7" HD display at 800x1280 pixels. It will be powered by an NVIDIA Tegra 3 quad-core chip, with a 12-core GPU for improved graphics performance. On a full battery charge, the Nexus 7 will offer up to 9 hours of continuous video playback. Developers have welcomed the inclusion of Chrome as the default browser for the tablet. The slate weighs just 340 grammes, which will make it easy to carry around.

The Nexus 7 seems to be pitted against the Amazon Kindle Fire, which has been reasonably successful due to its price and form factor. The keynote was all praises for its e-book reader like features, coupled with the versatility offered by the powerful CPU and extra GPU cores. This new tablet is not in direct competition with the Apple iPad though, which was evident from the keynote. The good news is that Google will sell the tablet for a mere $200 (Rs 11,500 approx). The Nexus slate will initially be made available in the US, Canada, UK, and Australia. Sadly, Google hasn't made global availability details clear, but it should land on Indian shores by August.
I wonder if the Kindle Fire will have any buyers after this announcement. The tablet market is expected to grow exponentially in the next few years, and Google seems to be poised to capitalize on it.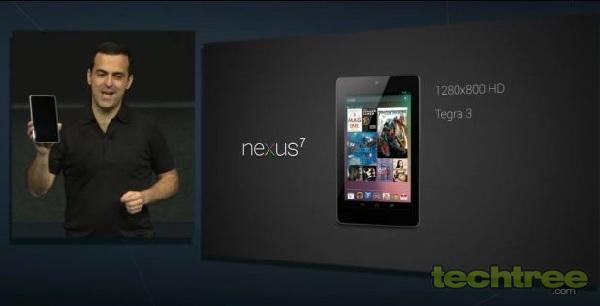 TAGS: Tablets, Events, Android, I/O, ASUS, Google, Nexus, Chethan