InFocus Launches M370 Which Turns Your Face Into Stickers While Chatting
The InFocus M370 is yet another budget smartphone priced at Rs 5,999 and available on Snapdeal from Oct 9.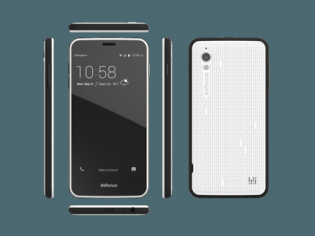 InFocus has launched its new budget smartphone dubbed as the M370 at a price of Rs 5,999 on Monday, Oct 5.
The smartphone that supports 4G LTE network connection is said to be exclusively available on Snapdeal from Oct 9 and just like almost every online sale that is happening nowadays, M370 will also require users to register themselves for the sale.
The registration for the new InFocus M370 seems to have already started and will be closing on Oct 8 at 8 PM.
[Also Read: InFocus Launches M812 In India; Looks Similar To iPhone 6]
With 5 inch HD display screen, the smartphone comes powered by a Qualcomm Snapdragon quad-core processor coupled with 1 GB RAM.
It is being said that the smartphone is targeted towards the tech-savvy youth who look out for budget smartphones for their day-to-day heavy usage and get engaged in endless chats.
May be, this is the sole reason why the InFocus M370 smartphone comes with new feature that allows users to use their faces as stickers which can in turn make chatting more fun.
Speaking about the camera section of the smartphone, the M370 comes with an 8 MP rear camera with LED flash and 2 MP front camera.
The smartphone also comes packed with a 2,230 mAh battery.
As a new entrant in the huge list of budget smartphones being launched in India almost daily, the M370 by InFocus surely has a lot of competition to fight with.
Considering the features and the price point, we can easily foresee a tough competition between InFocus 370, Yu Yunique, Phicomm Energy 653 and Lenovo A2010. However, interestingly, the M370 seems to be priced around Rs 1,000 higher than the above mentioned competitors.
[Related: Top 4G LTE Smartphones At Rs 5000]
TAGS: InFocus M370, budget smartphone