Review: Kenxinda M1
What you get when you cross a Vertu with a Chinese sweatshop in Shenzhen.
Rating

4
/5
23rd Aug 2012
Pros:
A dirt-cheap replica of an expensive Vertu phone; Great build quality; Dual-SIM functionality; Supports media playback.
Cons:
Uneven keypad backlighting; No 3.5 mm audio jack.
Kenxinda M1
Street Price (As On 22-Aug-2012): Rs 1000 (Ganesh Electronics: 0251-2499794), Rs 1300 (eBay.in)


A few months ago, I did a roundup of some fake Chinese knockoffs of popular smartphones. Not only did it get a good response, we also received several requests to review such handsets. I personally liked that idea, and when I saw this clone of the luxury Vertu brand in my friend's hand, I just couldn't resist reviewing it.


Design And Build Quality
There's no standard retail package since it depends on your bargaining skills, but if you're lucky, you'll get the phone, charger, mini-USB cable, and a mono earphone. Measuring just 3.5" (l) x 1.3" (w) x 0.5" (14 mm) (d), the M1 is one of the smallest handsets available in the market, and possibly even the smallest dual-SIM phone in the world. At around 70 grammes, it's also very light. Design-wise, this gadget is a cross between Vertu's Constellation 2006 (approx Rs 260,000) and the Signature (Rs 720,000). Thankfully, the result is that you get more than what you bargained for in the looks department. After all, which other phone offers a sleek metallic body for the price of a grand? The build quality is also exceptionally good, which is something I didn't expect at this price point. The only manufacturing fault I could find is with the keypad's backlighting, which is a little uneven. While most buttons are well-lit, <4> and <7> appear rather dim.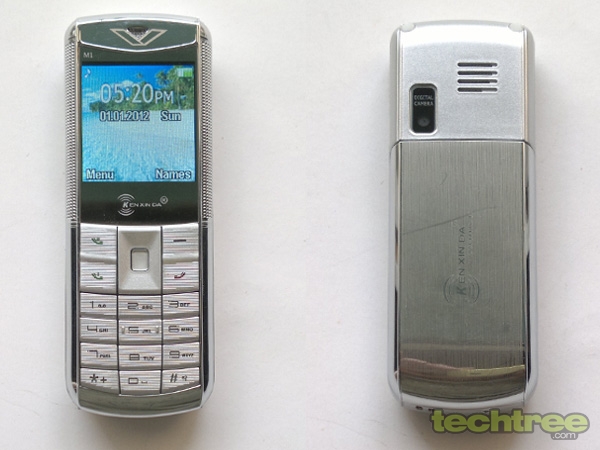 Apart from its looks, the handset also has some useful features. For starters, the M1 is a dual-SIM (GSM) phone. Its tiny 1.4" screen is bright, and the sharpness is also good considering its price tag. Here's the list of detailed specs:
Dual-SIM, dual-standby, quad-band GSM (850 \ 900 \ 1800 \ 1900 MHz).
Camera (probably VGA), FM radio (no 3.5 mm jack), Bluetooth.
Media support: MP3, MP4, AVI, 3GP.
8 GB microSD card slot.
Mini-USB port.
Multi-language support.
3.5" (l) x 1.3" (w) x 0.5" (14 mm) (d), 70 grammes.
600 mAh battery with a claimed 4 hours of talk time.
While the spec sheet claims that the phone has a WAP 2.0 browser, the facts show otherwise. There is neither a browser, nor a 3.5 mm headphone jack, both of which are commonly found features in other mobiles.


UI And Features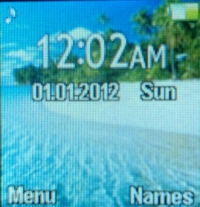 As expected from a cheap Chinese phone, the interface is butt-ugly. On the bright side, it's friendly enough to get the job done. Considering the popularity of these devices in India, it's not surprising to see that the M1 comes loaded with English, Hindi, and Tamil language support. There's also an option to password protect your inbox, which is a good addition.

The device's signal reception was good for both SIM cards. While the earpiece distorts the sound at high volumes, it's common among cheap handsets and can be considered as the nature of the beast. In other words, you can't fault the phone for this flaw. As with most other dual-SIM phones, the M1 doesn't support dual-active mode. Therefore, if you're busy on a call, your other number will remain "unavailable" during that time. On the bright side, the SIM management menu offers the option to disable any SIM slot or place it in offline mode, as well as allowing you to block unwanted contacts. As far as messaging is concerned though, it's painful to type on such a closely-packed keypad.


Multimedia, Battery, And Verdict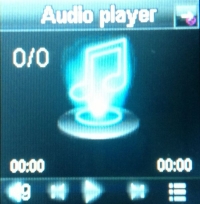 The M1 lacks a 3.5 mm jack and therefore ships with a single-sided earphone that connects to the mini-USB port. It's definitely not an ideal accessory to judge the device's sound quality with, but the target audience will be happy to know that the onboard speaker is very loud indeed — just as expected from phones of this type.

Coming to the media player, we again get to see a gap between what is promised and what is delivered. While the M1's product page claims that it supports MP4, AVI, and 3GP files, in reality it can only handle the latter. Having said that, would you really bother with videos on such a tiny screen? Furthermore, the onboard camera is so bad that the manufacturer hasn't even mentioned the megapixel count. If you ever buy this phone, just forget that it has a snapper and you'll be OK. Which is fine, because trying to view images on a 1.4" screen can have unintended consequences.

The biggest disadvantage of the tiny form factor is the lack of battery power. While the 600 mAh battery might not sound sufficient by today's standards, it's still good enough to keep this dual-SIM phone working for an entire day, if not more.

My friend purchased the M1 for Rs 1000 from his neighbourhood phone shop. At that price, it has an unbeatable flaunt value, especially considering that it's practically impossible to get a good-looking phone at that rate. Additionally, features such as dual-SIM functionality and an MP3 player further sweeten the deal. While a few minor annoyances do exist, none of them is actually a deal-breaker. While using this handset as a primary cellphone is out of the question, it does make for a really stylish backup when your power-hungry Android runs out of juice. If you want more battery life though, go for the 1000 mAh Micromax X101 instead.

In short, if you've always wanted to own an expensive-looking phone, but don't have the cash to back up your dreams, you can settle for the dirt-cheap, dual-SIM, Kenxinda M1 — and yet show it off to your friends. Since people might mistake the phone for more than it's worth though, keep an eye out for phone thieves with itchy fingers.


Features: 4/5
Design And Build Quality: 4.5/5
Performance: 3.5/5
Value For Money: 4.5/5
Mojo: 3.5/5

Overall Rating: 4/5
TAGS: Mobile Phones, Multi-SIM, Weird, ck