First On TechTree: Review — Nokia 808 PureView | TechTree.com
First On TechTree: Review — Nokia 808 PureView
The big daddy of all camera phones.
Rating

4
/5
04th Oct 2012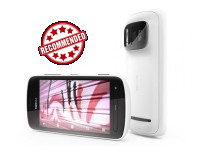 Pros:
Outstanding Camera; Dolby Digital Plus sound; Great 1080p recording; Excellent build quality; Impressive display; Free sat nav; NFC ready; FM transmitter.
Cons:
Bulky; Limited number of apps on Symbian; Screen has low pixel density.
Nokia 808 PureView
MRP: Rs 35,000
Street Price (As On 18-Jun-2012): Rs 32,100 (BuyThePrice.com); Rs 32,500 (Flipkart.com; HomeShop18.com)


For around two years, the Nokia N8 enjoyed the status of being an unbeatable camera phone. However, it's time for it to make way for the 808 PureView, whose camera sensor is about 2.5 times physically larger in size than that of the N8. Let's find out if it has got what it takes to be a worthy successor.
The video review for Nokia 808 PureView.



Design And Build Quality
The phone's retail box contains the handset, charger, data cable, wrist strap, and an NFC info card. Unlike the N8 though, a few accessories such as the USB-OTG (On The Go) cable and micro-HDMI adapter are missing. The device measures 4.9" (l) x 2.4" (w) x 0.5" (d). Its humongous camera assembly forces it to go completely against the current trend of thin handsets, making it as thick as 0.7" (18 mm) at the lens. However, the 808 is not shy of its lumpy camera, ensconcing the sensor and Xenon flash in a shiny metal plate. The body is made of the same polycarbonate material as its cousin, the Lumia 800. The device feels sturdy, and its ruggedness can be compared to the legendary Nokia 3310.
The phone sports a 4" AMOLED screen containing 360x640 pixels. Thanks to Nokia's ClearBlack technology, its sunlight legibility is very good. It produces rich colours and deep blacks. Additionally, the viewing angles are excellent. Due to its low pixel density though, you can easily spot jagged edges around icons. Fortunately, this jaggedness is not at all apparent while viewing images.


The 808 is powered by a 1.3 GHz CPU and features 512 MB of RAM. Other specs include:
A 41 MP rear and VGA front camera
16 GB internal storage and microSD card support up to 32 GB
Wi-Fi, Bluetooth 3.0, NFC, FM transmitter, and GPS
HDMI port, USB OTG, and 3.5 mm jack
1400 mAh battery
A standard set of sensors.

Smartphone Functionality

As already detailed in our Nokia 701 review, the Belle OS allows up to six homescreens, with separate wallpapers for each. The confusing hierarchical menu structure has been replaced with a scrollable list of big, rounded icons — much like than in the iPhone. While it's a clone of Android's notification bar, the status bar is a welcome addition.

Thanks to the power of its 1.3 GHz CPU, navigating through the UI is smooth, and multitasking is handled with ease. However, like any other Symbian handset, the 808 struggles in the gaming department. What's worse is the limited number of quality games available in the Ovi Store — but then again, nobody is going to buy this phone for its apps.

Speaking of which, many might wonder why exactly Nokia chose this struggling platform to launch its breakthrough technology. The Finnish manufacturer claims that the reason is that the PureView technology (which enables support for mega sensors) was in development for close to five years, well before the availability of Windows Phone 7 to developers. Moreover, Microsoft's camera API is not customisable, so Nokia had the choice of either waiting till it ported PureView to WP, or going ahead and releasing its phone with the current Symbian platform. I'm not sure if this explanation will cut any ice with smartphone enthusiasts though, many of whom consider Symbian "old-fashioned".

Coming back to the features, the phone's signal reception was excellent throughout our testing process. Dropped calls were nonexistent, and voices were loud and clear on both sides during conversations. On the messaging front, the portrait keypad isn't bad, but is still no match for its WP and Android counterparts.

Being a high-end Nokia smartphone, the 808 comes with free voice-guided satellite navigation. Since the manufacturer offers downloadable map packs for the entire country, you can use the navigator even in offline mode. This is a trump card that Symbian phones continue to play over their iOS and Android counterparts. Also, the updated version 8.2 browser comes with fast page rendering and Flashlite support. It's better as compared to earlier Symbian handsets, but don't expect it to be as good as Android's browser.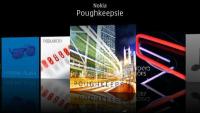 The default music player's interface hasn't changed much from the N8, and you still get a Cover Flow like design. Equaliser presets and loudness settings are duly covered. The sound quality is great through the 3.5 mm jack, even with the bundled earphones. As a plus, the handset supports Dolby Digital Plus enhancement that actually adds depth to the audio. Finally, the onboard FM transmitter allows you to wirelessly stream music to your car's stereo. This is another area where Nokia trounces the competition, and will be especially appreciated by motorheads.

The video player supports MP4, DivX, and XviD videos up to 1080p. Thanks to an HDMI port, the device can be hooked up to HDTVs as well.


Camera Performance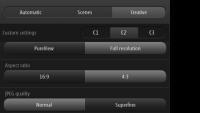 This is the part we've all been waiting for, and the USP of the 808. The camera UI has been designed while keeping both casual as well as advanced users in mind. If you don't like to play around with settings, simply choose Automatic mode, and the software will take care of everything for you. If you prefer a certain degree of control, switch to the Scenes mode. Refer to the screenshot here and the gallery for details. Finally, for perfectionists (read: wannabe photography "pros"), the Creative mode allows you to customise a plethora of settings, including super-advanced features such as Bracketing and Interval Shots (commonly referred to as time-lapse photography).

Thanks to the 41 MP sensor and Nokia's oversampling algorithm, the handset delivers high-quality images with 3x lossless zoom, while keeping the filesize down to about 2 MB. Those who want the best results can switch from PureView mode to Full Resolution. In this mode, you can take snaps at up to 38 MP. At this quality, the resulting images contain an outstanding amount of detail, but with filesizes hovering at a staggering 15 MB per image. Click here to view some full-size image samples.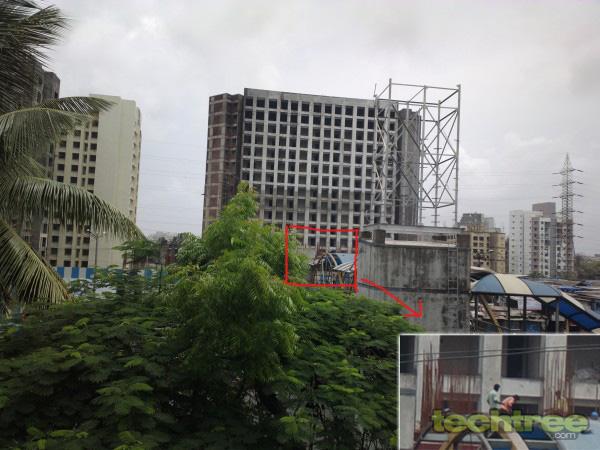 Here's a great example of how much you can zoom into every image. Yes, the zoom detail is from the same image. Just don't ask me what these guys are up to.

This is not the first handset that can record 1080p videos; however, it's the first one to do so properly, with no choppiness. Clips are saved in the MP4 format, and offer smoother playback than rival smartphones (yes, I'm looking at you, Androids). According to the manufacturer, this has been made possible with a companion core dedicated to HD recording. Once again, thanks to the big sensor, the 808 supports 4x lossless zoom at 1080p, 6x at 720p, and 12x at 360p. Click here to check out the video sample.

Overall, no smartphone can come even close to the 808 in the camera department. Additionally, it also blows most point-and-shoot cameras (and even some DSLRs) clean out of the water in terms of usability as well as quality. Truly, Nokia has achieved something fantastic with this phone.


Battery And Verdict
Symbian phones are known for their excellent battery life, and this one is no exception. The 808's 1400 mAh battery can easily last for close to a day and a half with normal use. However, expect it to drain faster according to the amount camera usage — which, considering its USP, will be quite frequent.

In short, the 808 PureView is a solidly built device with an extraordinary camera. Its packed to the gills with multimedia features, including Dolby Digital Plus enhancement and HDMI-Out. Additionally, free GPS navigation, NFC, and an FM transmitter add value to the package. On the flip side, its mediocre gaming performance and the limited number of quality apps are the main gripes.

Having said that, your search for the ultimate camera phone ends here. It just makes sense to buy the 808, instead of buying a camera and smartphone separately. If flooding your Facebook and Flickr accounts with dozens of photos on a daily basis doesn't appeal to you though, go for the Xperia S instead.


Features: 4.5/5
Design And Build Quality: 4/5
Performance: 4/5
Value For Money: 4/5
Mojo: 4/5

Overall Rating: 4/5
TAGS: Mobile Phones, Symbian, Nokia, ck