YU Launches YUPIX Portable Printer At Rs 6,999 | TechTree.com
YU Launches YUPIX Portable Printer At Rs 6,999
The pocket sized printer is said to print an image in just 60 seconds and is also claimed to print up to 10 copies simultaneously.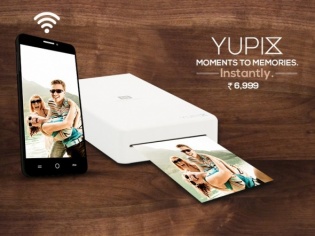 Micromax sub-brand YU which is known for its flagships Yureka and Yuphoria has recently launched a portable photo printer in the Indian market.
Dubbed as YUPIX, the printer prints digital photos sized 2.1 x 3.4 inches instantly in just 60 seconds at a resolution of 291 dpi.
With a price tag of Rs 6,999, the pocket sized printer comes with an YUPIX app which allows you to edit photographs on your smartphone which can then be transferred to your YUPIX printer via WiFi or NFC.
[Also Read: Top 5 NFC Apps For Your Android Smartphone]
The YUPIX printer is compatible with both Android and iPhones.
Speaking about the technical details of the YUPIX, the portable printer uses dye sublimation technique to print studio quality images.
It is also being said that the portable printer comes with a special cartridge which does not need a cleaning roll and comes with an Ink Ribbon and Photo Paper integrated into it.
The YUPIX comes with a 750 mAh battery and is claimed by the company to be water proof and fingerprint resistant.
While this looks to be a pretty innovative step in the Indian portable devices market, we are still unsure as to how much popular would this device become in the days ahead, especially in this digital era where every moments are preferred to be stored as soft copies.
TAGS: YU, Yupix, Compact Printer, Portable Printer, Yupix Printer