NTT DoCoMo Confirms Snapdragon 810 Heating Issues | TechTree.com
NTT DoCoMo Confirms Snapdragon 810 Heating Issues
Either someone got the memo wrong or the chipset really heats up a lot.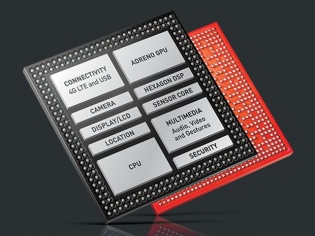 One of Japan's biggest telecom operators, NTT DoCoMo has confirmed once again that Qualcomm's newest Snapdragon 810 chipset is a problematic one. The news comes straight off the floor from one of its outlets, where the telecom giant has issued a clear warning that 3 of its smartphones (that sport the chipset) are prone to overheating.
Sony finally pushed out its Japanese Xperia Z4 chipset to the market today, and right next to the smartphone was a note clearly specifying that the smartphone (along with Sharp Aquos Zeta and the Fujitsu Arrows NX) heats up.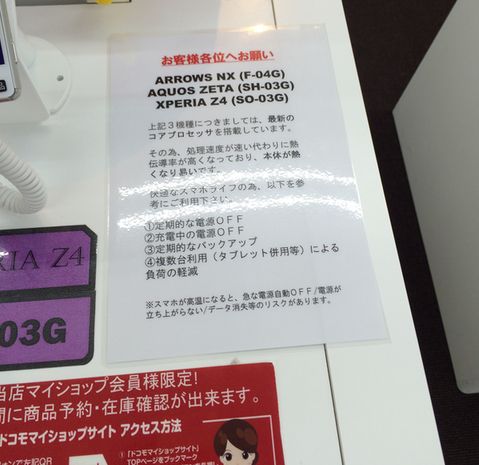 Moreover, its the instructions to prevent the smartphones from heating up that are a lot more interesting:
Periodically shut down the phone.
Keep the phone off completely while charging.
Regularly back up data on the phone.
Reduce reliance on the phone by using a tablet or a PC when possible
As far as the Sony Xperia Z4 is concerned, we are really interested in checking out its global sibling the Xperia Z3+ to figure out whether it heats up (abnormally) or not. This is more so because Sony's OmniBalance design is know to stir up thermal issues in all of its past Z series of handsets. So with the Xperia Z4 we would not really know whom to blame.
While we are clearly confused about whether the Qualcomm Snapdragon 810 chipset heats up or not. The chipset had created quite a bit of news for itself ever since Samsung decided to switch to its own Exynos silicon with the Galaxy S6 flagship.
Post that we had Qualcomm themselves, who in a quarterly report mentioned that the company lost a big client. In fact, manufacturers like Xiaomi also seem pretty hell bent on utilizing their chipset in the Mi Note Pro (with workarounds) even though the chipset is known for its heating problems.
After Samsung, HTC went in for the MediaTek MT6795T chipset in its One M9+, while LG seems to have gone in for the Snapdragon 808 instead. So as far as Snapdragon would like to deny it, its 810 silicon does seem a bit fishy.
TAGS: Mobile Phones, Hardware, Android, Sony Xperia Z3+, Sony Xperia Z4, Qualcomm Snapdragon