6 Months Down, OnePlus Still Cannot Figure Out Its Touch Screen Issue | TechTree.com
6 Months Down, OnePlus Still Cannot Figure Out Its Touch Screen Issue
Its been a long patient wait for some, while the rest have moved on.
It was back in November 2014 that some OnePlus users reported to the official OnePlus forums about issues relating to the touch screen display of the "flagship-killer". 6 months down, OnePlus is working on the OnePlus 2, but is still unable to figure out what the issue is. Their problems have only grown since then.
The issue has grown so massive, that the original post was closed for comments after reaching 125 pages and 2495 comments.
The new post was opened on May 8 and has now garnered 1,15,500 views (and counting) and another 2034 comments in just 7 days (kind of reminds us of Apple's WiFried issue).
Even Carl Pei, OnePlus Co-Founder had to step in to get owners to calm down; some of whom have given up and moved on to another smartphone.
The Co-Founder who is pretty active on the official forums agreed that there was an issue. But according to him, it has only affected only a small percentage of its OnePlus One handsets.
Still then, users have been trying all sorts of software tricks to get past the touch screen problem, which somehow refuses to die.
The root cause according to the initial bunch of users who reported the issue lies in the digitizer flex (cable) that apparently makes contact with the metal chassis of the smartphone. This causes the touch screen to become unresponsive. But OnePlus was quick to demonstrate with a video (now unlisted) that it was not the case, even though one user managed to solve the problem.
Since then, there have been plenty of theories about the touch screen problem, with some even blaming the hot summer weather that creates issues with the glue that bonds the glass to the screen. Others have blamed the issue with the new OxygenOS firmware update, that was recently released after things got sour between OnePlus and Cyanogen in the Indian market.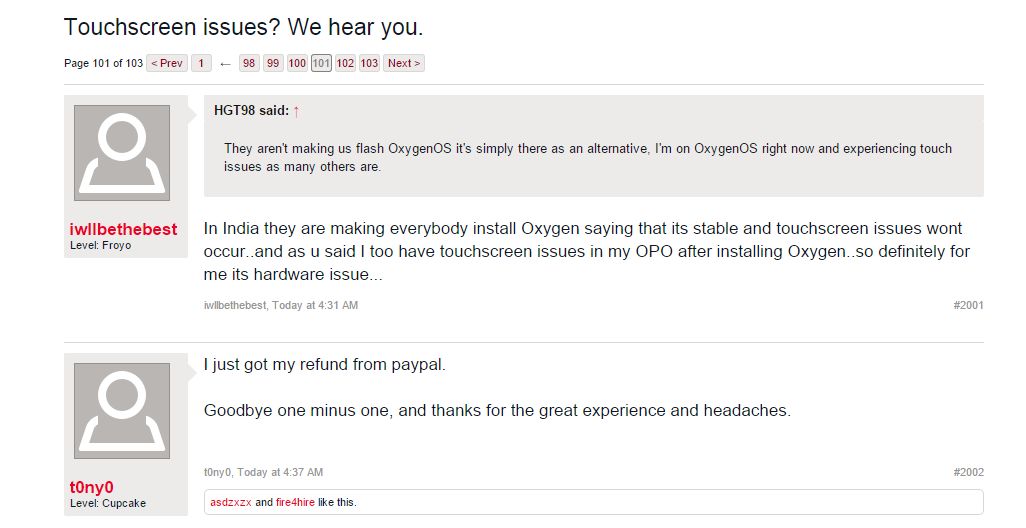 Indeed a simpler way out would be to simply replace the damaged smartphones, but so far the Chinese smartphone maker's customer helpline seems to offer little help, apart from sending users the link to download updated firmwares.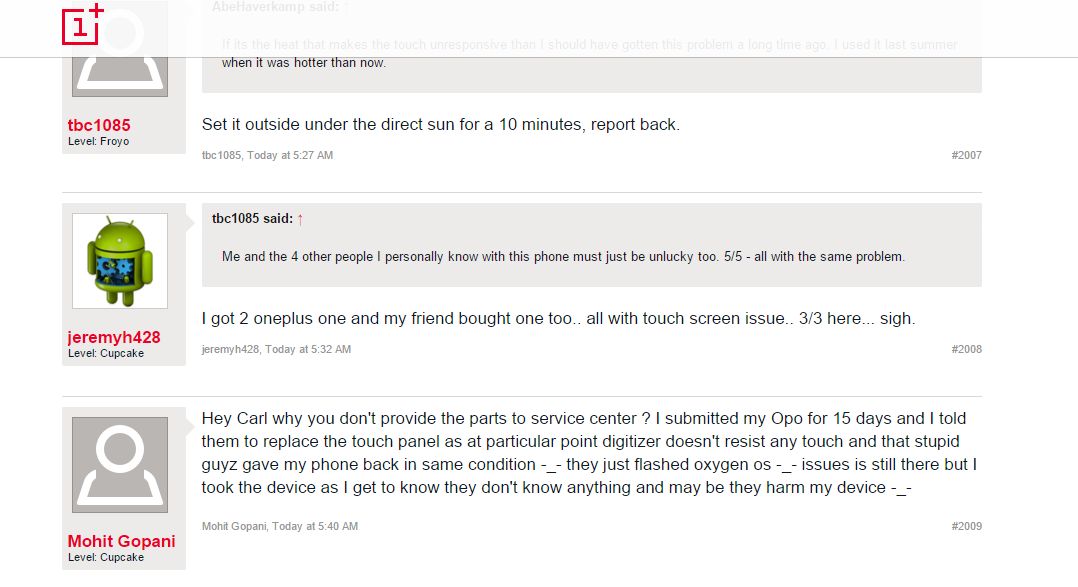 Clearly, the only way out for new buyers is to get a refund and step out of this ruckus. Others are still waiting for the promised firmware update, which according to the recent edit by the Co-Founder should hopefully fix the problem. OnePlus is closely working with Synaptics to deliver the same.
Lucky for OnePlus, it is only a "small percentage" (although that number is rising). This is a good thing, as there would have been a mob outside their service centres, which currently cannot do much apart from flashing the smartphone.
TAGS: Mobile Phones, Android, OnePlus, OnePlus One