Motorola Sends Out Invite For September 5 Announcement In India | TechTree.com
Motorola Sends Out Invite For September 5 Announcement In India
Similar to the US event which happens a day earlier, we could be seeing a lot of new product releases happening.
Motorola India has sent out invites to the media, asking attendees to show up at a press only invite in Delhi. The invite simply states "Mark 05 September on your calendar" and mentions nothing else in particular. Similarly for the geeks from Mumbai, the date is set to 8th of September.
The invite looks pretty similar to the one sent out in the US, which also hints at nothing more than an invitation to come and join in. While the US announcement happens on the 4th of September, the event in India (a very important market for the company) happens a day later. What do we expect Motorola to show up with at this event? In short... a lot!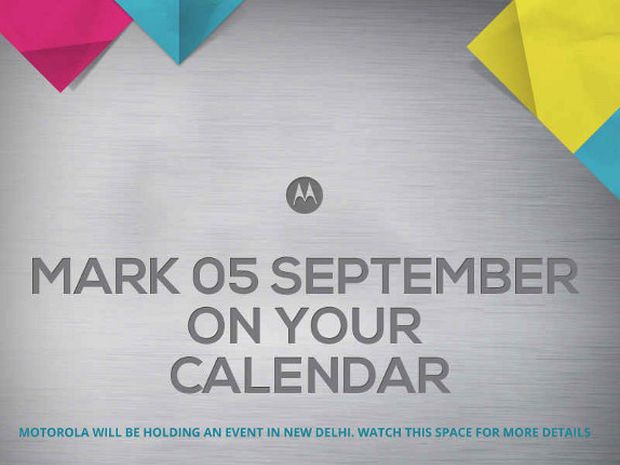 Firstly, there is the Motorola 360 smartwatch which will in all probability show up here, since LG and Samsung's Android Wear-powered wearables are literally going out of stock when they show up online. Indeed, India is interested in adopting the smartwatch and Motorola's offering clearly has a lot more to offer.
Next up is the successor to the original Moto X, the Moto X+1. We have been seeing the handset in a number of rumours lately and it seems that it along with the successor to the Moto G will be announced at this event as well. The Moto G sold of like hot cakes when it launched exclusively on Flipkart and clearly set the standard, which Xiaomi soon picked up on.
[Also Read: Moto X+1 Leaked Images Show Metal, Wood And Glass Construction]
While this is the first invite and the event is still 3 weeks away, we should expect Motorola to send in some teasers as well that could reveal a bit more about what's coming soon.

TAGS: Mobile Phones, wearable, smartwatch, Motorola, Motorola Moto 360, Android, Android Wear