Review: Samsung Galaxy S6 Edge
Samsung gets an "edge" over the competition.
Rating

4
/5
26th May 2015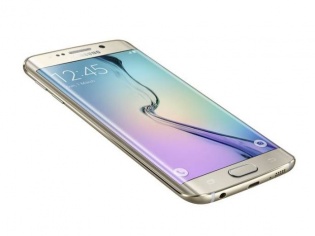 Pros:
Premium construction; Fancy Edge screen; AMOLED panel offers vibrant colours; Compact than most 5.1-inch phones; Excellent performance.
Cons:
Costs more than a bike; Edge screen isn't really useful; Battery life could have been better.
Samsung Galaxy S6 Edge
Street Price: Rs 62,000 (32 GB)

After getting panned for the lack of design flair, Samsung decided to launch two variants of its flagship — the Galaxy S6 and Galaxy S6 Edge. Off the two, the Edge variant comes with a significantly new design. But, does it give Samsung an "edge" over the competition?

Design
It took a while, but Samsung has finally delivered a non-plastic flagship phone. The Samsung Galaxy S6 Edge has a sturdy aluminium frame. Similar to the iPhone 4S and Nexus 4, back is made of glass. This brings-in a much-needed premium feel to the device, but smudges tag along.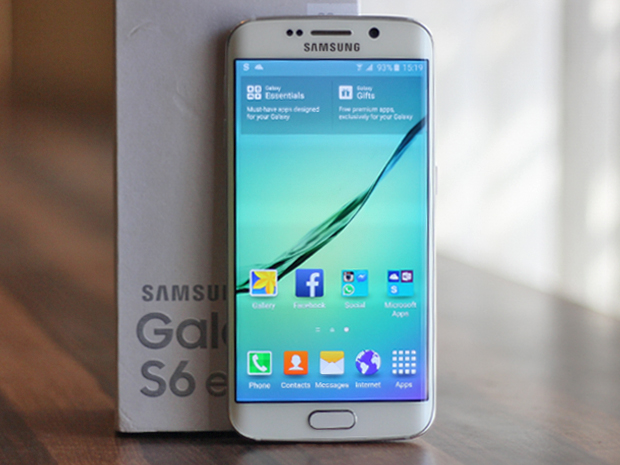 At the core, the Galaxy S series design hasn't changed much. However, it's the curved edge glass that makes this phone look futuristic. This unique aspect also makes the device feel thinner than it actually is. The Galaxy S series handsets always had a camera protrusion on the back, and the S6 Edge is no exception.
The moment you hold it, you realise that the S6 Edge is a well constructed handset. Construction is top-notch. Despite packed to its gills with powerful hardware and a big screen, the S6 Edge weighs in at around only 130 grams.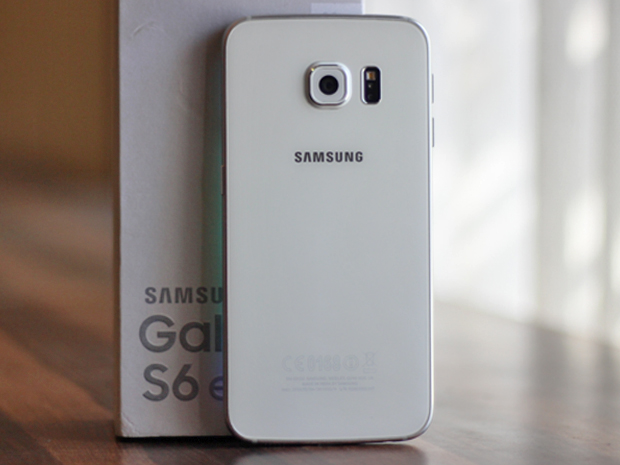 Fancy design comes with some trade-off though. For instance, water and dust protection has not been carried over to the S6 Edge. With glass back, you now have two crackable panels to worry about.
Screen
Besides the fancy edge screen, it's the resolution that has gone to a new level. The panel type and size are the same though. The 5.1-inch Super AMOLED panel provides outstanding blacks. The colours look lively. With pixel dimensions of 1440x2560, the screen is incredibly sharp.
You don't have t worry about the scratches, as the display is protected by Gorilla Glass 4. The phone's back-panel too has the same coating.
Specifications
The S6 Edge is powered by Samsung's own 64 bit octa-core Exynos 7420 chipset. The phone comes with 3 GB DDR4 RAM. it comes in 32 GB, 64 GB, and 128 GB storage variants — much like Apple. And no, there's no microSD card slot.
In the photography department, you get a 16 megapixel camera. On the connectivity front, you get 4G LTE, Wi-Fi, Bluetooth 4.1, NFC, A-GPS, and IR blaster. Like most flagship phones, this handset requires a nano-SIM. To keep this phone running, it is fitted with a 2600 mAh battery.
Fingerprint Sensor
There's a fingerprint reader embedded in the Home button. You can set it up as a quick way to unlock the handset. The implementation is incredibly well done. Just place your finger on the sensor and it does the trick. As effortless as the iPhone TouchID.
Software
The S6 Edge ships with Android 5 Lollipop out-of-the-box. The TouchWiz UI has been toned down, however, the number of options have not. Samsung has thrown-in the Briefing pane among the homescreens. It's much like HTC's BlinkFeed that aggregates news based on your preferences.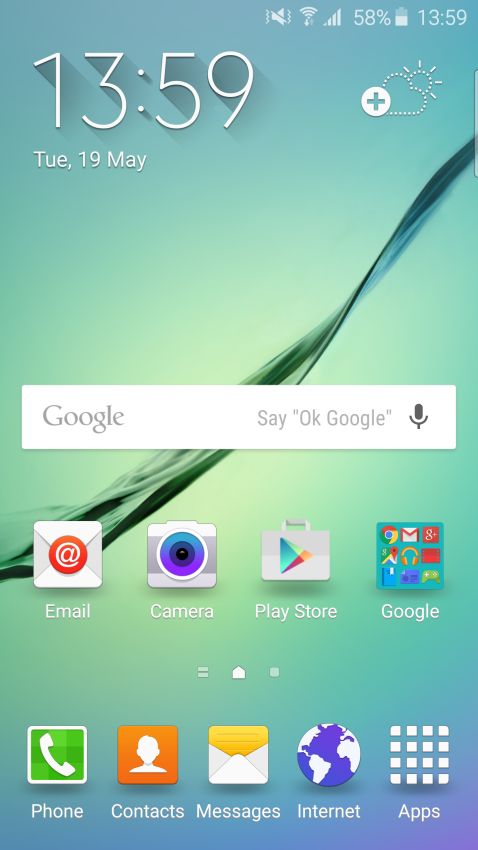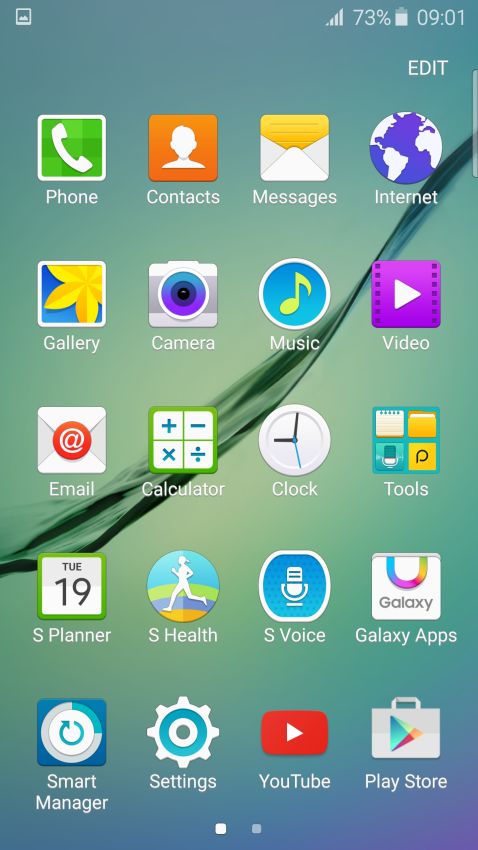 Similar to the iPhone, the S6 Edge wallpaper has a parallax effect. There is no uniformity in terms of icon size and design. The interface clutter long associated with TouchWiz is very much present. Thankfully, the S6 Edge comes with themes support. Not just preloaded ones, the phone also allows downloadable themes. And if you go through the list, there are many good themes available.
In terms of performance, the S6 Edge does an outstanding job. Be it heavy multitasking, or high-end games, the phone handles everything with an ease.
Edge Screen
To make use of the curved Edge screen, Samsung has introduced 'info strips' that display notifications and updates from sports, stocks, and weather. You can also put a night clock on the Edge screen.
Using People Edge feature, you can add upto five colour coded contacts to the edge screen. Looking at the colour of a notification, you can figure out who contacted you. These features are fancy for sure, but I don't find them useful. For images, follow this link.
Multimedia
The S6 Edge ships with quality earphones. The sound output is punchy. With SoundAlive settings, you can fine tune audio. I mostly listen to Rock, and was happy with the bass offered by the handset.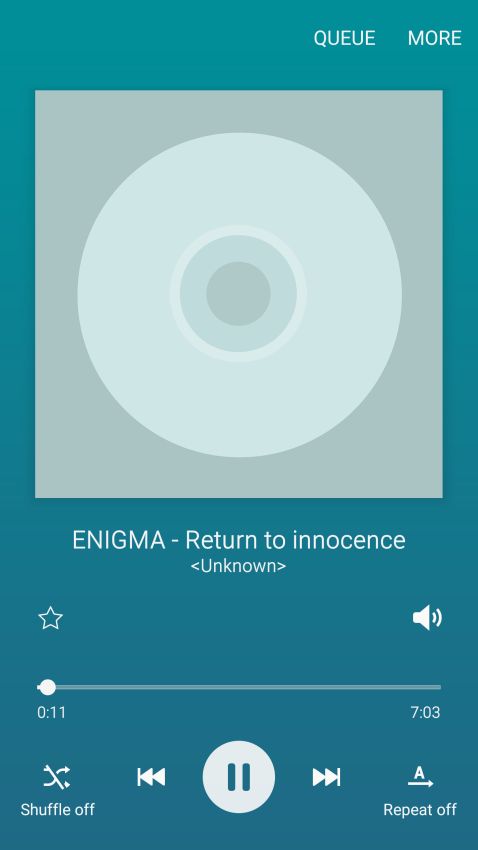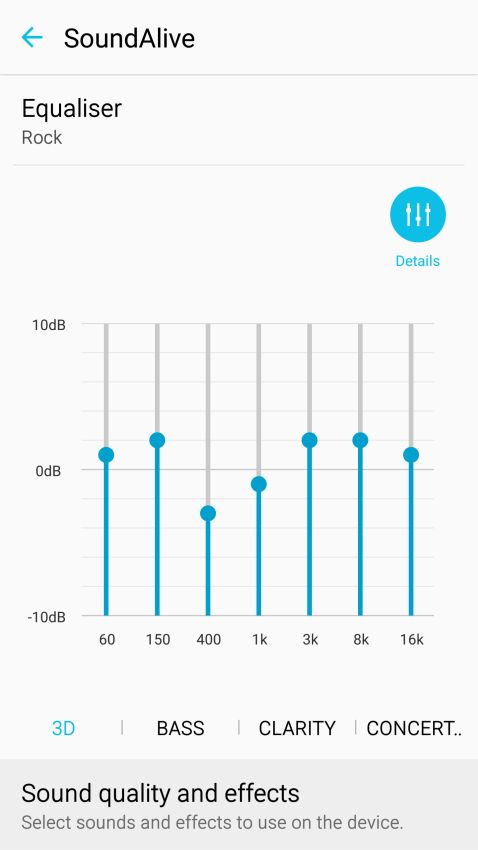 In terms of video playback, the S6 Edge supports most formats up to 4K quality. Not that the 4K videos make sense on a mobile screen, but nobody is going to complain about additional features for sure.
As mentioned earlier, the edge screen is a great aesthetic addition. However, while watching movies, it is difficult to get rid of the reflections near the curved area.
Camera
The Samsung Galaxy S6 Edge features a 16 megapixel camera. The camera is snappy. It comes with plenty of shooting modes including Virtual shot, Slow motion, Selective focus, Panorama, and Pro. Out of the lot, the last one deserves a special mention. It offers elaborate manual settings such as Highlights, Saturation, Contrast, and Temperature. Neat feature for shutterbugs.
The images produced in the daylight are impressively sharp. The visual noise is well under control. Click here for a sample image. With OIS (Optical Image Stabilisation), the S6's low-light performance is much better when compared to its predecessor. However, it still has a long way to go before challenging the Huawei Honor 6 Plus or high-end Lumia phones.
The S6 Edge records videos at 4K UHD resolution. That's four times you Full HD videos. The resulting clips contain good detailing and stabilisation.
Battery
The S6 Edge's 2600 mAh battery clocks in 12 hours of video playback with screen brightness set to 60 percent. However, the problem with this phone is that the battery drains unusually faster in the idle mode. I'm guessing this some sort of a software bug, which Samsung will fix with an update.
Verdict
Base model priced at Rs 62,000, the S6 Edge is undoubtedly an absurdly expensive phone. I personally don't buy any handset that costs more than Rs 30,000. However, if you have money to splurge, the S6 Edge gives you bragging rights of owning a unique phone with a futuristic screen. People will buy this handset over the normal S6. Not because of features associated with the screen, but simply because it looks fancy.
The LG G4 seems like a phone that can give it a tough competition. But, until it hit the stores in India, the S6 Edge is a top dog in the Android world.
Rating: 4
Construction: 4/5
Aesthetics: 4/5
Portability: 3.4/5
Display: 4/5
Camera: 3.5/5
User Experience: 3.5/5
Multimedia: 4.5/5
Battery life: 3.5/5
Ecosystem: 4.5/5
Affordability: 2.5/5

TAGS: Mobile Phones, Android, Samsung, GALAXY, Samsung GALAXY S6 edge
Opinion Poll
Given a chance, what would you name Android N as?
Nectar
28%
Neyyappam
27%
Nutella
28%
Nankhatai
16%
Total votes: 576