Review: Nokia Asha 311
The poor man's N9, currently selling like hot cakes in the market.
Rating

4
/5
30th Aug 2012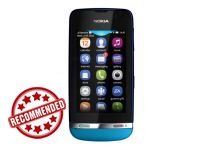 Pros:
Snappy UI; Great sound quality; Wi-Fi and 3G support; USB OTG (supports external USB drives); TV-Out functionality, Corning Gorilla Glass protection.
Cons:
Fixed display brightness; Lacks proper multitasking.
Nokia Asha 311
MRP: Rs 6600 (Nokia Shop)
Street Price (As On 30-Aug-2012): Rs 6400 (Infibeam.com; Saholic.com; HomeShop18.com)
Thanks to Google's Android, the mass-market segment has been flooded with cheap smartphones. Although this is a welcome scenario, the user experience and build quality on offer in most of the handsets leaves a lot to be desired. This is where Nokia's Asha series steps in, with its easy-to-use interface and sturdy design. However, does the latest Asha 311 have enough power and features to fight off the droid army? Let's find out.


Design And Build Quality
The standard package includes the handset, charger, and a pair of earphones. The phone measures 4.2" (l) x 2" (w) x 0.5" (13 mm) (d), and tips the scales at 95 grammes. Although the device is available in decent blue and dark grey colours, the review unit I received was pink (Rose Red). While this shade is definitely not my cup of tea, girls and "some guys" might actually like it. The scratch-resistant glass on the front not only protects the display, but also provides an upmarket feel to the handset. As expected, the build quality is great. However, I didn't quite like Nokia's decision of using an extremely glossy back panel.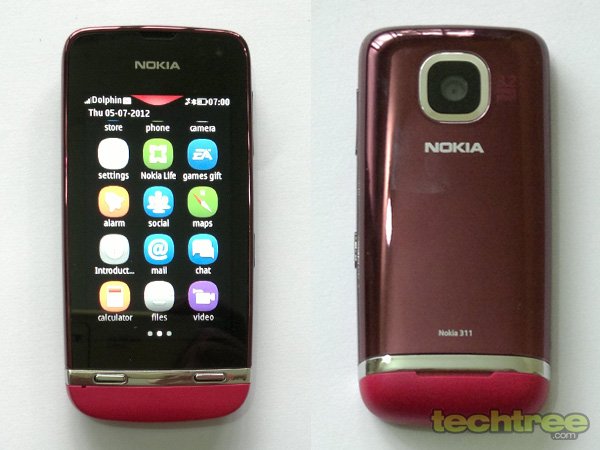 The handset's 3" capacitive touchscreen (240x400 pixels) is protected by Corning's Gorilla Glass. The display is sharp and bright, while its contrast is better than what you get on similarly-priced handsets. Although Nokia hasn't mentioned it, I guess the company's ClearBlack display technology has been used here to some extent. On the flip side though, there's no way to adjust the screen brightness, which is certainly a strange omission even if it does have an ambient light sensor.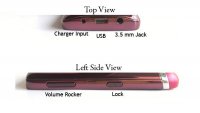 The Asha 311 is powered by a 1 GHz CPU and has 128 MB of RAM. It also packs in a 3.2 mp camera and Wi-Fi connectivity. The handset's detailed specs are as follows:
3" capacitive touch screen with pixel dimensions of 240x400, Corning Gorilla Glass protection.
3.2 mp fixed focus camera; Camera features: Landscape orientation, Exposure compensation, Auto and manual white balance, Still image editor, Full screen viewfinder, Self timer, Centre-weighted auto exposure.
Video capture: 640x480 at 25 fps.
1 GHz CPU, 128 MB RAM.
140 MB of internal storage, 32 GB card slot.
Quad-band GSM (850 \ 900 \ 1800 \ 1900 MHz), penta-band 3G (850 \ 900 \ 1700 \ 1900 \ 2100 MHz)
Micro-USB port with OTG support, 3.5 mm jack with TV-out functionality.
Supported media formats: MF, ASF, WAV, MXMF, MP4, AAC, AMR, MP3, AWB, M4V, M4A, AVI, NRT, WMA, 3GP, 3G2, MIDI, WMV.
Bluetooth 2.1, Wi-Fi.
Accelerometer, ambient light sensor, and proximity sensor.
FM radio, voice recorder, VOIP enabled.
Email client, IM apps, social networking support, YouTube browsing and streaming.
Nokia Maps (requires internet connection).
1110 mAh battery with 14 hours of 2G talk time (6 hours in 3G).
4.2" (l) x 2" (w) x 0.5" (13 mm) (d), 95 grammes.
Package contents: Nokia Asha 311, AC-3 compact charger, BL-4U 1110 mAh battery, WH-102 stereo headset, Product information booklet.
Includes 2 GB microSD card, free download of 40 pre-selected EA Games titles, and 15 free levels of Angry Birds.

UI And Applications

The phone runs the Java-based Series 40 OS. After experiencing the Asha 300's terrible UI, I didn't have high hopes from this handset. However, I was in for a pleasant surprise. The interface has been heavily inspired by Nokia's MeeGo operating system. Right from the lock screen, it doesn't look like a typical S40 at all. The interface lacks a Menu or Home button, while the navigation is accomplished through swipe gestures made popular by the N9. By removing the unnecessary customisation options, Nokia has delivered a clutter-free interface. An Android-inspired status bar provides quick access to calls and messaging notifications. Other than that, it also contains toggle buttons for Wi-Fi, Bluetooth, and mobile data (internet connection). Thanks to its 1 GHz CPU, the UI offers a snappy and pleasant experience. that's far better than laggy Android handsets in the same price range.

The Asha 311 comes with the Nokia Browser (an Opera Mini clone) and dedicated clients for e-mail, Facebook, and Twitter. Since the handset lacks GPS, the Maps 2.0 software uses your Wi-Fi hotspot or 3G cell tower info to zero in on your location. The accuracy of this feature is impressive — it correctly identified my general area, even though my phone didn't have a SIM and I was using only the Wi-Fi connection.

The Nokia Store offers plenty of apps including WhatsApp, Nimbuzz, and Zomato. Pre-installed games include a Java version of Angry Birds, which seems to have become a must-have game for every touchscreen phone. Also, thanks to the Finnish manufacturer's deal with Electronic Arts, you can download up to 40 EA titles for free. Overall, the only thing that separates this handset from smartphones is its lack of true multitasking. Even so, you can minimise the music player to the background and fire up other apps.


Multimedia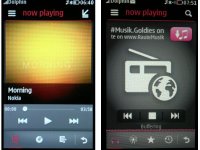 Like every other entry-level phone, the 311 too comes with terrible earphones. However, coupled with decent aftermarket IEMs, it delivers superb sound quality. The manufacturer has duly covered equaliser settings and FM radio. What's more, Nokia's Internet Radio allows you to tune into thousands of radio stations across the world. Although it works just fine with EDGE, a 3G or broadband Wi-Fi connection is required for higher quality streams. Furthermore, the media player can handle MP4, DivX, XviD, 3GP, and WMV videos up to 480p, and the 3" screen is good enough for watching movies. A great addition is the fact that you can use the 3.5 mm jack to hook up the video to a TV screen, which is another feature rarely found in this price range.

The 3.2 mp fixed-focus camera doesn't disappoint — only if you consider it a bonus feature. It performs badly in low-light scenes, but is quite decent outdoors. The snapper can also record video in 480p, but it's nothing worth writing home about.


Telephony, Messaging, Battery And Verdict
With normal use, the handset's 1110 mAh battery can easily last for a day and a half, with the call quality and reception being excellent throughout. When it comes to messaging, the 3" screen can be quite cumbersome to type on. However, switching to landscape mode makes texting a breeze, as long as you don't have to type a long message.

For Rs 6400, the Asha 311 offers a snappy and clutter-free UI, great sound quality, extensive connectivity options, and a bunch of features that are generally found in smartphones. Considering the gadget's cost, its minor shortcomings that include the lack of a brightness settings aren't a deal-breaker in the least. If you're a looking for an entry-level touch device, the Asha 311 is the way to go. However, die-hard Android fanboys looking for a cheap smartphone will be happiest with the Samsung GALAXY Y.

Incidentally, the 311 is currently sold out in many brick-and-mortar stores, and is quickly becoming unavailable online as well, which is a testament to its popularity with the public. In fact, while Flipkart.com and BuyThePrice.com had the phone in stock when I started writing this review, they ran out by the time the I was finished a few hours later. The store links provided at the top of this review currently have the handset for purchase, but it's not going to stay that way for long, so you'd better act fast if you're planning on buying this gadget. View more images in the gallery below.


Features: 4/5
Design And Build Quality: 4.5/5
Performance: 3.5/5
Value For Money: 4.5/5
Mojo: 3.5/5

Overall Rating: 4/5
TAGS: Mobile Phones, Series 40, Nokia, Asha, ck
Opinion Poll
Which is the most important aspect of a smartphone?
Operating system
25%
Display
6%
Camera
11%
Processor and RAM
37%
Battery
14%
SIM slots
1%
After-sales service
6%
Total votes: 15676