Aakash With Android 4.0 To Be Launched On 11th November At Rs 1500: Kapil Sibal
Low-cost ICS tablet for students will feature a 7" screen, 1 GHz CPU, and claims four hours battery life.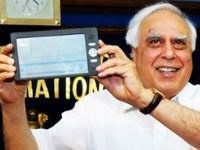 Telecom minister Kapil Sibal has announced that the Aakash tablet will be launched on 11th November. Speaking at the Economic Editor's Conference, the minister said, "Hopefully on November 11, you will see the President talking to 20,000 students across the nation (who) will have their hands on Aakash". Before jumping up in joy, you can't help but notice that "hopefully" is the keyword here, which means that the launch date is not really confirmed. It must be noted here that Datawind, the company that manufactures Aakash, has launched four versions of the UbiSlate tablets that are also some of the lowest priced such devices in the market and these would be its closest competitors, However, the price difference will still be considerable.
While detailed specifications are not available, it is known that the slate, powered by a 1 GHz CPU, sports a 7" capacitive touchscreen and runs Android 4.0 (Ice Cream Sandwich). The earlier iteration ran Gingerbread with a paltry 366 MHz processor. The battery life is expected to be four hours. Sibal stated that there are plans to manufacture five million units and said that the pricing for a tablet would be brought down to around Rs 1500 once manufacturing activities are set up in India.
Launched last year in October, the Aakash has been mired in controversy for a long time, with shipments having been greatly delayed despite pre-order payments made months in advance. However, it is for the first time that Sibal has quoted a specific date on which the device would be made available. Let's hope that this time it's for real.
TAGS: Tablets, Government, Education, Android, Aakash, Jayesh