7" Karbonn Smart Tab 2 With Android 4.0 Available On Snapdeal.com For Rs 7000
Upgradeable to Jelly Bean, the slate features a 2 mp front camera, 1080p playback, and a high-capacity 3700 mAh battery.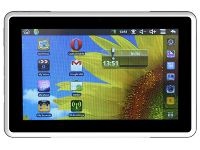 Over the last couple of months, cheap tablets have been springing up like mushrooms in the rains. Now Karbonn has added its bit by launching the Smart Tab 2 in the entry-level segment, currently available only on Snapdeal.com for Rs 7000. What makes this product different from its competitors is that it claims to be upgradeable to Android 4.1 (Jelly Bean) as and when it is released by Karbonn, reportedly in September. However, taking into account the fact that this is essentially a dirt-cheap tablet sold by a company with a dubious record of customer service, don't bet your life on the update being available by then.

Powered by a 1.2 GHz CPU with 512 MB of RAM, the 7" slate has a capacitive, five-point multi-touch display with pixel dimensions of 800x480. It ships with 1 GB of usable internal storage, which can be further expanded by up to 32 GB via a microSD slot. A large 3700 mAh battery claims to provide 25 hours of music and 8 hours of video playback.
The gadget boasts of 1080p (Full HD) video capability, as well as an HDMI-Out port to display the video on a big screen. Internet connectivity is taken care of by its inbuilt Wi-Fi and support for external 3G dongles. The company also provides its own 3G dongles (sold separately) to ensure that the user doesn't face compatibility issues. A 2 mp front camera facilitates video chat, while the inbuilt OTG (On-The-Go) functionality included with ICS will ensure that you can connect USB drives and peripherals. Finally, on the software front, the device comes preloaded with a few custom applications and games, but you can always install more, thanks to support for the Google Play store.

Strangely enough, while Karbonn's site itself makes no mention of the Smart Tab 2, it displays the Smart Tab 1 instead, which has almost identical specifications and features, including support for Jelly Bean. Why the manufacturer would release two identical products with similar pricing and features is a complete mystery to me. While we try to procure a review sample, you can check out our ultra-cheap tablet champions. Lastly, here are the detailed specifications for the Smart Tab 2:
Android 4.0.3 (Ice Cream Sandwich) upgradeable to Android 4.1 (Jelly Bean).
7" five-point multi-touch capacitive screen with pixel dimensions of 800x480.
2 mp front camera.
1 .2 GHz Xburst CPU, 512 MB RAM.
Wi-Fi 802.11 b/g/n, 3G via external dongle, Bluetooth.
HDMI-Out with Full HD (1080p), 3.5 mm audio jack, and USB port.
4 GB internal storage (1 GB usable), up to 32 GB via microSD slot.
Three-axis accelerometer.
Supports MP3, MP4, 3GP.
3700 mAh battery with 25 hours of music and 8 hours of video playback.
Google Play support, Karbonn Smart browser, Karbonn Smart games.
One-year warranty.