Rumour: Details Of Upcoming Lenovo Windows 8 ThinkPad Tablet 2 Leaked
Anonymous industry source claims the device sports a 10.1" pixel-packed screen, dual-core Atom CPU, and 8 mp camera.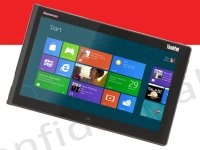 As reported earlier, Chinese manufacturer Lenovo could very well be the first to launch a Windows 8 tablet in the market. Techin5.com claims to have received an anonymous tip that revealed detailed information about Lenovo's upcoming tablet based on Microsoft's new OS.

Reportedly, the slate is named the Windows 8 ThinkPad Tablet 2 (quite a mouthful). With a 10.1" pixel-packed IPS screen, the device intends to take Apple's iPad head-on. It's expected to be powered by an Intel Cloverview dual-core Atom CPU. Here are the detailed specs:
10.3" x 6.5" x 0.4" (9.8 mm), 650 grammes.
10.1" WXGA IPS panel with pixel dimensions of 1366x768 (16:9), anti-glare screen, and 10 finger multi-touch support.
8 mp back camera with auto-focus and LED flash, 2 mp HD-capable (720p) front camera.
2 GB RAM, 64 GB internal storage, microSD card slot.
Wi-Fi, GPS, NFC (optional), Bluetooth 4.0, 3G SIM (optional).
Mini-HDMI, USB 2.0 with OTG (for connecting USB peripherals), 3.5 mm headphone \ mic jack, docking connector.
1080p video playback at 30 fps, supports DirectX 9.
2 x 1 Watt stereo speakers, dual-array mic with noise cancellation.
30 Wh battery, which roughly translates to 6000 mAh.
Optional accessories such as stylus, fingerprint reader, and keyboard dock.
Accelerometer, compass, proximity sensor, ambient light sensor.
While the tablet appears to be promising, only time will tell whether it'll make a dent in the iPad's dominance. Needless to say, the pricing will be a crucial factor in its success. How much would you be willing to pay for this tablet? Quote your price in the comments section below.