Rumour: Lenovo Looking To Launch First Windows 8 Tablet
Races against Dell for early bird benefits.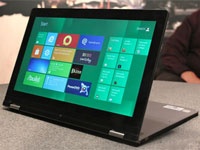 As tablets continue to make inroads into the mobile computing market, Dell and Lenovo, which had primarily focused on PCs and laptops for years, seem to have embraced the inevitable. Lenovo is rumoured to be launching the first Windows 8 tablet, even as Dell CEO Michael Dell has already said that his company wants to launch its own tab "…on the exact day" that the new OS ships to customers. The OS is apparently going to be launched in October, and the Chinese manufacturer is therefore busy in preparations so that the tablet is tested and ready by then.
Specifications of said slate are sparse, save for the info that it will have an Intel processor. Incidentally, Lenovo had shown its IdeaPad Yoga running a developer build of Windows 8 at CES earlier this year. Although a laptop, this 13.3" device has a hinged keyboard that allows it to be folded behind the screen, giving it a tablet-like form factor. It must be noted that the hardware requirements for Windows 8 tablets are almost the same as that of Windows 7, with the exception of a 5-point touchscreen, certain sensors, and a few hardware buttons, as specified by Microsoft.