Review: Micromax Canvas Doodle 2 | TechTree.com
Review: Micromax Canvas Doodle 2
Does bigger always mean better?
Rating

3
/5
03rd Dec 2013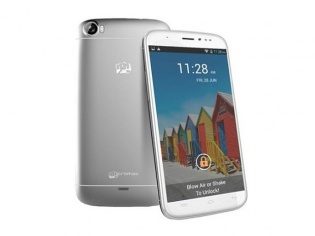 Pros:
Large IPS screen; Good 12 MP camera; 16 GB internal storage.
Cons:
Uncomfortable to use as a phone; Battery life could have been better; No expandable memory.
Micromax Doodle 2
Street Price: Rs 16,000
Micromax is a company that never fails to follow Samsung. Be it design, screen size, and even features such as stylus. So looking at the popularity of Samsung's Note series, a similar phone from Micromax was inevitable. So here we have Micromax's Doodle 2 sporting a huge 5.7" screen and stylus support. The handset is powered by a quad-core processor. Other specs look impressive too. However, do these numbers translate into great smartphone experience?
Who Should buy:
- Those looking for a big screen phone for watching movies.
- If you're looking for a good camera, irrespective of its size.
- Those who like to use stylus for taking notes and doodling.
Who shouldn't:
- If you're looking for a pocket-able phone.
- Those interested in gaming.
- If you're expecting marathon battery from your smartphone.

Design And Build
On its face, the Doodle 2 looks like an overgrown Canvas 4. The edge-to-edge glass on its front is a nice touch. However, Micromax hasn't used scratch-resistant glass, so do handle it with care. Unlike most Micromax phones, the Doodle 2 doesn't feature a removable back-panel. While the metallic rear makes this phone look premium, we couldn't help but notice its uncanny resemblance to the HTC One. Personally, the major turn off for me was the phone's humongous size. Seriously, it doesn't feel like a mobile at all. However, this shouldn't bother the ones who live by "bigger the better" motto. Thankfully, the manufacturer hasn't placed the lock button on the top side, which would have been quite difficult to reach. That said, the phone is not at all fit for single-handed usage. Even shoving it in jeans pocket is quite a task, and not to mention how awkward it feels to talk on such a big mobile phone that covers most of your face.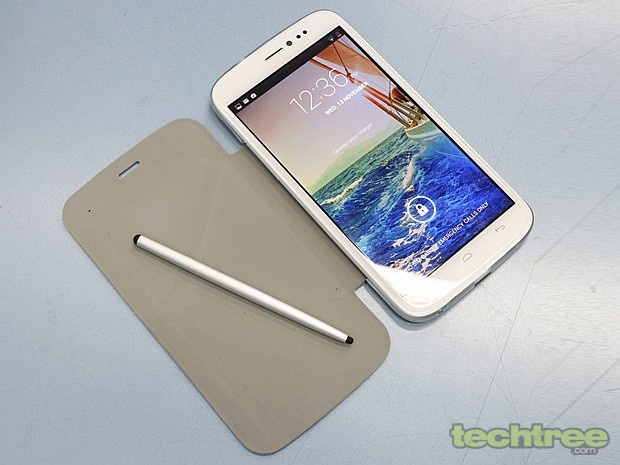 The plastic cover that houses SIM cards is shoddily built, and hence, a little erratic to open. But then, it's not really an issue unless you fiddle around with SIM cards every day. The camera is placed on the top left corner at the rear. That's fine for portrait shots, but you have to be very careful not to cover the lens when shooting in landscape mode. Moreover, the camera protrusion on the left side doesn't let this phone sit properly on table. The phone ships with a stylus, but surprisingly there's no provision to tuck it inside the phone. Yes, you'll have to carry it separately.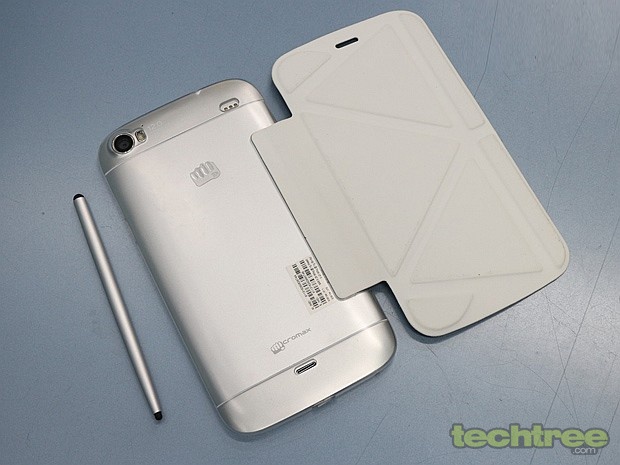 Screen
The Doodle 2 features a 5.7" screen with pixel dimensions of 720x1280. Being an IPS-type display, the colour reproduction and viewing angles are quite good. The screen is bright, which somewhat helps with the sunlight legibility as well. The screen sharpness is good enough and also quick to register touch inputs. Overall, there's no major downer in terms of screen quality. But, we didn't find it as impressive as the OGS screens we've seen on a couple XOLO and Panasonic phones.
Basic Specs
The Doodle 2 is powered by a 1.2 GHz quad-core processor based on the MediaTek MT6589 SOC. The exact same chipset that we've seen on Canvas 4 and many more quad-core phones in India. There's 1 GB of RAM to help with multitasking. It has a 12 megapixel rear camera. Other than that, you get 16 GB of internal storage, Wi-Fi, Bluetooth 3.0, 3G, and 2600 mAh battery. Unfortunately, there's no microSD card slot. So you're stuck with 16 GB only, off which around 13 GB is user accessible.
User Experience
In terms of software, the Doodle 2 features Android 4.2.1 (Jelly Bean). To differentiate its offering from a plethora of domestic manufacturers, Micromax has made a few changes to the stock UI. First up is the much-hyped, but useless 'Blow To Unlock' feature. Not only does blowing your phone looks silly, but it's also a hit-and-miss affair. To make most of the available screen size, Micromax has come up with 'Multi-window' feature (yes, that's exactly what you get on Samsung phones). Similarly, there's a 'Video Pinning' functionality inspired by the Korean giant's 'Pop up play'.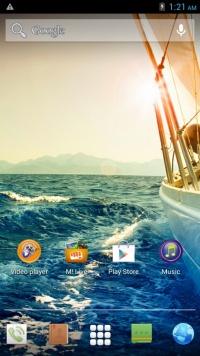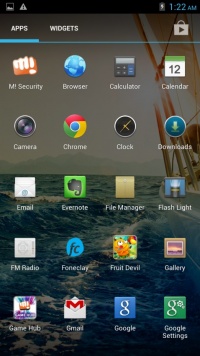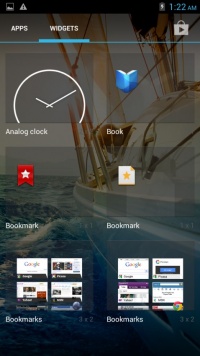 The phone comes bundled with quite a few apps including M!Security, Spuul, Opera Mini, Kingsoft office suit, Foneclay, Skitch, and Evernote. Out of the lot, Skitch lets you doodle and take notes. The stylus is very basic, so don't expect Samsung's S-pen digitiser type fancy features. It's just a pencil-shaped tool with no digital input. In short, there's nothing you can do that's not possible with your finger.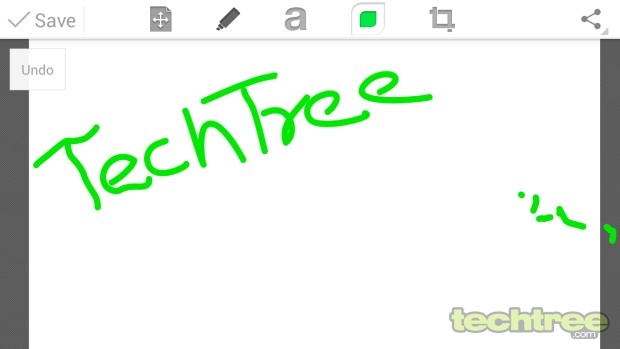 As mentioned earlier, the Doodle 2 has the same chipset as that of Canvas 4, therefore, the performance is almost the same. The swiping between homescreens is quite smooth. There's a bit of stutter in multitasking menu though. With PowerVR SGX544 GPU inside, the gaming is limited to mostly casual titles. So if you wish to play complex games such as Real Racing 3, better go for the cheaper and more powerful XOLO Play T1000.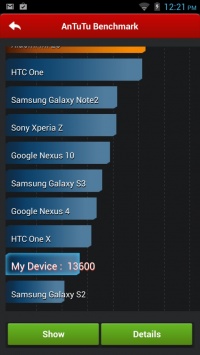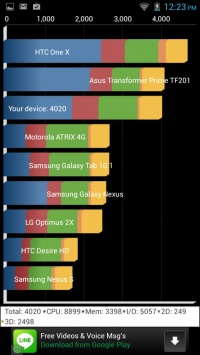 Benchmarks: Antutu — 13,500, Quadrant — 4020.
Multimedia
Micromax has been shipping some quality earphones with their phones, and this phone is no exception. However, phone's sound output is nothing to write home about. It's not exactly bad, but not at all good enough considering the phone's 16k price tag. Moving on to video playback, the phone supports MP4, DivX, and MKV formats out of the box. The default player stutters with certain clips with high bit-rate, but is generally quite smooth. The default video player offers nifty swipe controls — seek the video by swiping horizontally and swipe vertically to control volume.
Camera
The onboard 12 megapixel auto-focus camera is coupled with an LED flash. The image quality doesn't justify the 12 MP moniker, but you can say that it's at least better than most 8 megapixel cameras found in this price range. The colours turn out to be accurate most of the times. However, in indoor shots you get a slight purple tint. Click here, to view the untouched camera sample. The Doodle 2 records full-HD videos in MP4 format. The quality of the clips is quite good.
The phone also has 5 MP front facing camera. Don't go by the megapixel count. It is good enough for video-calling but nothing more. Well, fine for selfies too.

Telephony And Messaging
Being a dual-SIM phone, the Doodle 2 offers a SIM management menu. Similar to the Canvas 4, this phone offers turn-to-silent feature. Moreover, keeping it upside down during the voice call will put the phone on speaker. That quite neat. Moreover, the handset's network reception and call quality is great. On the messaging front, the on-screen keyboard is a standard Android affair.
Battery
The 2600 mAh battery easily lasts for just over a day with standard usage. However, considering the phone's size, we believe that Micromax could have easily fitted a larger capacity pack. In our video loop test, it managed to power the device for almost 6 hours. Not bad for a 5.7" handset that's powered by a quad-core CPU.
Verdict
Available for Rs 16,000, the Micromax Doodle 2 is a mixed bag. It offers a good screen, a recommendable camera, and decent user-experience. On the other hand, its multimedia performance is a let-down. Lack of microSD card slot will put off many buyers. However, the biggest problem I see with this phone is the size. It's so big that it's neither comfortable to hold, nor sits properly in your pant's pocket. If you like Micromax's gimmicky software features, we'd recommend you get the Canvas 4 that costs the same. Those interested in gaming are better off with the XOLO Play T1000 for 2K less.

Features: 3.5/5
Design And Build Quality: 3/5
Performance: 3/5
Value For Money: 3/5
Mojo: 3

Overall Rating: 3/5

Specifications:
5.7" HD IPS display.
Android 4.2 Jelly Bean operating system.
1.2 GHz quad-core processor, on a MediaTek MT6589 SoC.
5 MP front camera, 12 MP rear snapper.
1 GB RAM, 16 GB internal storage.
Bluetooth, Wi-Fi, microUSB connectivity.
2600 mAh battery.
Features such as Flip to mute, Smart Pause, and Vertical Panorama.
TAGS: Mobile Phones, Android, Micromax