Review: Sony Xperia Z1 - Waterproof But Not Competition-Proof
A premium waterproof handset with a not-so-impressive 20MP camera.
Rating

3.5
/5
29th Oct 2013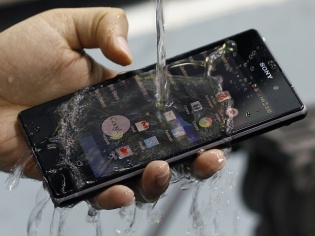 Pros:
Water and dust proof; Premium looks; Great multimedia performance.
Cons:
Mediocre screen; Camera doesn't live up to the hype; Muffled earpiece; Slippery to hold.
Sony Xperia Z1
Street Price: Rs 40,000

Who should buy it:
If water or moisture has destroyed your previous expensive phone, the Z1 is perfect for you. This phone not only stands splashes, but can be submerged in water for around half an hour.
If you are one for classy looks, the Z1 looks absolutely premium. Undoubtedly one of the best looking smartphones in the market.
Those looking for a great multimedia performance. Sony, once known for Walkman media player, has lived-up to its reputation with the Xperia Z1. The phone delivers great sound quality and extensive video codec support.
Who shouldn't:
If you're looking for a great camera-phone, the Z1 doesn't cut it. It does perform better than most 8 MP snappers, but doesn't live up to what you expect from a 20 megapixel snapper.
If you want an awesome screen. While the 1080p screen looks impressive on paper, it's quite under-whelming when it comes to vibrancy and contrast.
Due to the water-resistant sealing, the handset's earpiece sounds a bit muffled. So if you're particular about the call quality, give this handset a miss.
Those looking for the best smartphone in India currently, there are better options at this price point.

After ditching the feature phone market, the Japanese electronics giant has gone full-steam ahead with smart devices. Waterproof phones have been around since ages, but it was Sony who managed to pull off a sleek looking water-resistant phone, Xperia Z. This time around, the company has taken it to the next level in its latest flagship Xperia Z1. Another interesting aspect of the phone is that it also packs in a 20.7 megapixel camera. That's the highest megapixel-count you get on an Android phones, considering that the 41 megapixel camera phone Nokia Lumia 1020 runs WP8 OS. Throw a powerful Snapdragon 800 SoC in a mix, and you get a potential winner. So is it the best Android device out there in the Indian market? Let's find out.

Aesthetics And Build
The Xperia Z1 looks very similar to its predecessor (Xperia Z). In what Sony prefers to call an omniBalance design, you get reflective surfaces on both the sides (much like the iPhone 4S). The rear is said to have been made of tempered glass, but gets scratched easily. So make sure not to mix this handset with the car keys in your pocket. Moreover, the glass on its back makes it slippery. So while we appreciate sleek looks, it shouldn't come at the cost of usability. In a market of 5-inchers, the Z1 probably has the biggest footprint. To put things into perspective, the LG G2 sports a 5.2" display, and yet it's smaller than Sony's offering.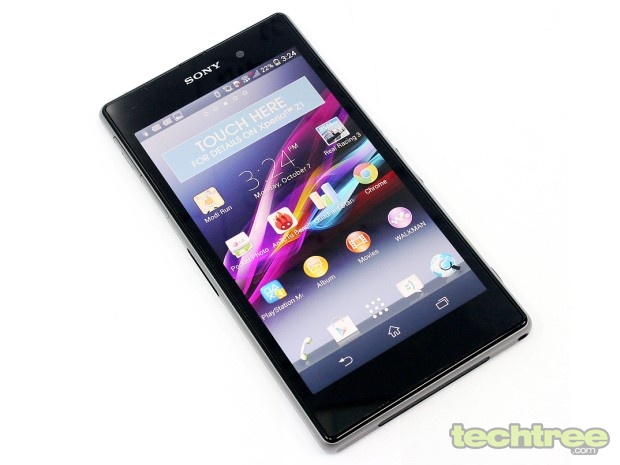 A welcome change here is that Sony has done away with the tacky faux-metal plastic found on the sides of the Xperia Z. The phone lacks capacitive menu navigation keys. The phone features a volume rocker, SIM card slot, and lock button on the right side. Based upon user-feedback, Sony has added a shutter key for the camera, which was missing in the Xperia Z. Bang opposite are the microSD card slot, USB port, and dock connectors. The top side houses a 3.5 mm jack, while there's a speaker grille at the bottom.




Sony's latest flagship is IP58 certified, which means that the phone can withstand dust and water. The number '5' denotes protection against dust particles, and '8' stands for the phone's ability to withstand water immersion up to 1 metre. It sounds more interesting when you realise that with all this waterproofing the phone is still very slim at 8 mm.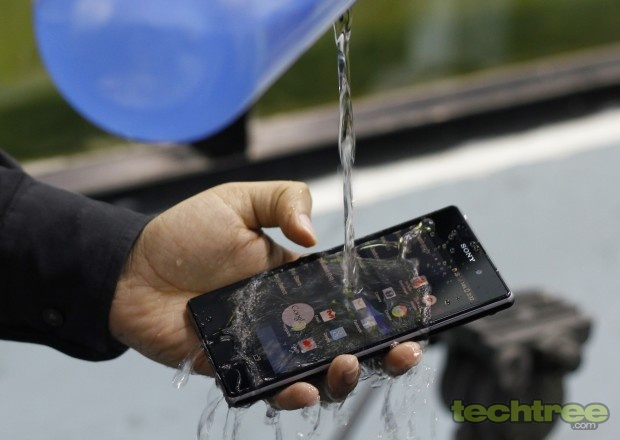 Display And key Specs
The phone comes with a 5" full-HD screen. The screen is sharp and definitely an improvement over the one found on the Xperia Z. It features Sony's BRAVIA, TRILUMINOS, X-Reality display tech and whatnot. Unfortunately, however impressive it looks on paper, the display is marred by a yellowish tint. The overall colour reproduction isn't that good either. Especially, the blacks look a bit off. We're not even comparing it to vibrant AMOLED screens, but it can't even stand its ground against the IPS panels on certain phones that are a few thousand rupees cheaper than the Z1. So basically, considering the phone's price tag, the display is a tad disappointing.

The Xperia Z1 packs in the same chipset that's found in the recently reviewed LG G2. What's ticking inside is a quad-core Qualcomm Snapdragon 800 chipset clocked at 2.2 GHz. Apart from that, you get 2 GB of RAM and 16 GB of internal storage that can be expanded by up to 64 GB via a microSD card. It boasts of 20.7 megapixel camera coupled with an LED flash. More specs can be found at the end of the review:
UI And Performance
The Xperia Z1 ships with Android 4.2.2 (Jelly Bean) with Sony's customisation on top of it. The interface is identical to that of Xperia Z and Z Ultra. The lack of uniformity in UI design is still present. As you can see from the icons, they come in all shapes and sizes. On the other hand, we loved the unlock animation that mimics the window blinds. The lock screen also features quick shortcuts for music player and camera. Taking advantage of the big screen size, the notification bar offers quick access to Wi-Fi, Bluetooth, and device settings. The phone offers 'small apps' feature that allows you to use calculator, recorder, timer etc in windowed mode. For instance, you can use calculator with a video being played in the background. Now whether you want to perform a task with a distraction in the background is up to you, but it's good to have an option.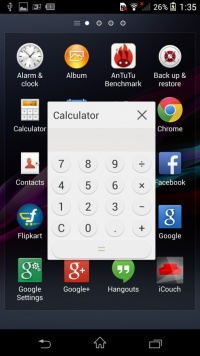 The Xperia Z1 runs smooth most of the times. However, it does slow-down a bit once in a while especially in music player. The default browser is blazing fast, and it comes with neat tab management. In AnTuTu, the phone scored 32,569. That's almost similar to LG's G2 since both the handsets pack in the same chipset. What matters more is that every game we threw at it worked smoothly on the phone.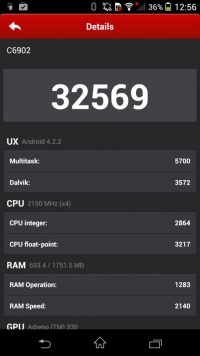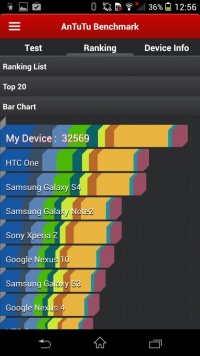 Multimedia
The Xperia Z1 provides a nice punchy sound output. Besides that, you get plenty of equaliser settings and sound modes to play around with. Don't like going into those many details? Enable ClearAudio+ enhancement, and you're good to go. Coming to the subject of video playback, the default video player handles MP4, DivX, XviD, and MKV video without any issue. It's not compatible with subtitles, but then you can simply get over this limitation by installing a third-party app such as the MXPlayer.

Camera
The Sony Xperia takes the pride for being the only Android smartphone to sport a 1/2.3-type CMOS image sensor, generally found on point-and-shoot cameras. The only other smartphones to pack in bigger sensors are Nokia 808 and Lumia 1020. Before we talk about the Xperia Z1's image quality, let's run through its list of features.

Info-Eye
Using this feature, you can scan QR and UPC codes. Moreover, it can also detect books, and provide more information about it. Quite a nifty feature, but I wish it also had the 'Translate' feature found in Microsoft's Bing Vision.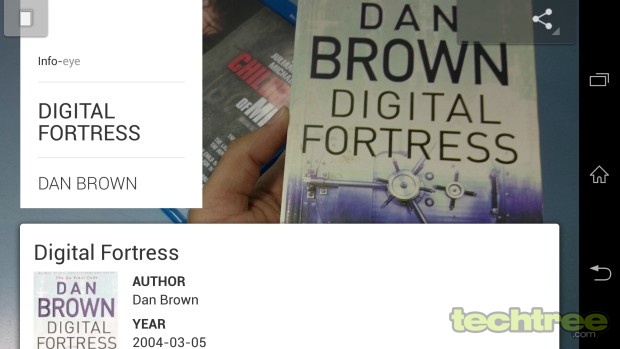 Social Live
This preloaded app lets you live-stream the videos to Facebook as you record them. Your friends can watch these videos and comment on it in real-time. Sounds interesting.

AR Effect
This augmented reality software that lets you place fairies and even dinosaurs on your office desk. The animations are superbly done, and the creatures can even detect walls and other obstacles. While you can take interesting snaps using some creativity, I really wish it came with video recording feature.




The phone's 20.7 megapixel camera has a 27 mm wide angle 'G-Lens' and an LED flash. The camera offers Superior Auto and Manual modes. However, exposure and white balance are the only things you can actually control with it. In Superior Auto mode, the images are saved at 8 MP. That's similar to how Nokia uses over-sampling algorithm to cram in more details in a 8 megapixel shot. The main difference here is that the Lumia 1020 gives you an option to save both the 38 and 8 megapixel shots simultaneously, while in Z1 it's only limited to 8 megapixel in Superior Auto Mode.

The images shot in daylight contain good amount of detail. The colour reproduction is quite accurate, save for the blacks. So don't be surprised if the shadows look a bit weird in your Xperia Z1. The photographs are sharp too. However, the visual noise is more than what I had expected in a cameraphone that comes with a 1/2.3 sensor. Click here to download and check the camera sample yourself.

With Exmor RS sensor onboard, the Japanese company promises stunning low-light shots. However, this is one area where the Z1 doesn't live up to the hype. The phone comes with Sony's BIONZ image processing engine for noise reduction. Ironically, it showers the low-light pictures with grains while trying to unnaturally sharpen the image. As you can see in the image below, the LG G2 beats the Xpera Z1 hands-down when it comes to indoors photography.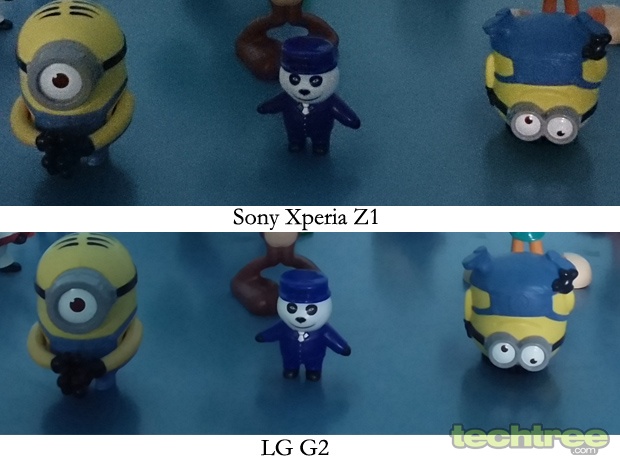 During my week's usage, I met with 'Camera not available' error quite a few times. That's nothing new for Android phones, but it's getting a special mention here because the Z1 is a 'camera phone'. The phone can record 1080p videos at 30 fps. These MP4 clips offer consistent frame-rate, and good amount of detail.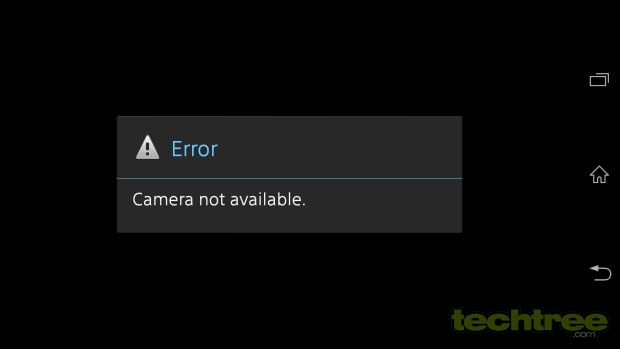 For those who wished the Lumia 1020 had Android OS.

Telephony And Messaging
During the tests, the phone's network reception was great. However, probably due to waterproofing, the earpiece sounded a little muffled. Sony continues to overlook the onscreen keyboard optimisation, as there's still too much space left between two adjacent keys.

Battery
The 3000 mAh Li-Ion battery keep the device powered for a slightly over a day under normal usage. In our video loop test, it managed to power the device for only 6 hours. Now that's disappointing considering that the LG G2 clocks over 11 hours, and still has a smaller footprint.

Verdict
The Xperia Z1 is currently selling for Rs 40,000 via online stores. Its Snapdragon 800 SoC delivers solid performance. The phone looks premium, and IP58 certification ensures that monsoons or sweat won't turn your expensive phone into a brick. On the other hand, the most important aspect of a phone, its display is pretty average. Besides that, the 20.7 megapixel camera doesn't live-up to the hype.
On paper, the Z1 can humble any flagship phone with its specs. However, that's not the case in real world conditions. So if you're looking a powerful Android phone with a great camera, the LG G2 is your best bet at the moment. But, if protection against the elements tops your requirement list, nothing comes close to the Xperia Z1.


Features: 4.5/5
Design And Build Quality: 4/5
Performance: 3.5/5
Value For Money: 3/5
Mojo: 3/5
Overall Rating: 3.5/5


Specifications:
5.0" Full HD TRILUMINOS Display for mobile with X-Reality and Sony Mobile BRAVIA Engine 2.
Qualcomm Snapdragon Qualcomm MSM8974 quad-core processor.
2 GB of RAM.
Wide angle 27 mm Sony's G Lens with BIONZ for mobile, 1/2.3-type Exmor RS for mobile, 20.7 MP CMOS image sensor.
Dust and water resistant (IP55 & IP58).
16 GB internal storage.
MicroSD card slot with support for up to 64 GB.
NFC, Bluetooth 4.1, Wi-Fi with hotspot support, A-GPS, USB 2.0, 3.5 mm audio jack.
Google Android 4.2 (Jelly Bean).
3000 mAh battery.
TAGS: Mobile Phones, Android, Sony, Xperia