Review: Sony Xperia Z - Rainproof Flagship | TechTree.com
Review: Sony Xperia Z - Rainproof Flagship
This Sony flagship smartphone has impressive specifications, and can also resist dust and water.
Rating

3.5
/5
07th Aug 2013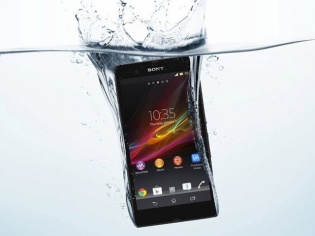 Pros:
Water and dust proof; Sleek design; Smooth UI; Impressive multimedia performance.
Cons:
Mediocre screen; Muffled sound in calls; Average camera; Uncomfortable for single-handed use.
Sony Xperia Z
Street Price: Rs 35,000

If you're looking for a top-end Android smartphone, your choice is limited to the HTC One, Samsung GALAXY S4, and Sony Xperia Z. Among this lot, it's the water and dust resistant body that gives Sony an edge. The handset also flaunts a 5" full HD screen, quad-core processor, and a 13 megapixel camera. Needless to say, the Japanese giant has brought its A-game with the Xperia Z.
Design And Build
The Xperia Z sports reflective surfaces on all sides, held together by a polycarbonate frame. Since both the front and back are made of toughened glass, it looks a lot like an overgrown iPhone 4S. It's a clear indication that Sony has departed from the curvy design language seen in the Xperia S and SL. Despite its sleek design, this 5" phone is not ideal for single handed use. The excessive use of glass doesn't help with the grip either.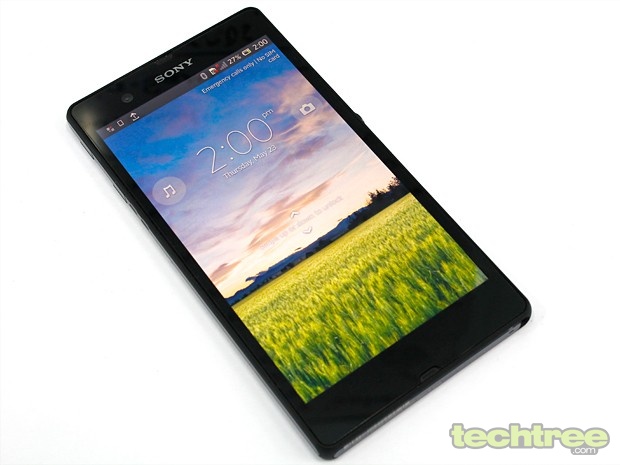 Much like the Nexus phones, the Xperia Z lacks capacitive menu navigation keys. The phone features a volume rocker, SIM card slot, and lock button on the right side. Unlike its cousin Xperia ZL, this phone doesn't feature a camera shutter. That place has been utilized for a speaker grille on the Xperia Z. On the opposite side, you get a micro-USB port, microSD card slot, and a dock connector. The top side houses a 3.5 mm jack, which is guarded by a plastic flap.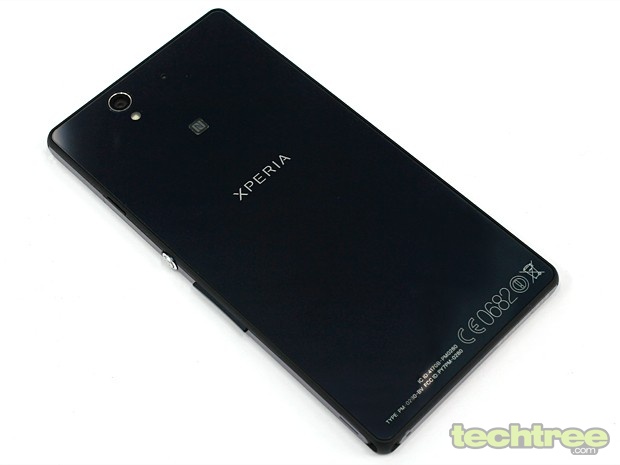 Similar to the Xperia Go, Sony's latest flagship is a rugged handset. Its IP57 certification means that it can withstand dust and water. Here, the number '5' refers to near perfect protection against dust particles, and '7' stands for the phone's ability to withstand water immersion up to 1 metre. Click here to see the Xperia Z getting drowned under water. It feels great talking on your phone during the rains while others are busy hiding their phones in plastic pouches.
Screen
The phone comes with a 5" screen boasting of Sony's Mobile BRAVIA Engine 2. With pixel dimensions of 1080x1920 pixels, it's Sony's first full-HD phone. The screen is sharp, but you just can't tell the difference between this, and a 720p screen on any other 5" smartphone. So the whole 1080p display thing seems more of a gimmick. While the screen is reasonably bright, the colours look a little washed out. Moreover, the contrast is mediocre, and blacks aren't up to the mark. Similar to the recently reviewed Xperia ZL, whites tend to look a bit yellowish. Basically, compared to the other top-end phones, the Xperia Z's display is a let-down.
Specs
The Xperia Z is powered by a quad-core Snapdragon S4 chipset clocked at 1.5 GHz, and there's 2 GB of RAM. Other bells and whistles include a 13 megapixel main camera, 16 GB internal storage, microSD card slot, and 2330 mAh battery. Detailed specs are at the end of this article.
OS and Apps
The Xperia Z features heavily-customized Android 4.1 (Jelly Bean) out of the box. The UI is exactly the same as seen on the recently reviewed Xperia ZL. Moreover, there's no difference in terms of performance since both the handsets pack in a Snapdragon S4 chipset clocked at 1.5 GHz, Adreno 320 GPU, and 2 GB of RAM. In short, if you have used the ZL, you know how the Z performs. Instead of repeating the entire thing, let's quickly run through the important aspects.
The first thing to grab your attention is the new lock screen, which supports quick shortcuts to the default music player and camera. The notification area has also been redesigned to accommodate toggle buttons for Wi-Fi, Bluetooth, and other settings. Since the phone lacks physical buttons, the menu navigation is taken care of by onscreen buttons. The phone offers four "small apps" namely, calculator, recorder, timer, and note, which work in a windowed mode. Something very similar to Samsung's pop-up play functionality.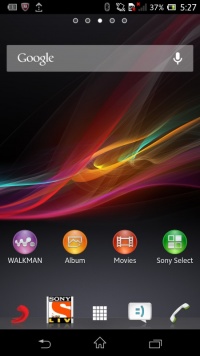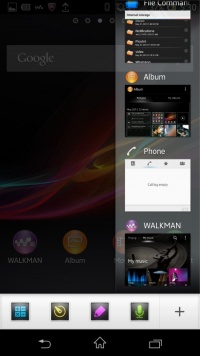 On the aesthetics' front, the customization is a mixed bag. I liked the lock screen animation, which is inspired by window blinds. On the other hand, the interface lacks uniformity. For instance, the default icons lack consistency when it comes to their shape or even size for that matter. In comparison, I found the HTC One's UI more streamlined and easy-on-eyes.

Moving onto in-built apps, the Google Chrome offers neat tabbed browsing and quick page rendering. The phone easily handles complex 3D games such as Shadowgun and Dead Trigger. Unlike the Samsung GALAXY S4, this phone isn't prone to performance issues. In AnTutu benchmark, the Xperia Z scored 20,660 (same as that of ZL). That's significantly less than the S4's 27650 or HTC One's 23,412. But, I wouldn't be concerned about that since there's not much to complain about the phone's real-world performance.
Multimedia
The Xperia Z's sound quality is as expected from a premium handset, it's very good. There are several equaliser presets, and surround sound modes to play around with. Another thing worth mentioning is ClearAudio+ enhancement, which adjusts the output based on the song that you're listening to.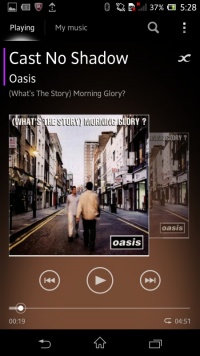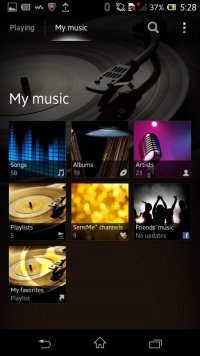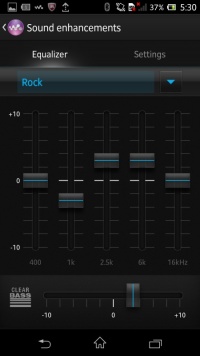 Coming to the subject of video playback, the Z managed to handle everything including MP4, DivX, XviD, and MKV. One small annoyance here is that it doesn't support AC3 audio format. However, you can easily overcome this issue by grabbing a third-party app such as MXPlayer.

Similar to HTC One, the Xperia ZL features a built-in IR port. Using manual key mapping, you can make it work on most TVs, home theatres, and cable set-top boxes. Needless to say, it's a helpful feature that's quite fun to use.
Camera
The Xperia Z features a 13 megapixel camera with LED flash. For advance users, there are multiple modes including normal, Burst, Picture effect, and Sweep panorama. If you find these settings confusing, just activate the Superior auto mode and let the phone decide what's best suited for the situation. The camera module is exactly the same as found on the Xperia ZL. Little wonder then, the results are no different. The pictures contain adequate details, and colours look good too. That said, the noise reduction algorithm is quite aggressive, which spoils the details. Click here to view the untouched camera sample.
Sony claims that the Exmor R sensor allows you to capture night images with stunning clarity. However, that's far from the reality. The low-light pictures turn out to be outrageously grainy. Check out the low-light comparison between the iPhone 5 and Xperia Z below: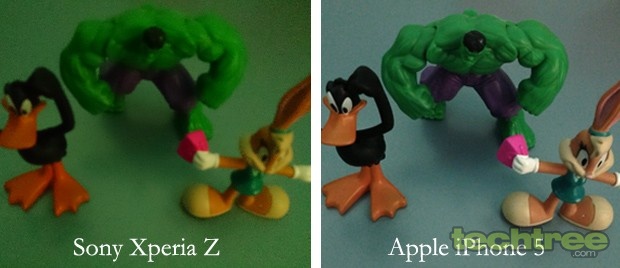 The Sony flagship can record 1080p videos at 30 fps. The clips are saved in MP4 format, and offer consistent frame-rate. You can also record videos with HDR, but that doesn't significantly improve the video quality.
Telephony And Messaging
During the testing, the voice sounded a little muffled. This is probably a price you pay for owning a water proof handset. Apart from that though, there was no issue with Wi-Fi, Bluetooth, and 3G reception either. Coming to the subject of messaging, the onscreen keyboard isn't very cleverly designed. There's too much space left between two adjacent characters.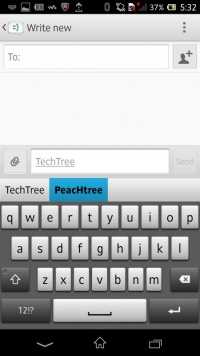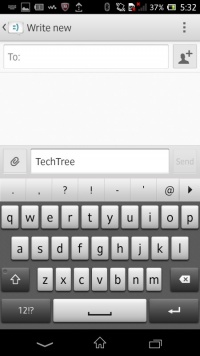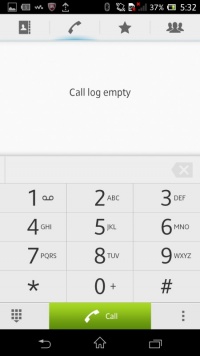 Battery
The 2330 mAh Li-Ion battery provides sufficient juice for it to last a normal work day. In our video loop test, it managed to power the device for only 6 hours and 40 minutes. In comparison, HTC One and Samsung GALAXY S4 last for around 10 hours.
Verdict
Its been a while since we've seen waterproof handsets, so the Xperia Z is definitely a welcome addition. In fact, it's the only high-end phone to be IP57 compliant. The Xperia Z is undoubtedly better than its cousin ZL. The device offers smooth UI and great sound quality. On the other hand, considering the device's price the screen is disappointing. The camera also isn't up to the mark, and the muffled sound in calls can be annoying. So if you're careless with your gadgets, go for the Xperia Z — it will survive this monsoon and many more to come. However, if you're looking for a good all-round smartphone, go for the similarly priced iPhone 4S or Nokia Lumia 920 that's around 4k cheaper.

Features: 3.5/5
Design And Build Quality: 4/5
Performance: 4/5
Value For Money: 3/5
Mojo: 3/5
Overall Rating: 3.5/5

Specifications
5" display, with pixel dimensions of 1080x1920 (~441 ppi density).
1.5 GHz quad-core Qualcomm APQ8064+MDM9215M CPU.
Adreno 320 GPU, 2 GB RAM.
16 GB internal storage, MicroSD card slot.
13 megapixel rear auto-focus camera.
2 megapixel front-facing camera.
Wi-Fi, Bluetooth 4.0, DLNA, A-GPS, NFC.
Micro-USB 2.0, 3.5 mm audio jack, FM Radio, NO HDMi Out.
2330 mAh battery with claimed talk time of up to 11 hours on 2G and 14 hours on 3G.
5.5" (h) x 2.8" (w) x 0.31" (7.9 mm) (d), 146 grams.
Android 4.1 (Jelly Bean).
Micro-SIM, quad-band GSM 2G (850, 900, 1800, 1900 MHz), UMTS 3G (2100 MHz).
TAGS: Mobile Phones, Android, Sony, Xperia