Review: HTC Desire 600 | TechTree.com
Review: HTC Desire 600
A premuim dual-SIM handset with good feature set, but its steep pricing makes it less desirable.
Rating

3.5
/5
06th Sep 2013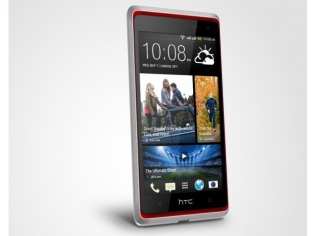 Pros:
Trendy design; Impressive sound quality; Very good display; Minimalistic interface.
Cons:
Disappointing camera; Screen lacks scratch resistent layer; Expensive.
HTC Desire 600
Street Price: Rs 25,500


HTC is releasing fewer handsets compared to last year. However, they seem to be focusing more on quality rather than the quantity. They've already impressed us with their flagship handset HTC One, which according to us is one of the best Android devices available in India. Now, the Taiwanese brand is trying to cement its place in the higher mid-range segment with its new Desire 600. The phone comes with a quad-core processor and with the same Sense UI 5, as seen on its more expensive sibling. And to target the Indian consumer, the company has also added dual-SIM functionality.
Design And Build
After a long time, we've received an Android phone that looks really good. Not just the aesthetics, but the Desire 600 is also one of the sturdier handsets in its class. The plastic used in the construction is top-notch. The rough matte finish provides it a rugged feel, but doesn't feel very pleasant in the palm. The front-facing dual BoomSound speakers are reminiscent of the high-end HTC One. The minimal branding and curved back makes it look much like the black Nokia Lumia 720.




Once the back-panel has been removed, you get access to battery, microSD slot, and a couple of SIM holders. Let's hope you don't swap these cards too often, as removing this phone's back-panel is an uphill task. The volume rocker is on the right side, the Power/Screen On-Off button is at the top, whereas the left side lacks any button or port. The micro-USB port has been placed along the bottom edge, while the 3.5 mm jack sits on top. I don't know what HTC were thinking, but they've decided not to include a scratch-resistant glass, which is a serious downer. So you choose to buy this phone, don't forget to get a good quality screen-guard along with it.
Unlike most Android phones, the Desire 600 sports only two capacitive keys — Home and Back. Although the dedicated Multitasking Key has been omitted, you can access the list of recent apps by tapping the Home button twice. This might be confusing in the beginning, but nothing that you can't get used to.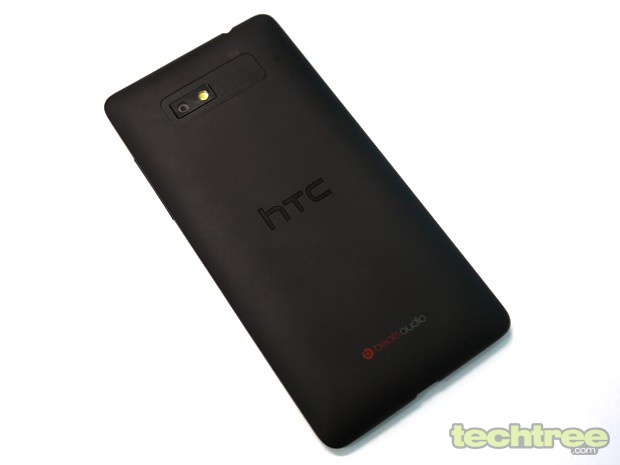 Screen And Basic Specs
The 4.5" LCD 2 display has pixel dimensions of 540x960. Although it's not an HD screen, you don't really see jagged edges unless you look very closely, which can't be considered as normal usage. The contrast is comparable to that of the HTC One. The colour reproduction and sun-light legibility is good. The only thing that needs to be improved is the level of blacks.

The Desire 600 packs in a 1.2 GHz quad-core processor (Qualcomm MSM8625Q Snapdragon 200 SoC). There's an 8 megapixel auto-focus camera with LED flash, 1.6 megapixel front-facing snapper, 1 GB RAM, 8 GB internal memory, and 1860 mAh battery. On the software front, it ships with Android 4.1 (Jelly Bean) platform with Sense UI 5.

UI And Apps
The Desire 600 runs Android 4.1.2 Jelly Bean with HTC Sense 5.0 on top of it. It's the best designed Android skin we've seen so far. We especially like HTC's minimalistic approach here. The Taiwanese company has cleverly used select colours in the interface, which is a refreshing change from the tacky hues seen in most Android phones. Moreover, HTC has also managed to reduce the clutter to some extent by using well-spaced icons. The BlinkFeed is a noteworthy UI element that brings in some wow factor to the platform. Being more than just an eye-candy, the app does a great job at delivering all the latest updates from the world of technology, sports, technology, and even your social networking account in a single stream of data. And yes, despite radically changing the UI, HTC has managed to accommodate its iconic clock.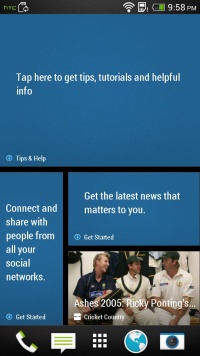 As mentioned earlier, the phone only sports two capacitive keys for Menu navigation. Don't worry about the lack of multitasking key though, as you can bring up the app switcher by double tapping the Home key. The Notification bar hasn't changed a bit from the previous iteration of the Sense UI, so it still lacks Wi-Fi, Bluetooth, and mobile data toggles.
While the interface is polished, the experience is kind of let down by phone's performance. The Desire 600 is powered by a quad-core processor, and the phone's official webpage doesn't miss a single chance to remind you of that. However, what it doesn't tell you is the fact that the chipset ticking inside comprises of generations old Cortex-A5 processor and Adreno 203 GPU. Initially the phone feels quite responsive. However, pay close attention, and you can observe slight stutter throughout the interface. Moreover, it gets sluggish at time during multitasking. The casual games such as Temple Run 2 and Angry Birds: Star Wars ran smoothly. The phone also lets you play graphics intensive games such as Real Racing 3, but don't expect high frame-rates.

The browser is quick and loaded with features. It supports tabbed browsing and also gives you an option to enable Adobe Flash. In AnTutu benchmark, the phone scored 11,111. That's another proof that the phone is underpowered considering its price tag. To put things in perspective, the similarly priced Nexus 4 clocks in at around 18,000.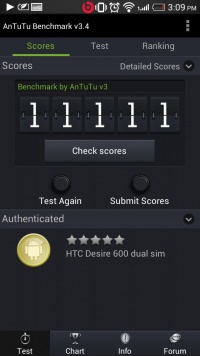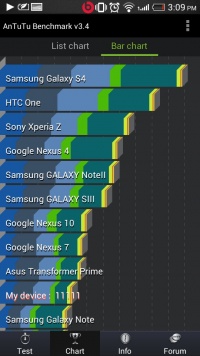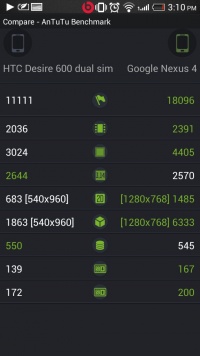 Multimedia
Music addicts will be pleased to know that the phone's sound quality is very good. You can enhance it further by activating Beats Audio option. However, what's missing here are the good old equaliser settings. Another thing worth mentioning is the Music Channel feature, which offers beautiful visualisations that match the mood of the song. It also automatically hunts down the lyrics and metadata.
The default video player has limited codec support. Popular video formats such as Xvid, DivX, and MOV aren't supported out of the box. However, it's not a big issue as you can fix it with the help of a third-party video player like MX Player.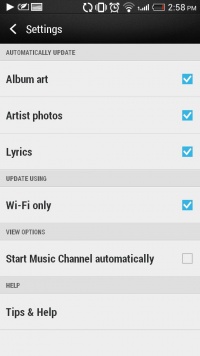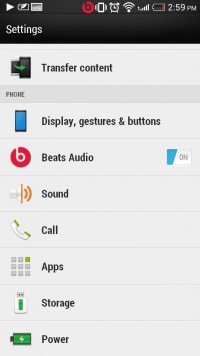 Camera
The 8 megapixel auto-focus camera is coupled with an LED flash. There are plenty of scene modes including Normal, Portrait, Landscape, Text, Macro, and Night. Then there are other bells and whistles such as Face detection and Geo-tagging. Considering how people love to destroy decent photographs by using colourful filters, the phone's camera UI gives quick access to such effects. That's something one can ignore, but the biggest let-down here is the image quality. The colours look over-saturated, and the details are spoiled by HTC's own sharpening (over-sharpening) algorithm. Click here, to view the untouched camera sample. The phone is capable of recording 720p videos at 30fps. Unfortunately, the over-sharpening plays a spoilsport here.
Telephony And Messaging
The revamped phonebook looks inspired by the Windows Phone platform's People Hub. You have to swipe sideways to access options like dialler, groups, and call history. On the messaging front, the onscreen keyboard is very responsive. Moreover, the sizeable 4.5" screen makes sure that you don't hit wrong keys often.
Unlike most Dual-SIM phones with Dual-Standby option, the Desire 600 is a dual-SIM, dual-active handset, which means that even if one of the SIMs is already in use, you do get notified about the incoming call on the other SIM. The phone also features a dual-SIM manager software. Apart from letting you choose preferred network, the app allows you to disable a SIM-slot. So no more nagging "SIM not inserted" screens, if you decide to use only one SIM card.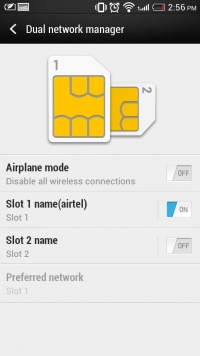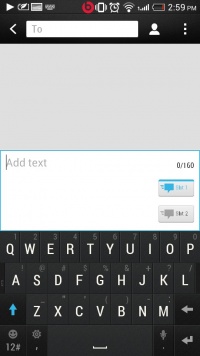 Battery
The smartphone's 1860 mAh battery easily lasts for a day under normal usage. In our video loop test, it managed to power the device for 6 hours and 30 minutes. The battery life can be termed as average.

Verdict
The Desire 600 is a solidly built handset with pleasant design. With a 4.5" screen, the phone fits perfectly in the palm of your hand. The music output is impressive as well. On the flipside, it feels slightly underpowered compared to the similarly priced GALAXY S III and Nexus 4. The camera is a let-down too. For Rs 25,500, it's definitely over-priced for what it offers. However, if HTC decides to bring its pricing down to around 20k, it will be a very good option for those looking for a premium dual-SIM handset.

Features: 3.5/5
Design And Build Quality: 4/5
Performance: 3.5/5
Value For Money: 3/5
Mojo: 3.5/5
Overall Rating: 3.5/5

Specifications:
4.5" LCD 2 display with 540x960 pixels.
1.2 GHz quad-core processor (Qualcomm MSM8625Q Snapdragon 200 SoC).
8 MP rear camera, and 1.6 MP front snapper.
1 GB RAM.
8 GB internal memory, microSD card slot.
Android 4.1 (Jelly Bean) platform, Sense UI 5.
Dual-SIM, Bluetooth 4.0, 3G, Wi-Fi connectivity.
1860 mAh battery.
TAGS: Mobile Phones, Android, HTC