Review: Panasonic Lumix DMC G6 – A Fun Compact DSLR Alternative | TechTree.com
Review: Panasonic Lumix DMC G6 – A Fun Compact DSLR Alternative
Panasonic's latest G6 tempts you away from your bulky DSLR's. Find out how it performs.
Rating

3.5
/5
12th Sep 2013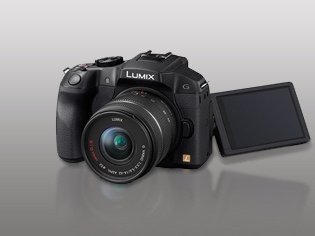 Pros:
Good Image Quality; Good build; Fantastic Touchscreen; Light and Compact; Fast Shooter.
Cons:
Price; Smaller sensor not as good as APS-C sensor in Low light photography; Over-processes images.
Panasonic, the pioneers of Mirrorless Compact Camera System, often called "The DSLM", have a successor to their popular G5, the G6, which we are reviewing today. For those not in the know, the Mirrorless cameras do away basically with 'mirrors' that you find in a conventional DSLR, thus reducing the weight and size. This also means that the sensor is reduced from APS-C to something smaller, but not necessarily image quality.
Build
The new Panasonic Lumix G6 is a tad larger than G5, but weighs around the same (340g body only). It follows the design ethos of SLR cameras with a comfortable rubberised hand grip, rear thumb grip, mode dial, and interchangeable lenses. The body itself has a smooth plastic matte finish which fits a 3-inch fully rotating, free-angle LCD screen and an electronic viewfinder into its small size, while still being comfortable to use with a one handed grip.


Panasonic G6 from the top front and Back
Features
The camera comes quite featured packed…
Wi-Fi and NFC Connectivity
The Wi-Fi connectivity allows one to use the camera for Remote Viewing, Send Images directly to a PC or smartphone while recording, copy images through Wi-Fi or Playback on TV. Remote Viewing needs one to have a smartphone with Panasonic App installed.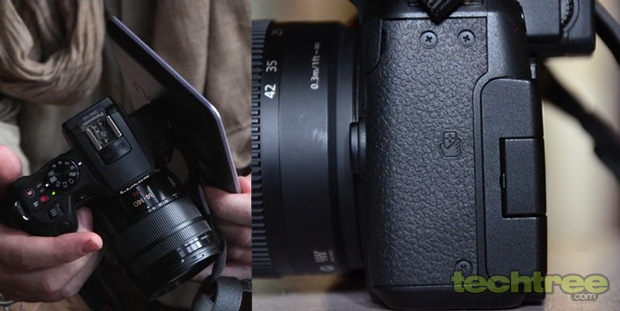 NFC Transfer is on the left of the camera
The rarer of the bunch, NFC (Near-Field Connectivity) lets one share images/videos across another NFC equipped smartphone or tablet; an excellent option for road warriors. Even though these options are present, it is always much faster and easier to plug in the USB cable if it is only transfer that you want to do.
Improved Electronic Viewfinder (EVF):
Electronic Viewfinders generally suck. The G6 approach is much better with a 1,440k-dot OLED screen coupled with a tweaked proximity sensor around the eyepiece. What this resulted in is a much better EVF experience, but yet the subjects looked as if you were watching though a cheap LCD screen with poor contrast.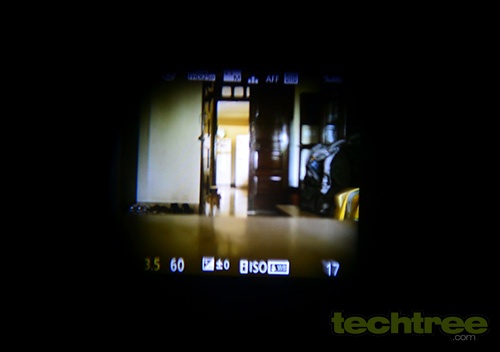 Looking through the electronic eye glass. The actual colour reproduction is better than what this shot has captured
The proximity sensor could intelligently figure if something was close to it, and would automatically turn off the main screen which is smart. However, this also means that it comes in the way a bit when shooting as your finger or strap may evoke the same function by mistake, thus interfering in your shot. Thankfully, one can turn the proximity sensor off via the menu, or by using the left-most button.
Clear Retouch:
The in-camera editing tool removes unwanted elements in an image simply by tracing a finger over it. It is like having simplified Photoshop in it which is nice and useful if your cousin feels she's looking too blemishy.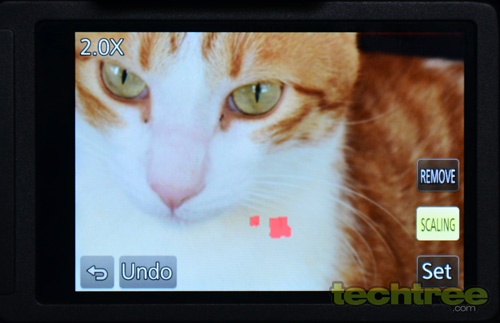 Removing some dirt from my cat's whiskers in the camera itself
Weight Off My Shoulders
I used the camera typically as I use my present DSLR Nikon D5100 (510g body only). The first thing that I found significantly different was its weight. The camera is so much light on the hands and neck with strap on, it is a true blessing. Plus carting it around in my bag almost felt like there was nothing in it, comparatively speaking. The Total weight of the camera (380g with battery & card) + 14-42mm kit lens (95g) is less than half the total weight of my current Nikon D5100, which is around 1000g with 18-55mm Lens. The Panasonic's size is noticeably smaller too.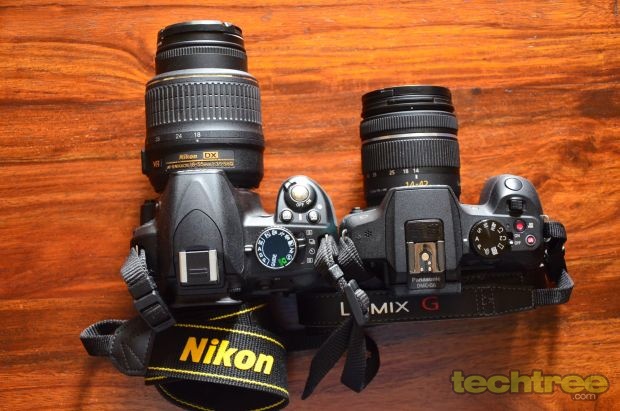 Comparison photo of Nikon D3100 (with 18-55mm) and Panasonic G6 (with 14-42mm)
Image Quality
Initially I was sceptical about this camera as it has a smaller sensor compared to my DSLR's, but honestly bigger is not necessarily better. Most users overstate the sensor size as important, which is true especially when you compare it to the measly size in point and shoot cameras. However Micro Four Thirds with a good sized sensor, and portability/compactness kept in mind is a great solution for just about anybody other than professionals who need to print large billboard sized prints. The camera performs admirably well, however when it comes to low light photography such as indoor photography without flash, it's smaller sensor and over-processing starts to show the lack of detail (see picture below). In general, you certainly will not be disappointed with the quality, but at this price point, it starts to pinch.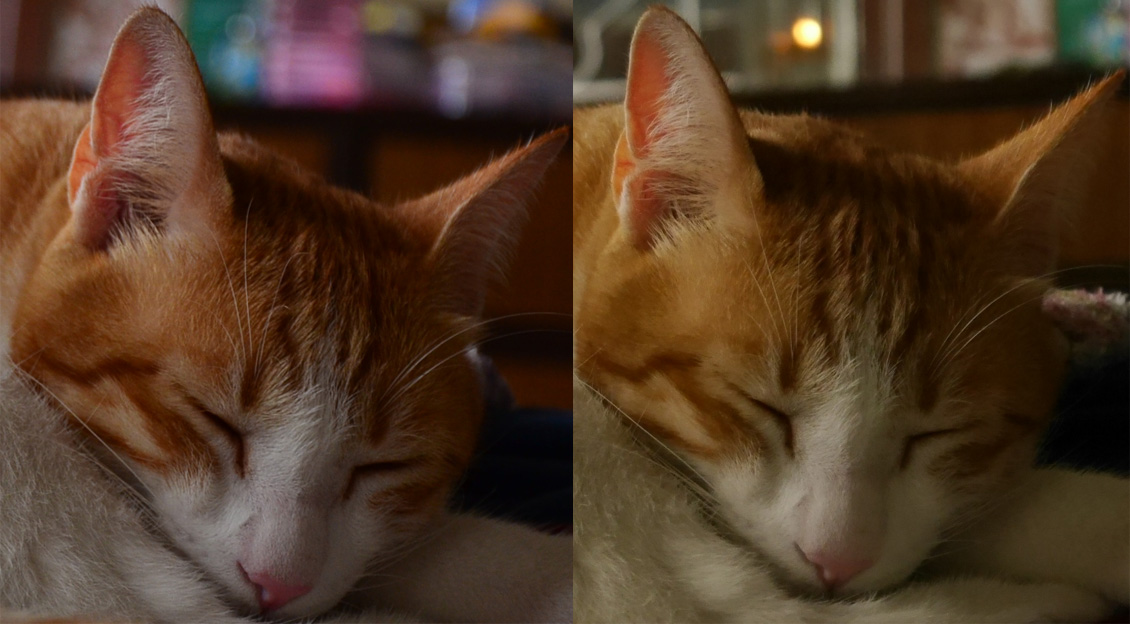 Other than colour variation due to different settings, see the detail caught by both cameras in indoor lighting
(Left) Nikon D5100 (18-105mm), (Right) Panasonic G6 (14-42mm)

To Hell With Viewfinders
The first thing for any DSLR user is to instinctively use the eye-piece viewfinder, which being Electronic in this case really put me off. First of all, this is one of the best EVF's you can find but in generally EVF's are ugly, the colours are generally off and therefore cannot be relied on as accurate representation of what's on the scene. Secondly, the viewfinders are a very DSLR thing, most users such as smartphone camera users and point and shoot users would prefer to use the big 3.0 inch screen; and thankfully that's where this camera excels in.
The screen can be rotated out of the body for those hard to shoot angles much like my Nikon D5100, but unlike my bulkier camera, this camera can shoot in Live view (with the 3 inch screen) very fast with accurate autofocus lock on that too even in low light. My present DSLR struggles in the Live View dept. It is much slower to catch the action; therefore optical viewfinders become a heavy necessity for DSLR users, but not with the Panasonic G6's Mirrorless system.
Screen Love
I simply loved the screen with all the touchscreen goodness, such as finger swipes and pinching, albeit at first I was hesitant with DSLR legacy behind me, you are trained not to touch the screen unless you have to. So what this meant was less clickity-click thumb presses on the hardware buttons for settings and menu to access what you want. Just select what's on the screen and you are set. Though at times you might find yourself with fat fingers or plain not be able to figure out how to get somewhere without physical buttons, the G6 gives you the ability to go through the entire menu system without the need to touch the screen at all. What's more, if you find the touchscreen annoying, you can turn the functionality off completely. Panasonic has really thought this through.
Hang on though, don't turn off the touch screen yet. The camera lets you use the touch screen functionality for autofocusing on the subject at hand. This actually felt odd at first, but quickly grew into a much beloved feature I wish my DSLR had. Not only is this more intuitive for a smartphone camera user, but it is also much quicker than trying to locate where that little AF red dot of your camera is through the viewfinder.
The reason for the screen to be fantastic is because it is similar to high-end smartphones with a capacitive multi-touch screen. Not only has the touch capability been boosted from resistive screen of the previous gen G5, but also the resolution has been bumped up to 1040k. The final result…Total Awesomeness!
Fast Shooter
One of the reasons why I selected Nikon D5100 is due to its fast continuous shooting speed, this is especially helpful in action shots or in low light environment where camera shake can ruin the shot for you.
The G6 surprised me with its fast burst shoot capability and that too in Live View. On RAW, it can do 9 images in burst mode while on JPG many more (Unlimited consecutive shooting, Panasonic claims). Catching your pets or children will be easier than ever.
iAuto
For novices, the "Intelligent Auto" function does the job quite well most of the times. This basically figures out everything for you, such as a certain scene mode, the aperture, iso, shutter speed etc. Seeing what it can do, a lot of times I chose to shoot with the setting on, and it did quite a commendable job even in low light. Strangely or cleverly though (depending on how you look at it), the camera never automatically switched on the flash even in this mode, but would fire it off only when manually popped up.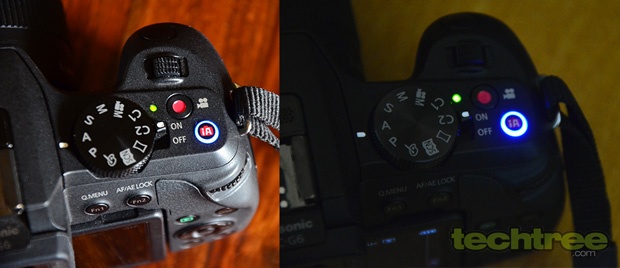 iAuto function of Panasonic G6
Filters and Effects
While I am not a fan of creative filters in cameras, it is always fun to tinker around with them once in a while. Those with Instagram filter fetish will love G6 with all the options present, and most of the options work with video mode too.
Video Mode
Video has been upgraded since the G5, with options of AVCHD/MP4 compression, 50/24p at Full HD (1080p). The best part about video is that you can use Autofocus and tracking while the video is recording. While this may seem unimportant, it is not, as many DSLR's do not allow autofocus while video is recording. The G6 also has a thoughtful option to attach an external mic close to the hotshoe in front of the camera; an important consideration for those who are serious about shooting videos. The camera comes with two mics right on top of the hotshoe to allow stereo recording, be cautious though, it will tend to catch camera man's sound more (as closer to the mic) than the speaker in front.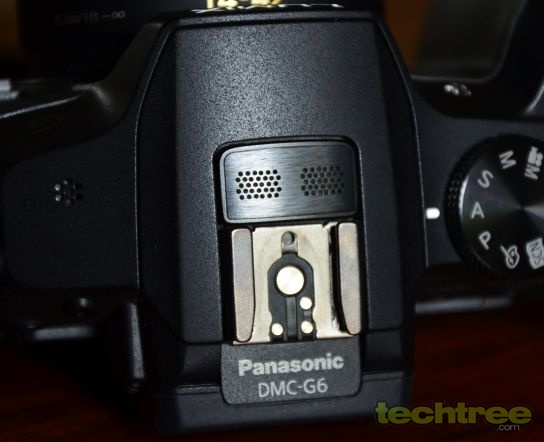 Dual mics on top
Final Thoughts
Would I recommend this? That would be a Yes and a No! The camera's good, it is lighter and smaller than regular APS-C DSLR's. The implementation by Panasonic is superb with the touchscreen and controls. So what's not to like? The price, of course. The camera will cost Rs 60,000 (MRP) when it comes out in Sept 2013, with a street price around Rs 50,000 approx. That is steep with the present lens kit of 14-42mm.
At this price...
- I'd expect a better or secondary lens with more zoom
- Regular DSLR's cost Rs 30,000 with enough money left over for an extra lens or two
- If compactness is priority, you have Canon's 100D , a regular APS-C sized sensor in a compact body for Rs 50,000

The sweet spot for this would be around Rs 35,000, at which Panasonic does offer their older generation Lumix G5.

I cannot see first time DSLR buyers going for Panasonic Lumix G6, which is exactly the crowd that ought to be going for this. Interestingly though, Panasonic claims that adoption of Mirrorless cameras is much more in Japan than in India, which is still more pre-occupied with "bigger is better". I agree with the perception that "bada hai toh behtar hai" is indeed quite an Indian fascination; look at the big screen mobile phones that sell here. Having said that, India is also a very price sensitive market, and Rs.50,000 is a little too steep for most users.
Would you go for Panasonic G6 and why? We'd love to hear your opinions on this. Let us know right below what you feel about the performance and price. Till next time, Happy Clicking!
Design And Build: 4/5
Performance: 3.5/5
Ergonomics: 4.0/5
Value for money: 3/5
Mojo: 3.5/5

Overall rating: 3.5/5

Specifications
- 16.1 megapixels (Effective)
- Micro Four Thirds (17.3 x 13 mm) Sensor size
- ISO 160 to 25600
- RAW and Jpeg File Format supported
- 3 inch touchscreen LCD with full articulation
- Electronic viewfinder
- 1080p Video @60Hz with output of MPEG-4/AVCHD
- USB, mini-HDMI, Wi-Fi, NFC connectivity
TAGS: Cameras