Review: Canon EOS 100D - The Most Compact DSLR Till Date | TechTree.com
Review: Canon EOS 100D - The Most Compact DSLR Till Date
An impressive compact DSLR loaded with features, but steeply priced.
Rating

3.5
/5
23rd Aug 2013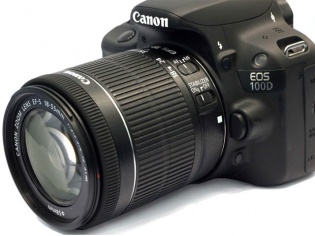 Pros:
Good build quality; Rich in features; Lightweight and compact.
Cons:
Expensive; No Wi-Fi or in-built geo-tagging; High colour saturation in tone priority mode.
Street Price: Rs 50,000
Nowadays entry level DSLRs are priced as much as flagship smartphones. If you want more control over the kind of photographs you take, there are enough DSLR options to pick from. One such camera is the Canon EOS 100D. Despite its steep pricing, this is indeed a mid-range camera, and belongs to the likes of the EOS 600D, 650D and 700D. Does it justify its cost, or just burns a deep hole in your pocket for nothing? Let's find out.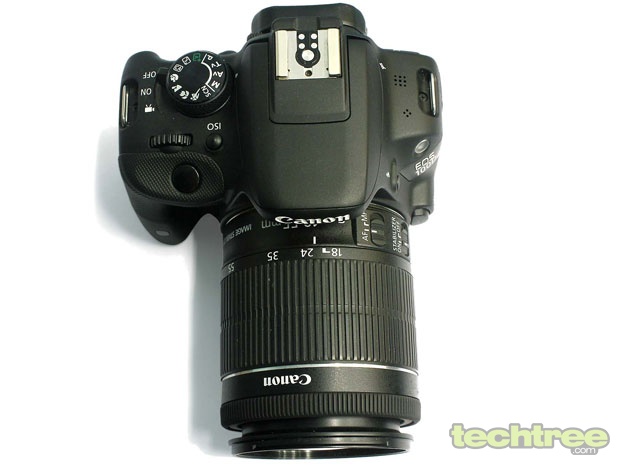 Aesthetics and Build
The 100D is said to be the most compact Digital SLR in the market today, and compact it is. That said, Canon hasn't made any compromise on the camera's build. Its slimmer polycarbonate-aluminium frame has all the right grips, the same lens mount that can house EF lenses, and a 3" TFT LCD capacitive touchscreen. At the left, you'll find the 3.5 mm audio/ mic port, Remote Switch RS-60E3 port, mini HDMI Out, and microUSB ports, covered by a rubber flap. The battery and SD card slot are at the bottom, along with the tripod screw. The top has a pop-up flash with the external flash attachment. This camera also ships with an 18-55 mm kit lens that boasts of a better build quality and optics, as opposed to its predecessor. It sports an external focus ring that is disabled in the AF mode, so the motor will not be damaged by accidental manhandling. Plus, the lens makes no sound when focusing, which helps when shooting videos. Check out the unboxing video here to see what the camera looks like.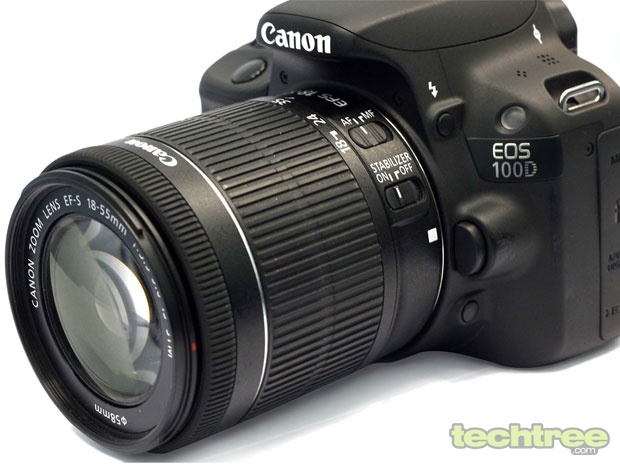 Overall, the camera is a delight to hold, and at 370 grams (body only), it is feather light as compared to others in its league. It comes with a CMOS sensor, and the latest DIGIC 5 processor. It comes with a standard Canon EF mount, hence supports EF and EF-S lenses, but not the EF-M (meant for Canon's mirrorless cameras). Detailed list of features can be found at the end of the review.
User Interface
Taking a cue from the 650D and 700D, the 100D also comes with touch screen support. To enable the touch screen, tap on the Q icon on the screen, and compatible option are highlighted. Double-tap on an option to select values. This is great for a first-time DSLR user, all of the options; save for scene selection can be accessed via the touchscreen. You can touch to focus in both the video and capture modes, and you can even click pictures with the touch-to-focus feature, which can be turned off. The camera is packed with features that lets you experiment with your shots, and will certainly please those who have migrated from a feature-rich smartphone. We'll talk more about them later.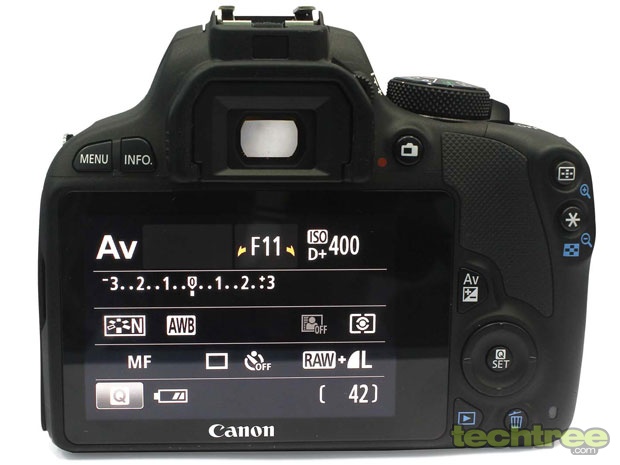 Features
The 18 megapixel camera boasts of many features that promises to make photography fun, and it scores on many counts. Looking at the popularity of tools such as Instagram, it packs in neat creative filters. These include Grainy B/W, Soft focus, Fish-eye effect, Art bold effect, Water painting effect, Toy camera effect, Miniature effect. Thankfully, it adds effects after you have snapped a shot, and saves images as a separate file. If the Grainy B/W doesn't impress you, there is the Monochrome picture mode, along with the other Auto, Standard, Portrait, Landscape, Neutral, Faithful, and custom modes that are standard features with Canon cameras. Also, there is the list of scene selection modes that you can pick depending on your subject. Unlike earlier models, the video shooting mode is not a part of the scene picker; it is a part of the on-off button instead.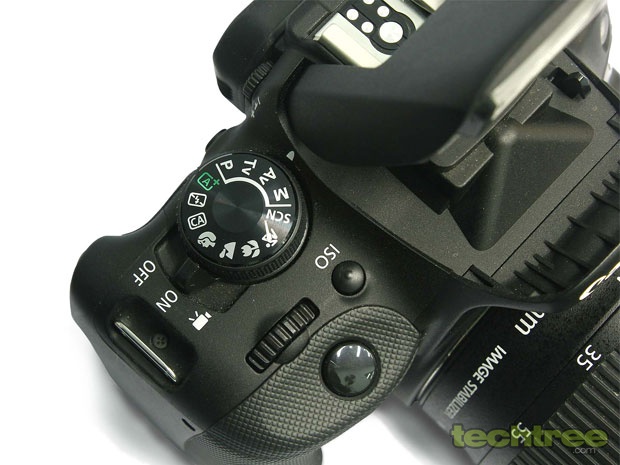 Video mode also supports shooting of videos in the miniature mode. In the video mode, you can use the Face+Tracking, FlexiZone-Multi, and FlexiZone-Single modes for focus. It lets you capture 1080p videos at 30 fps. Captures are saved in the MOV format and are really smooth during playback.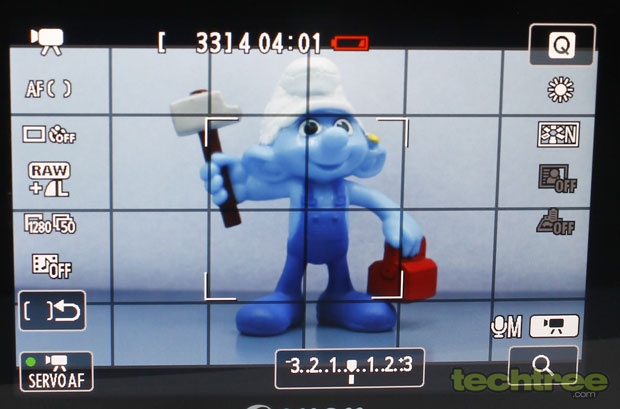 Performance
The new-gen kit lens, backed by the CMOS sensor and the latest DIGIC 5 processor work like a charm. It supports the "Highlight Tone Priority" option to enhance feature, similar to the now-defunct 550D. But when you turn the mode on, it tends to over saturate the capture, and which results in a minor drop of sharpness.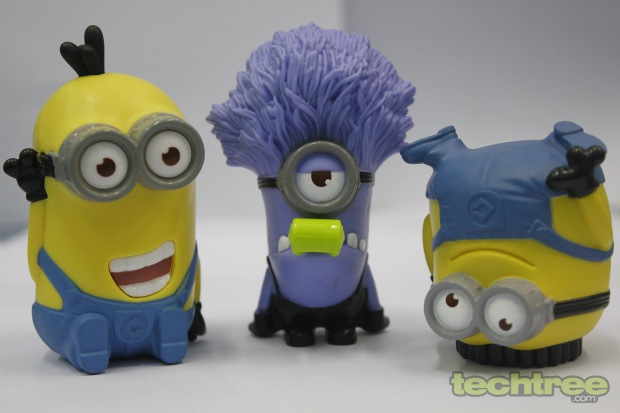 Left: Shot by the EOS 100D (Aperture mode; ISO: 400; F-stop: f/5; Exposure value: 1/50; Focal Value: 44 mm), Right: Shot by the EOS 550D (Aperture mode; ISO: 400; F-stop: f/5; Exposure value: 1/40; Focal Value: 44 mm). Click to enlarge images.
The low light shots come out well, and there is very little noise even with ISO as high as 12,800.
The camera supports several Creative Filters, some of which can also be used with videos. The best part is it saves these images with effects as a separate file. While these are fine with a point and shoot, I don't really like spoiling my DSLR clicks with artificial Instagram-like effects.
Moving along, the camera comes with the standard white balance options that let you capture the most accurate colours on your images.
The touch screen is very responsive, and can be selectively turned on. If you aren't comfortable with touch you can disable it altogether. The camera supports GPS devices, but sadly doesn't come with in-built geo-tagging. It doesn't support Wi-Fi either; you'll need the GPS Receiver GP-E2 accessory which it should've come bundled with, considering its steep pricing.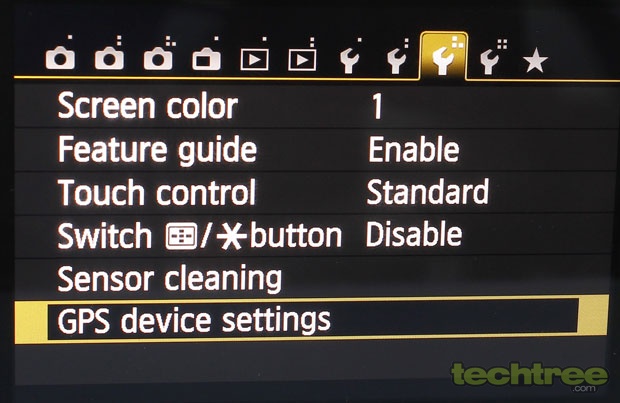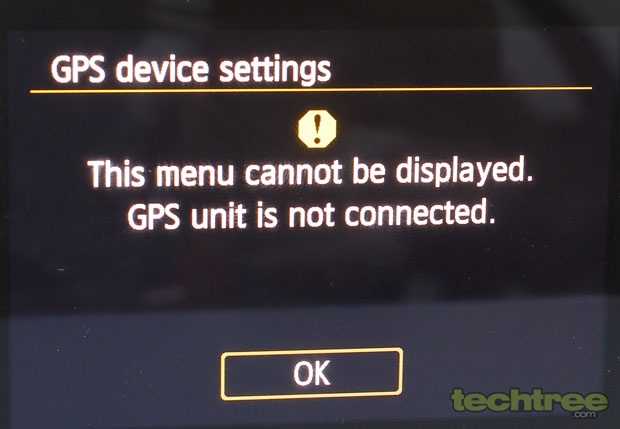 Plus, apart from in-camera cropping, it also fixes lens errors for certain builds and types of lenses. This is encouraging, especially for those who don't plan to buy prime lenses in the near future, and are not comfortable with external image processing tools (such as Adobe Lightroom, Photoshop, etc). That said, it doesn't fix all kind of lens issues, just chromatic aberration and peripheral illumination; and not barrel distortion. For that you will need software-support.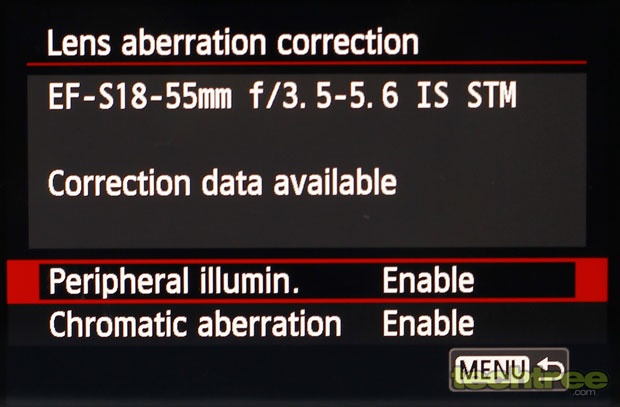 Verdict
The Canon EOS 100D is a fine tool not just to capture still frames, but also to shoot videos. The built-in mic, along with auto-tracking features and Full HD video support are good enough to shoot even short feature films. As an intermediate-level SLR, it doesn't disappoint either. Save for the minor niggle of slightly-high saturation on images, the picture quality is quite good. That said, the Canon EOS 600D is still a few notches up in terms of image quality. With a price tag as high as Rs 50,000, the least that Canon can do is ship the camera with additional accessories such as a UV Filter, GPS device, and a remote controller to take snaps. The 600D with a 18-55 lens will cost you Rs 32,000. If you want touch functionality though, the 650D with the same kit lens will set you back by Rs 52,500, which would be a much better investment.
Build And Design: 4/5
Features: 3/5
Performance: 3.5/5
Value For Money: 3/5
Mojo: 3.5/5
Overall Rating: 3.5/5
Specifications:
18 megapixels with APS-C CMOS sensor.
DIGIC 5 Image Processor.
3.0" TFT LCD touchscreen with Clear View II.
Canon EF lens mount, supports EF-S lenses.
ISO 100-12800 on Manual exposure.
MOV (MPEG-4 AVC / H.264 ) Full HD 1080 Video with Continuous AF @ 30fps.
3:2, 4:3, 16:9, 1:1 in-camera cropping options.
4.0 fps Continuous Shooting.
9-Point All Cross-Type AF System.
Scene Intelligent Auto Mode.
Battery Pack LP-E12.
Ships with 4 GB Class 6 SD card.