Review: Dell XPS 12
The stylish flip-screen convertible Windows 8 device offers a good mix of laptop and tablet functionality and ample flaunt value.
Rating

3.5
/5
22nd Mar 2013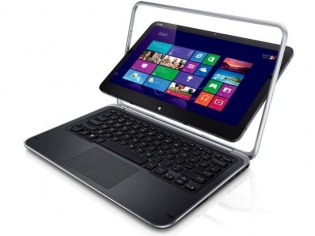 Pros:
Bright Full HD touchscreen; Fast performance; Good looks; Backlit keyboard.
Cons:
No memory card reader; No HDMI (only Display Port); Expensive.
Dell XPS 12
MRP: Rs 95,000
Ever since the launch of Windows 8 last year, a great number of devices have entered the market, sporting design features that offers the best user experience on the new OS. While it is primarily meant for touchscreen devices such as tablets, manufacturers have adapted it for laptops by introducing touchscreens in such computing devices. Devices with a convertible form factor can switch between the tablet and laptop mode, and one such device is the Dell XPS 12. Powered by an Intel Core i5 CPU, this device features a fast SSD and a Full HD display. Perhaps its most distinguishing feature is a screen that flips within a frame to let users toggle between laptop and tablet modes. Read on for to find out more.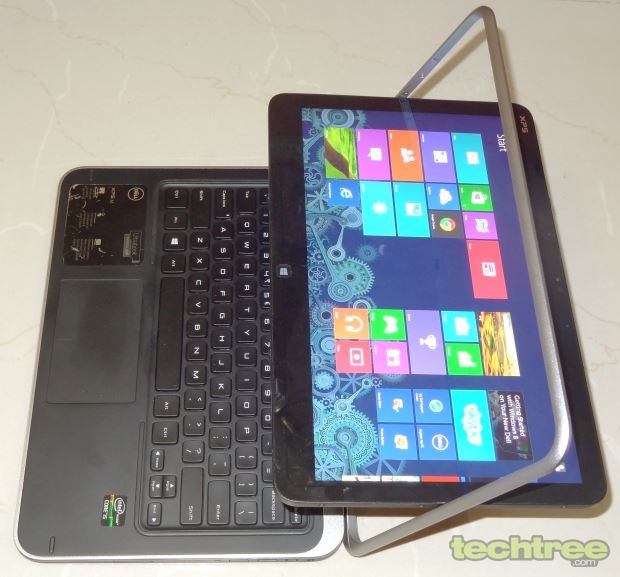 Features And Design
Most of the body is made of carbon fibre and is therefore quite sturdy. It has a soft rubbery feel and a fine chequered pattern that looks good. The edges are made of machined aluminium, which also adds to the device's strength. The contrasting colour of the carbon fibre and the lustrous aluminium edges give the XPS 12 a touch of style. The device's dimensions are 12.5" wide, 8.5" deep, and 0.9" thick when closed. At 1.5 kg, it is rather heavy for a tablet, but just about right for a laptop.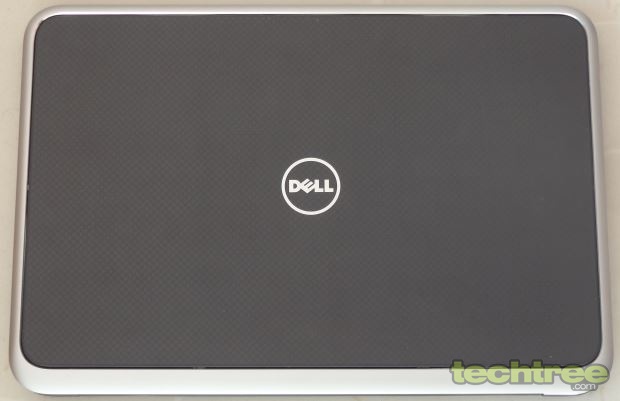 The design highlight of this device is the screen, which is actually a tablet that spins around an axis passing through a thin rectangular aluminium frame with rounded edges. This unique flipping form factor allows this device to instantly switch between a tablet and a laptop. Magnets are present at the centre of the top and bottom frame to pull in and secure the screen when it is close enough to the frame. The electrical docking connectors for the keyboard part are also present in the frame and therefore, the keyboard (and its ports) can only be used when the screen is docked in either laptop or tablet form factor. Essentially, this is a tablet, rather than a laptop, because the entire computing hardware is inside the screen, while the keyboard only makes way for a few additional ports.
The 10-point multi-touch IPS screen is covered with a scratch-resistant Corning Gorilla Glass. It measures 12.5" diagonally and has Full HD pixel dimensions of 1920x1080. The top, left, and right bezels are 0.5" thick, while one at the bottom is 0.9" with a physical Windows button at the centre. A 1.3 mp webcam is present at the centre of the top bezel with two microphones on either side bored through the glass to record stereophonic sound.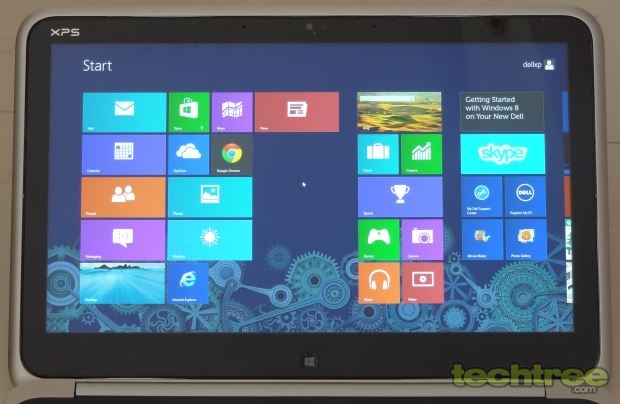 The keyboard is well laid out but misses out on a dedicated numeric keypad due to space constraints. Even though the direction keys are wide but not as tall, they are comfortable to use. A large touchpad measuring 4"x2.4" with matte finish that supports multi-touch gestures allows precise cursor movements. Mouse buttons are present and demarcated from each other beneath its lower end, although they don't appear to be separate. No status LEDs are present. The palm rest and the area around the keyboard are sculpted out of carbon fibre and have a rubber-like feel.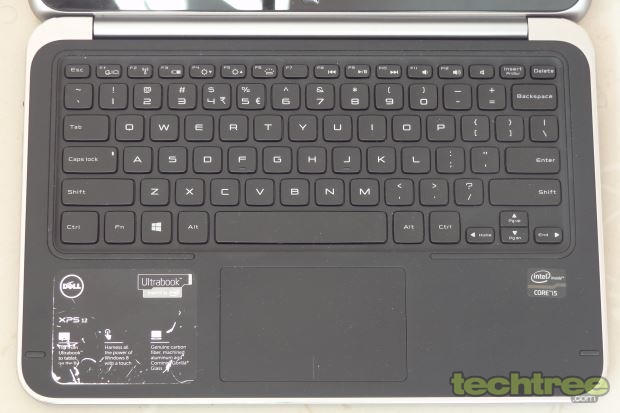 On the right is the spring-action power button with a white status LED. Next, there is a 3.5 mm combo earphone/microphone socket, screen orientation lock, and a volume rocker control button. The right speaker is also present behind a wire mesh.

In addition to the left speaker, a couple of USB 3.0 ports are situated on the left, of which one supports PowerShare to charge connected devices even when the unit is down. Strangely, they are coloured black rather than the customary blue identifiers for USB 3.0. A Display Port can help you connect to larger displays, although this standard is practically of no use, because of the scant adoption of this interface. Similar to a MacBook, there is a battery charge level indicator with five LEDs that light up when an adjacent button is pressed. Sadly, Dell has left out the inclusion of an SD card reader – a feature that would have allowed camera and mobile phone users to quickly transfer files to the device.

The underside of the keyboard is also made of moulded carbon fibre. A long horizontal grill situated near the rear takes care of ventilation. Rather than using feet, there are horizontal rubber strips to keep it raised from flat surfaces.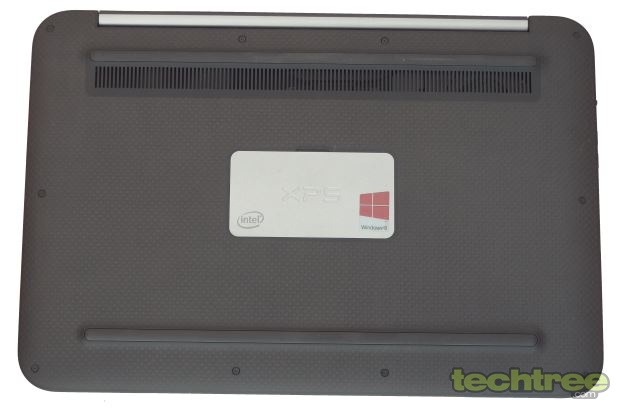 The XPS 12 consists of parts that are usually found in Ultrabooks. It is powered by a dual-core Hyperthreaded Intel Core i5-3317U CPU, clocked at 1.7 GHz with 4 GB of DDR3 RAM. Storage is taken care of by a Samsung PM830 mSATA SSD with 128 GB of capacity, of which less than 80 GB is available for the user. Bluetooth and Wi-Fi are there for wireless connectivity. A 6-cell Li-Ion battery with 47 WHr capacity is built into the unit.
Windows 8 64-bit comes pre-installed. In addition to the OS, there are a host of bundled software from ASUS. A trial version of MS Office 2013 is also provided, although you will eventually have to pay for the full version or opt for a free office suite. Also, Absolute Data Protect is provided to take care of the device against theft.

Performance
The Dell XPS 12 boots in around 9 seconds, which is the direct result of its fast SSD. The performance is snappy and there is no lag seen at any point whatsoever. Even when multiple applications are running in the background, the device continues to run just as smooth.
The keyboard is backlit and therefore easier to type in the dark. The keys are spaced at a comfortable distance from each other, so you can use it for long hours. You can notice the amount of attention to detail, because Dell has made the keys slightly concave to match the contours of fingers, which makes it quite ergonomic. The touchpad is also very responsive.
The screen is bright and easily visible, even when outdoors. Being an IPS panel, its viewing angles are very good and so is the colour reproduction. Speaking of colouration, you can't help but notice a slight hint of yellow, making the colours appear warm. At 1080p, everything appears very crisp, but the fonts tend to look very small. You can offset this by using a lower display resolution. But that is not really necessary, as you can also adjust the font size of the screen resolution independently. The screen's touch response is quite good and there is no noticeable lag at any point of operation.
The speakers on either sides of the keyboard are loud enough, and don't warrant use of a headphone. They produce clear vocals and mids, but bass is expectedly absent. The on-board Intel graphics is good enough to play moderate games that don't burden the system with heavy graphics, and it is very much capable of playing 1080p movies without breaking into a sweat. The XPS 12 ran cool during the entire testing process.
We conducted a few synthetic benchmarks to find out how the XPS 12 performs.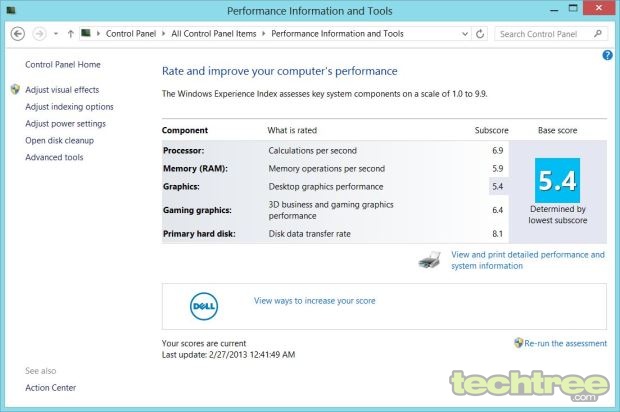 Windows Experience Index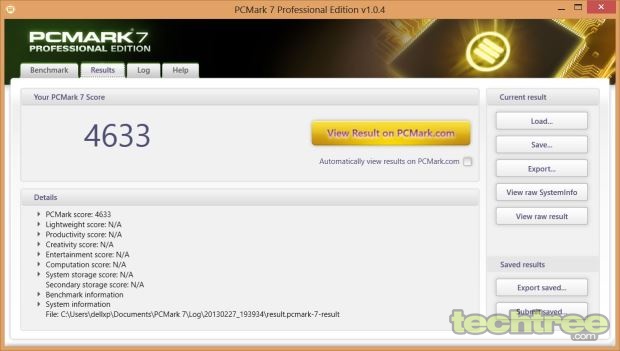 PCMark 7 score
Going forward, we will also including the latest 3DMark along with the other older versions.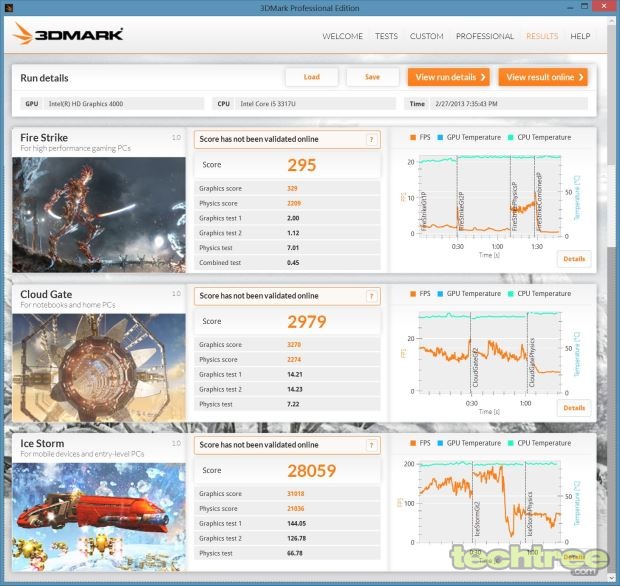 3DMark score
The XPS 12 exhibits very good performance, according to the benchmark results. In real world performance, it can easily handle a fair amount of multi-tasking without missing a step. It is faster than then Acer S7 which boasts of a faster CPU, but is almost as fast as the similarly spec'd Sony VAIO Duo 11.

Battery Life
We measured the battery life with Battery Eater Pro with the High performance power scheme of Windows 8. The two tests run in Battery Eater Pro utility are the Reader's test, which simulates real-world reading scenario, while the Classic test uses OpenGL rendering to simulate heavy usage such as gaming. Please note that due to maximised power consumption, the battery backup times logged in this way are the least that are possible in the two tests. You can expect better backup times in real world usage.
A battery backup time of 1 hour 46 minutes was registered in the Classic test, while the Reader's test result yielded 4 hours 23 minutes. In normal usage that involves using office applications, surfing the internet, occasional music and video, and watching some YouTube clips, the battery lasted for around 6 hours. This is fairly consistent with the specifications that include power hungry components such as a Full HD touchscreen, a power-optimised Intel Core i5 CPU, and an SSD.

The Verdict
The Dell XPS 12 is a solid performer with normal applications, and it can perform quite well even when faced with daunting multi-tasking. The unique flip screen form factor is complicated and probably that is the reason why nobody has attempted to imitate it. However, it does appear to be sturdy and should last long with normal usage. The bright 12.5" Full HD display is crisp and visible outdoors, and is also very responsive to touch input. It has most of the necessary ports except that there is no memory card slot or an HDMI port. A Display Port has been provided but that is not of much use, as we don't get too many display devices compatible with the same here. Providing an HDMI port or at least an adapter would have been better. While its dimensions are small, and Dell boasts of the carbon fibre body contributing to its light weight, it is not exactly as light at a little over 1.5 kg. Priced at Rs 95,000, the Dell XPS 12 is quite expensive, in fact Rs 5000 more than the Sony VAIO Duo 11, which performs a tad better. We would've have recommended Sony's device over the one from Dell, had it not come with a crammed keyboard or lacked a touchpad. We must say that most manufacturers have been pricing Windows 8 devices a little too steeply by simply adding a touchscreen as a novelty factor, when you can still use the device perfectly well with the keyboard and touchpad that it already comes with.

Build And Design: 4/5
Features: 4/5
Performance: 4/5
Value For Money: 3/5
Mojo: 3.5/5
Overall Rating: 3.5/5
TAGS: Laptops, Windows 8, Dell