Microsoft Launches Windows 8 In India | TechTree.com
Microsoft Launches Windows 8 In India
Available in two flavours; only upgrade pricing announced.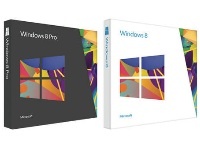 Microsoft has launched Windows 8 in India. The OS works on desktops, but is optimised for touchscreen tablets. Its new tile-based interface, known as the Modern UI, takes a design cue from the Windows Phone operating system. Retail pricing is yet to be announced, but upgrade pricing have been revealed.
The OS is available in two variants: Windows 8, the plain version that lacks features such as encryption and Windows-To-Go (it runs right off a USB drive), and Windows 8 Pro, the full-ledged variant. Hardware requirements are the same as those for the Consumer Preview version that was launched a few months ago:
1 GHz CPU.
1 GB RAM (32-bit) or 2 GB (64-bit).
16 GB hard disk space (32-bit) or 20 GB (64-bit).
DirectX 9 graphics device with WDDM 1.0 or higher.
Display device with pixel dimensions of 1024x768 for Modern UI.
All major computer makers will start shipping PCs, laptops, and tablets with Windows 8 preinstalled. Existing Windows users have different upgrade offers to choose from. If you bought a computer with Windows 7 (the Starter Edition is ineligible for this offer) between 2nd June 2012, and 31st January, 2013, you can upgrade to Windows 8 Pro for Rs 700 on or before 28th February, 2013. Otherwise, if you have a PC with Windows XP, Vista, or Windows 7, you can upgrade to the new OS for Rs 2000 (before that date). Please note that this offer is valid only if you downloaded the installation disk image from the Microsoft website after purchase. If you cannot download it, you can order a DVD for Rs 4000.
Retail pricing of the full product for first-time buyers has not yet been revealed.