Acer Aspire S7-191 | TechTree.com
Acer Aspire S7-191
This gorgeous Ultrabook with a Full HD touchscreen is ideal to showcase Windows 8, but battery backup is a problem area.
Rating

4
/5
24th Jan 2013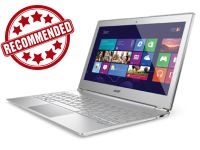 Pros:
Gorgeous Full HD touchscreen; Fast performance; Stunning looks; Backlit keyboard.
Cons:
Low battery backup; Sharp wrist-rest can hurt; Touchpad responds erratically.
Acer Aspire S7-191
MRP: Rs 88,500 (Acer Store Locator)
Ultrabooks deliver high performance while being as small as, if not smaller than, a typical netbook. Acer's S3 and S5 failed to impress; they were expensive, and their feature lists weren't great either. The company has improved upon their earlier attempts, and they seem to have got it right this time around — with the Aspire S7. The 11.6" model we received for review has a Full HD multi-touch screen that seems to have been just made for Windows 8. This is arguably the thinnest device in its class, measuring just 0.5" at its thickest point. Let's take a detailed look at what seems a promising Windows 8 device.
Design And Build
The Acer Aspire S7 is trendy, with sharp edges on the aluminium casing. The criss-cross pattern on the lid seems scratch-resistant, and it is also fingerprint-resistant. The build quality is excellent, as evinced by the hinge mechanism — which is sturdy and rigid. Aluminium is used almost everywhere, but the base is made of a white polymer. The device is very slim, with a maximum thickness of just 0.5" (12.2 mm), with width and depth at 11.7" and 7.7" respectively (when closed). At 1.22 kg, it is light, and the provided pouch makes it even easier to carry.
The S7 has an 11.6" 1080p IPS touchscreen that looks simply gorgeous. Images are crisp on this 10-point capacitive multi-touch display; individual pixels almost not discernible from around 2 feet away. The viewing angles are excellent: The picture is clear even at 45 degrees, and only slight colour and brightness degradation appear beyond 170 degrees in any direction.
The keyboard is backlit with a cool glow; this makes the keys easier on the eyes while typing in the dark. You can set one of three illumination levels to suit your comfort. The island-type keys are comfortably spaced. The touchpad is pretty large and supports multi-touch inputs. The mouse buttons are below the touchpad; but there is no visible demarcation to indicate them.
The two USB 3.0 ports are located one on either side; the microSD card reader and headphone/microphone combo port are on the left. There is a micro-HDMI port at the back so you can use a big screen with the laptop. The S7 also comes with USB adapters for Ethernet and D-Sub ports. The webcam is on the top bezel. Connectivity is via Wi-Fi and Bluetooth.
The laptop is powered by a dual-core HyperThreaded Intel Core i7-3517U CPU with a default clock speed of 1.9 GHz that can go up to 3 GHz when required. Being HyperThreaded and with two cores, it can handle four processes simultaneously, which makes it faster than non-HyperThreaded dual-core CPUs, although it is still a lot slower than a real quad-core CPU. It has 4 GB of DDR3 RAM, and there are 2x 128 GB SSDs in RAID 0 (striped) configuration for a combination of high speed and maximum storage (256 GB). You can expect good multimedia performance with the Intel HD Graphics 4000, although in terms of gaming, you can't expect to enjoy much beyond casual games.
The in-built battery is not detachable, so it cannot be replaced. Acer provides an additional battery that attaches near the rear end via two thumb-screws just under the hinge. There is a 5-level LED indicator on the right shows the charge level; it lights up when you press a button at the centre. Attaching the additional battery does make for a less flattering form factor, though. Also, the keyboard inclines a bit with the battery attached, which actually makes it more comfortable than when placed on a flat surface. You can't carry the S7 in the pouch with the battery attached, though.
In addition to Windows 8 Professional 64-bit, you also get an ad-based, free version of MS Office. There are the usual Acer tools and utilities, but none of them are really worth a mention and it is best to uninstall them to reclaim some expensive SSD space.
Performance

The S7 powers on via the power button or when you open the lid. We were pleasantly surprised to see that it boots completely within 8 seconds; we confirmed this multiple times. This is thanks to the fast dual-core Intel Core i7 CPU and the SSDs in RAID 0 configuration. The overall performance is very snappy indeed, even with an antivirus installed and running in the background.
The screen has excellent touch response with no detectable lag. In fact, it compares very favourably with that of the Apple iPad. Windows 8 is an OS geared towards touchscreen devices, and it is indeed a joy to use it on this laptop. Swiping across the screen, resizing, and shuffling between applications is easy and intuitive; if you believe that the new OS presents a steep learning curve, this laptop demonstrates otherwise. We found ourselves using the desktop mode when required, and (easily) switching to the touchscreen mode to use the apps that are meant to be used that way.
The 1920x1080 display dimensions for an 11.6" display may be too high for most people. The text is tiny, and you'll probably end up decreasing the resolution. Of course, better readability can easily be achieved by changing the text and icon sizes under Display Settings. While the IPS screen allows for wide viewing angles without noticeable colour distortion, it doesn't really matter much for a screen of this size, where only one person will be viewing it anyway. The glossy surface makes it a little difficult to view it with light shining on it.
The keyboard is as ergonomic as a netbook keyboard, and with good tactile feedback. The touchpad is unresponsive at times, though, and has a smooth finish; a textured finish would have been more useable. The wrist-rest has sharp edges that can actually hurt after typing for a few minutes — during which time your wrists will inadvertently slide across.
The speakers, located at the bottom, are sufficiently loud. Bass is (expectedly) not handled well, but you won't really need to use headphones if you are watching a TV series or online streaming video. We didn't notice distortion even as we approached 80% of maximum volume.
Active ventilation is provided by an effective method: A fan within the unit takes in cooler outside air via grilles on the rear right, and throws out hot air via grilles on the rear left. The laptop remains cool even after hours of use.
We conducted a few synthetic benchmarks to find out how the Aspire S7 performs.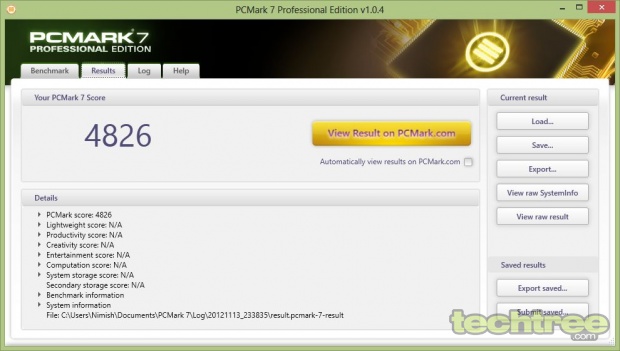 PCMark 7 score

The benchmark results indicate clearly that the S7 also performs as well as it looks. The results indicate that this laptop should do very well in productivity as well as multimedia and is even a good performer as far as processor-intensive tasks are concerned. Of course, gaming is not its forte as the integrated graphics processor is not really meant to handle that.
Battery Life

We measured the battery life using Battery Eater Pro, and by actually using the laptop set to the Balanced power scheme in Windows 8.
In Battery Eater Pro, we ran the Reader's test — which simulates a real-world reading scenario — and the Classic test, which uses OpenGL rendering to simulate heavy usage (such as gaming).
We were a little disappointed by the battery backup of just over an hour with the internal battery when using the Classic test. The S7 worked for 2 hours 22 minutes in the Reader's test. Once the additional battery is attached, the backup time increased to 2 hours 11 minutes and 4 hours 32 minutes respectively in the same tests.
In regular usage that involves office applications, internet surfing, occasional music and video, and watching a few YouTube clips, the internal battery lasted a couple of hours, while the S7 could push a little more than 5 hours with the additional battery attached. All in all, the battery life is decent when you consider the fact that there are power-hungry components (Core i7 CPU, Full HD multi-touch screen).
The Verdict

The Acer Aspire S7-191 is one of the first Windows 8 UltraBooks with a touchscreen, and Full HD at that. The screen is stunning in terms of appearance as well as usability. Acer gets full marks for the sculpted aluminium casing. The performance is top-notch, as you'd expect from a Core i7-powered laptop. The touchscreen takes full advantage of Windows 8's UI. The snappy performance also derives from the two SSDs configured in striped RAID. Multimedia performance is great, with the 1080p IPS screen and loud, distortion-free speakers. Battery life is a negative point; you will probably always have to carry the additional battery along.
Priced at Rs 88,500, this is a gadget with flaunt value that doesn't compromise on performance.
Build And Design: 4.5/5
Features: 4.5/5
Performance: 4.5/5
Value For Money: 3/5
Mojo: 4/5
Overall Rating: 4/5
TAGS: Laptops, Acer, Aspire, Jayesh