Samsung GALAXY Camera EK-GC100 | TechTree.com
Samsung GALAXY Camera EK-GC100
Convergence of smart device and camera or just more hype than substance?
Rating

3
/5
15th Jan 2013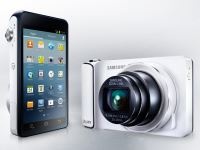 Pros:
Powerful 21x optical zoom; 4.8" LCD touchscreen; Lag free operation; 1080p video recording.
Cons:
Touchscreen gets inadvertent inputs; Mediocre image quality; Slightly large to hold; Lacks manual focus; Expensive; No voice calling.
Samsung GALAXY Camera EK-GC100
MRP: Rs 31,000
What products would you associate with Samsung? Mobiles and tablets? TVs and audio systems? Refrigerators and washing machines? What's not got as much attention is the company's camera business. Samsung has a lineup of some value-for-money point and shoots as well as some DSLR-like models. In this day of convergence, the Korean electronics giant has taken the connectivity and versatility of Android to a digital camera with the Samsung GALAXY Camera. It runs Android 4.1.1 (Jelly Bean) and does everything that smart device can — except making calls. Or, let's put it this way: It is the GALAXY S III with a powerful camera attached to smartphone, minus the calling functionality, despite being part of the GALAXY family.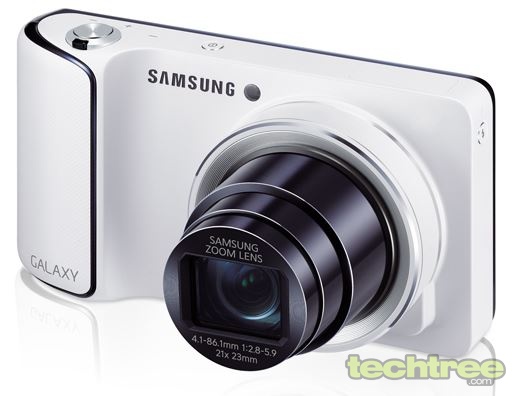 Design And Features

Bulk: Unlike most other point and shoot camera these days, the GALAXY Camera comes only in a white and seemingly metallic body. Bulk wise, its depth of 0.8" (2 cm) is comparable to standalone ultracompact cameras, but its other dimensions of 5.1" (13 cm) width and 2.8" (7 cm) height makes it larger than it appears in press photographs. Its weight at 300 grams, is on the heavier side. But you will have to bear in mind that the GALAXY Camera has to accommodate more hardware as compared to a typical camera. On the plus side, the weight gives a feeling of stability. The camera body thickens on the right side thanks to a rubber-coated grip, although it is practically of little use because when you hold the camera using the grip, your palm inadvertently touches the touchscreen and interferes with the functioning of the device.
Optics: The 21x optical zoom lens goes very wide; at 23 mm focal length, it's a boon when taking group shots in a small room. The optical image stabilisation kicks in reduce the blur caused by shaky hands, making hand-held shooting possible at high zooms.
A microphone is present is just beside this button and since there is only one, it is safe to assume that it can record only mono audio. The camera also has a Xenon flash on the left top that is concealed into the body and that pops up using a mechanical button located on the left of the camera.
Screen: The back of the device is dominated by a 4.8" Super Clear LCD capacitive touchscreen with HD pixel dimensions of 1280x720. While the screen does get smudged by fingerprints rather easily, it is clearly visible under direct sunlight and is fairly usable outdoors without the presence of a viewfinder. Since camera controls heavily depend on the device's touchscreen interface, the gadget is devoid of mechanical buttons — save for a few for basic actions.
Battery: The camera comes with a 1650 mAh battery, which is 75% in capacity of a 2100 mAh battery, which ships with the SGS3. The camera specifications state that it can take up to 350 shots (without flash), or record up to an hour and a half of video. The battery backup times for other tasks exclusive of each other are also specified as thus: 6 hours of video playback, 34 hours of music playback, or 6 hours of internet usage.
Android: As mentioned before, the GALAXY Camera runs Android 4.1.1 (Jelly Bean) and has specs similar to the SGS3. The camera is powered by a quad-core CPU running at 1.4 GHz, which should be enough to take care of the most demanding of camera features. While 8 GB of storage is present, only 4 GB is user-accessible and can be used to store photos and movies that are shot. The microSD card slot can provide additional storage with support for up to 64 GB microSDXC cards.
Not a Phone: While a SIM card slot is present, it is limited to data connectivity usage, thus voice calling is not supported. However, since Google Play store is supported, you can download and install VoIP apps to make voice and video calls over the internet. Charging via USB is useful, especially when you are travelling and you happen to forget or misplace the charger: All you need is a micro-USB cable.
Performance
The first thing we wanted to know was whether this camera would take as long as other Android devices to get to its ready state after powering up. Our doubts were not without reason — it takes a good 25 odd seconds to do so after the battery is expended completely and then charged (or when the battery is removed and inserted back). However, it takes just over a couple of seconds to get ready to shoot after switching on otherwise, thus seemingly entering a low-power sleep state when powered off.
Shutter lag (delay between pressing the shutter and the photo actually being taken) is minmal. Autofocus locks fast onto the subject, so you won't miss that elusive shot. Only occasionally did the camera miss focus. Another focusing method is touch-to-focus on the touchscreen, which again depends on autofocus. There is no manual focus mode.
Amongst the several 'modes' that cameras come with, these days, we found the Rich tone mode is actually effective. The Night mode appears to remove noise resulting in a smoother image at high ISO value.
ISO tests show that some amount of noise is present even at 100 ISO, pointing to either a deficiency in the image processing or plainly a noisy image sensor or both. Photos taken at ISO 800 and above are generally not suitable for viewing at 100% size. For test shots, check out the gallery at the end of this article (you may check out the full sized images by clicking on the zoom button in the gallery).
On the movie recording side, 1080p capture is achieved without missing a beat. The colours look good; our only gripe is that noise is relatively high. Autofocus works continuously as the video is being shot, although there is a small delay in focusing when the distance of the subject changes or when zoom is applied. Speaking of zoom, the motor is very smooth and silent, and it does not produce any audio disturbance during recording. Sound is recorded in mono only .
Interface
As mentioned earlier, almost all of the camera controls are present in the touch-based interface and are accessible only via the screen. As expected, the screen response is prompt. Of the shooting modes, most users would be better off with the Auto mode as it takes care of all the parameters that a novice wouldn't want to fiddle with in a point-and-shoot camera. Almost every function is accessible on the left of the screen, which is convenient for a right-handed person using his thumb. A camera icon at the top right of the screen can substitute the shutter button, while the video camera icon at the bottom right starts movie shooting. We must mention here that there is no physical movie recording button on the camera.
The Expert mode opens up a large series of concentric circles or dials that let you select modes specific for customisable shutter speed (S) ranging from 1/2000 sec to 16 sec, aperture size (A), programmable mode (P) that controls the aperture and shutter speed, but lets you control the ISO and EV value, and manual (M) mode where you can control ISO, aperture, and shutter speed. The manual settings wheels cover almost 75% of the screen, thus not allowing preview of what effect a setting has before finalising it (check gallery for more).
Movies can be shot starting from 320x240@30fps up to 1920x1080@30fps. You can also take up to 6 quick snaps while shooting video, although this is restricted to 4 mp. Slow motion mode at 768x512 captured at 120 fps and played back at a quarter of the speed at 30 fps, and at 1280x720 and 640x480 at 60 fps played back at half the speed at 30 fps. Since they are recorded in the MP4 format, the movies are compatible with a wide variety of portable devices.
Photos and clips can be posted directly online using Wi-Fi and cellular connectivity. Various photo effects can be added via the inbuilt Photo Wizard app, while the Video Editor app lets you do similar things with captured movies. In addition to using the provided apps, you can install and use various other apps from Google Play to upload the content on various social networking and image as well as video sharing websites.
In case you are interested, it can play 1080p movies without breaking a sweat and you can download and use a variety of media players from Google Play store to support various formats. Gaming is also not a problem as it performs in very much the same way as the GALAXY S III. However, we aren't elaborating more on these functions because the device in essence is a camera, and not an overpriced entertainment device.
The Verdict
The Samsung GALAXY Camera, while being far from a perfect point and shoot camera, does have its share of positives. The 21x optical zoom is certainly helpful to bring far off objects within reach, while the image stabilisation allows for a steady image on the screen as it compensates for the jitters. The build quality is also good, and certainly a lot better than most of Samsung's phones. However, there are quite some things that go against this camera.
The GALAXY Camera is not exactly a pocketable device, and it cannot make calls. It is, therefore, not the GALAXY S III with a powerful camera fitted in, which Samsung could have achieved by allowing voice calling feature, but decided against it perhaps to brand it a camera. Just putting Android on a camera brings it novelty value and makes it versatile, but a camera needs to have more than that. For those who would like a device that can be carried in a pocket, can make calls, will be able to shoot superior photos and is more affordable, we would rather recommend the Nokia 808 PureView we had reviewed earlier this year.

Features: 4/5
Performance: 2.5/5
Ease Of Use: 4/5
Value For Money: 2/5
Mojo: 2.5/5
Overall Score: 3/5
TAGS: Cameras, Android, Samsung, GALAXY, Jayesh