Review: MK802 Android 4.0 Mini PC | TechTree.com
Review: MK802 Android 4.0 Mini PC
An ultra-low cost and low-power way of converting your television into a Smart TV.
Rating

4
/5
14th Jan 2013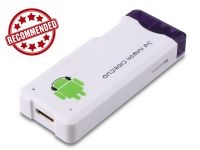 Pros:
Compact form factor; Flawless 1080p playback; Easy to use; Google Play supported; Can also be powered through microUSB; Supports multiple Linux distros.
Cons:
Crammed ports; No analogue audio output, Even casual games run sluggishly.
MK802 Android 4.0 Mini PC
Street Price (As On 28-July-2012): $60 (~Rs 3500) (Lightake.com)

Ever since the invention of the computer, attempts have been underway to make it smaller. The first breakthrough was the personal computer, which could be used in the comfort of your room as against the huge computers of yesteryear that required entire building floors. The next step in miniaturisation was the laptop, then smaller form factor netbooks running on Atom CPUs, and now, tablet computers. However, the quest to achieve further compactness is still on, and manufacturers have recently been able to put the functionality of a desktop computer into a device as small as a USB dongle. The MK802 Android 4.0 Mini PC is one such device, and as the name suggests, it runs Android 4.0 (Ice Cream Sandwich). Being the first such device I've reviewed, I'm just as excited as you to find out how well it performs and whether it's worth the investment.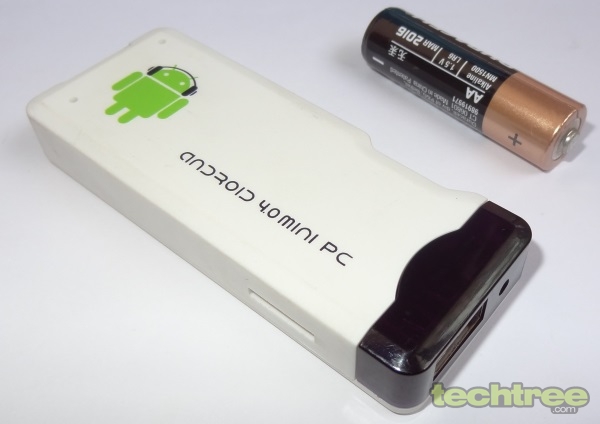 The Mini PC, kept alongside a standard AA cell for comparison.

Bundle
MK802 Android 4.0 Mini PC.
Power adaptor.
Adaptor dongle for mini-USB to USB.
Mini-USB data cable.
HDMI to mini-HDMI cable.
User manual.

Build Quality And Features
The MK802 looks like a USB dongle and is just as small. The device's dimensions are only 3.5" (w) x 1" (d) x 0.5" (12 mm) (h). It is encased in a plastic body with a matte finish, with a translucent and dark plastic piece near the front. While we received the white variant, a black finish is also available. The construction seems to be sturdy, although it easily gets dirty due to dust clinging to the matte finish.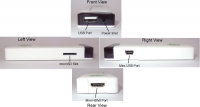 A full-size USB port is situated at the front, with the power inlet just besides it. This makes it difficult to plug in a thick USB device, as it may obstruct the power connector. A mini-USB port is situated on the right. Both ports allow OTG (On-The-Go) functionality and can be used to connect peripheral devices such as keyboards and mice, as well as mass storage devices. A 32 GB microSD card slot is present on the left. A mini-HDMI port is provided at the back as the sole video-cum-audio output. Unfortunately, there isn't any 3.5 mm audio jack to plug in headphones or a speaker system. This means that if you're plugging it into a PC monitor that doesn't have inbuilt speakers and can play audio through the HDMI port, you won't hear any sound. Also, there isn't any button to switch off the device, so you have to power it off directly from the wall unit, instead of a graceful shutdown.
Since the package doesn't come with a remote, the device requires you to connect a USB mouse and keyboard. If you connect only a mouse, you will have to depend on the on-screen keyboard, which is obviously awkward to use. During testing, I used a Logitech MX 3200 wireless keyboard-mouse combo that uses a single USB port, and it worked like a charm with the Mini PC.
Here is the full specification list:
Android 4.0 (Ice Cream Sandwich).
Allwinner A10 platform: 1.5 GHz

Cortex

-A8 CPU and Mali-400 GPU with 512 MB of RAM.
4 GB internal storage with 32 GB microSD slot.
Wi-Fi 802.11 b/g.
Mini-USB, USB 2.0 (supports OTG), mini HDMI-Out.
Video formats supported: WMV, ASF, MP4, 3GP, 3G2, M4V, AVI, RV10, DivX, VC-1, MPEG-1\2\4, H.263, H.264.
Audio formats supported: AAC, AAC+, eAAC+, AMR-NB, AMR-WB, QCP, MP3, WMA, WAV, MIDI, M4A.

Performance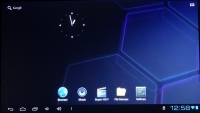 As there is no power button on the body, the unit gets powered on directly by plugging it into a wall socket. Alternatively, you can connect the mini PC to any powered USB port as well. In this case, not having a power button actually works to the MK802's advantage, since it becomes a really easy way turn your ordinary LCD TV into a Smart TV. To do this, power the device via the TV's USB port, and connect the HDMI-Out from the device to the HDMI-In of the TV. This way, whenever you switch on your TV, it will power up its USB port and thus immediately turn on the mini PC. Similarly, as soon as you switch off your TV, the MK802 will power off as well. This eliminates the need to bother with turning the mini PC on and off separately. The low power consumed by the device when idle (3 Watts) means that even if it continues to be powered on when your TV's in standby mode, it'll hardly make a difference to your light bill.

Once you switch on the Mini PC, it first initialises the 720p video mode and then switches to 1080p if the display supports it. It takes a little under a minute to boot completely. The UI is the standard ICS install, with very little customisation.
Video playback is available via the bundled 2160p Super-HD Player and a Chinese media player with an incomprehensible interface. 1080p movie playback is handled very well, with no noticeable stutter at any point. Multi-channel audio output is supported via HDMI, provided you have a capable sound system. Movie subtitles are also supported in most popular formats, such as SRT and SUB. Additional format support can be easily achieved by simply downloading your favourite media player via Google Play. Accessing external hard drives as large as 750 GB is not a problem.
As far as productivity is concerned, though the manufacturer claims the presence of an "Office" app, I didn't come across any. However, that's not a problem, since you can access Google Play and download apps such as Kingsoft Office, a freeware programme that lets you create, view, and edit all major MS Office file formats. It's a shame that Google Docs is still not available on Google's own Android platform, but the aforementioned app is capable of handling just about everything you require.
Web surfing, watching live streaming videos (including those using the Adobe Flash player), and social networking applications increase the value of the MK802. Most applications work well, although I found it to be sluggish when it comes to gaming, even for seemingly simple games such as the bundled Angry Birds.
The power consumption of the unit hovers around 3 Watts when idle and peaks at 5 W when playing HD video. This is in fact lower than all other media players we have tested so far, thus giving it a few more brownie points. This also makes it ideal to be used as a download rig when combined with an external storage drive, an internet connection, and a free torrent client such as tTorrent Lite.

Verdict
The MK802 Android 4.0 Mini PC is a truly remarkable device, with an unmatched combination of economy, power savings, and usability. It can play multimedia files and handle productivity applications with equal ease. It can even turn your simple boob tube into a Smart TV without using a separate power supply. Granted that it doesn't come with many apps out of the box, but you can easily install freeware apps from Google Play, thus giving it extended utility. Software geeks will find it interesting to know that this device can also boot into several Linux distros through a microSD card. If you're looking for a low-cost and low-power alternative to your regular PC, specifically for setting up a download rig, then this is what you should go for. However, if you want complete portability, you're better off putting down more cash on a low-cost tablet instead.

Build And Features: 4/5
Performance: 4/5
Ease Of Use: 4/5
Value For Money: 4/5
Mojo: 3.5/5
Overall Score: 4/5
TAGS: Desktops, Media Players, Android, Jayesh