LG's First Transparent Display Panel Prototype Is Now Ready | TechTree.com
LG's First Transparent Display Panel Prototype Is Now Ready
Such panels may not find use in day to day applications, but may be big for commercial ones.
LG has finally done it, it has managed to develop the world's first 18 inch transparent OLED display panel. While this is quite a success story for the display industry, such panels clearly make little sense for the consumer indeed.
Still then, it does look like something from the future. While the display does not seem to support touch inputs, we would be seeing a lot of these in commercial applications like aircrafts, fighter planes, cars and even billboards.
An official from LG Display commented, "The development of display technology that creates a virtual space on glass is already completed, and even a promotional prototype is available. However, it will take time until the product becomes commercialized due to mass production according to demand and stable supply."
Sadly, all of that OLED clarity is barely of any use to the consumer industry. This is because it hard to look at a transparent display unless you are looking at a UI that has been designed to make use of it.
As of now the only place we could imagine a transparent display being used is in cars (somewhat there already) and on the bridge of a spaceship in a sci-fi movie.
Still then, transparent displays are more to do with aesthetics than clarity indeed.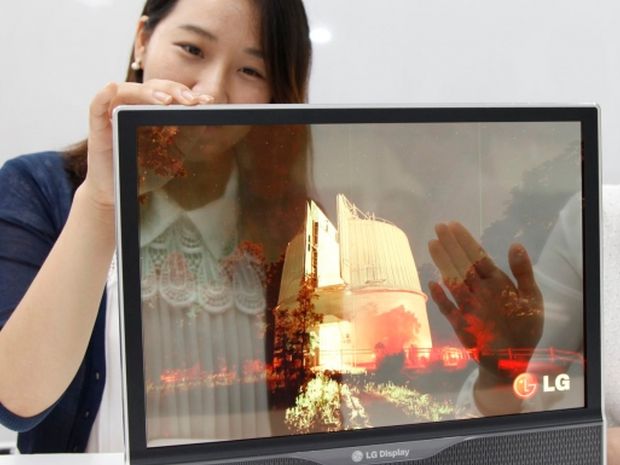 LG's 18-inch OLED prototype panel.
A transparent TV set is clearly of no use unless it is used as wall which can again change to display with a darker background (for comfortable viewing).
On the other hand, a control panel in industrial applications makes a lot of sense, provided that they can be strengthened to suit the application.
Samsung on the other hand has been working on flexible display panels. And as the source reports will be ready with its commercial product by 2016.
Somehow foldable displays seem more practical as you fold a big tablet or smartphone into something smaller, making them compact and lighter.
As those in the industry would put it, the idea is to evolve from a curved panels (Samsung GALAXY Note Edge) to bended displays (LG G Flex 2) and then evolve to displays that are foldable and finally rollable.
TAGS: Displays, transparent displays, Flexible Display Technology, Samsung, LG