Samsung Opens Up About Choosing Exynos Over Snapdragon | TechTree.com
Samsung Opens Up About Choosing Exynos Over Snapdragon
Seems like there was an issue after all.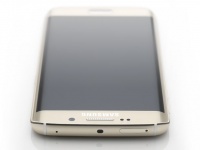 Now that the world has embraced Samsung's new GALAXY S6 edge, Samsung's CEO, J. K. Shin could not help but make a few things clear about the company's choice of picking its home grown Exynos over Qualcomm's Snapdragon chipsets.
The answer to the mysterious twist is apparently not all that bad as we all thought it would be. Samsung was apparently looking for the best and surprisingly, was not impressed by Qualcomm's Snapdragon 810 chipset for a number of reasons.
While this is clearly not related to the heating issue, it has more to do with Samsung's reliance on its own chipsets rather than depending on others for the same.
Samsung CEO J. K. Shin commented about its use of Samsung Exynos in a statement to the Korean Times:
"Samsung previously used more Qualcomm mobile processors. But we are flexible. If Qualcomm chips are good enough, then we will use them. Samsung always uses the best-quality components and materials to differentiate our products from those by rivals."
The statement however makes it clear that Samsung will still rely on Qualcomm chipsets for its other smartphones (mid and budget range) as we had reported earlier and will stick to the best (which for now is Exynos) for its premium range.
Whether the new Exynos will dominate the benchmarks versus the rest of the Android flagships is something that we will know once the handset launches out here in India.
Still then, lets hope that Samsung provides a stable UX with the GALAXY S6, considering it is all praises about its latest creation.
TAGS: Mobile Phones, Hardware, Qualcomm, Samsung, processors