NVIDIA To "Redefine The Future Of Gaming" On March 3 | TechTree.com
NVIDIA To "Redefine The Future Of Gaming" On March 3
Could it be the 8 inch NVIDIA Shield tablet?
NVIDIA has sent out invites to the press inviting them for the unveiling of a product that is literally 5 years in the making. While this could indeed be the 8 inch NVIDIA Shield device, that has been making rounds in the rumour mills, our guess is that this device is a completely different animal.
The presentation will take place in San Francisco, (no this not a part of the MWC line-up) and in the words of NVIDIA CEO, Jen-Hsun Huang will "redefine the future of gaming".
With big claims, we are pretty sure NVIDIA's next device will feature its own monstrous Tegra X1 chipset that was demoed at CES in Las Vegas.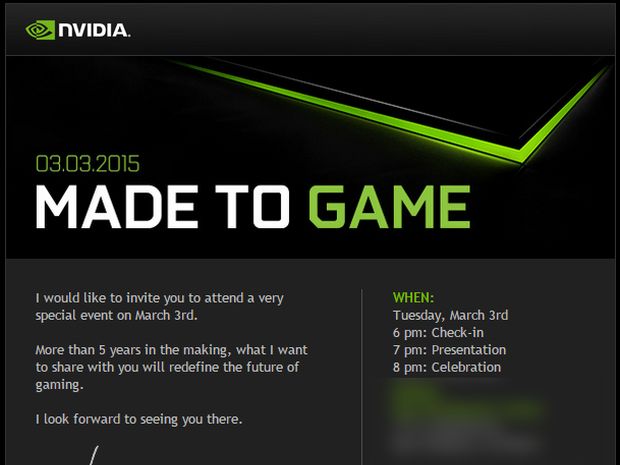 The new chip works on a different architecture compared to the Tegra K1. We have 8 CPU cores (4x ARM Cortex A57 + 4x ARM Cortex A53) coupled with the 256-core Maxwell GPU that is capable of 60 fps 4K video and up to 1.3 gigapixels of camera throughput.
Obviously, NVIDIA chose to build it using the 20nm process to keep things cool since the whole set up makes the chipset the first mobile processor to achieve 1 teraflop throughput.
While we do understand that this may be a connected gaming tablet, there is a possibility that NVIDIA may unveil a gaming console. A space that everyone including Alienware has also tapped into with the Alienware Alpha.
We are indeed excited to see what NVIDIA has in store. But we doubt the product would make it out here, given NVIDIA's history of launching devices in the Indian market.
TAGS: gaming console, Tablets, Android, Hardware, Gaming, NVIDIA Shield Tablet, NVIDIA