Nexus 6 Arrives On Flipkart Just In Time For The New Year | TechTree.com
Nexus 6 Arrives On Flipkart Just In Time For The New Year
If you have been waiting for the smartphone to go on sale, we suggest you hit that "Buy Now" button right away.
The Android faithful in India have been waiting and waiting some more for Google's Nexus 6 to go back on sale. While the smartphone perpetually showed an "We're out of inventory" sign on the Google Play Store, it seems to have been out of stock on Motorola's official e-tailer Flipkart as well. Good news is that the Nexus 6 has hit the shelves just now and you can now purchase one and get it delivered to your door step as early as the 2nd of January 2015.
The wait has indeed been a long one. And now every single variant of the Google Nexus 6 be it the Midnight Blue model or the Cloud White version are both available on sale on Flipkart. The online retailer even has an attractive exchange offer on the Nexus 6 and will give you up to Rs 10,000 off on your old smartphone which is indeed a good deal.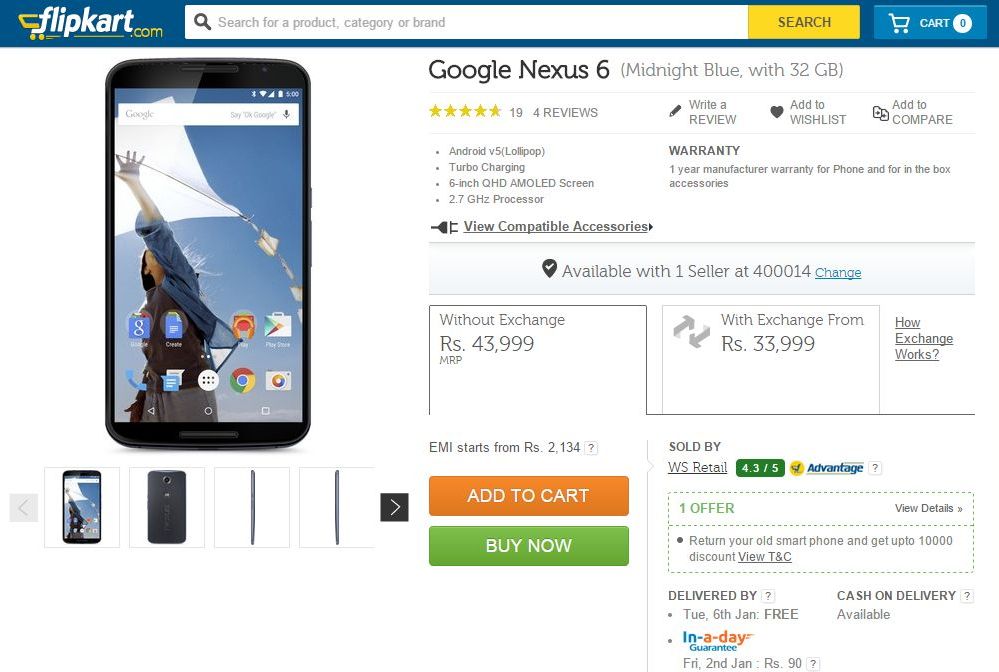 Clearly those who have been waiting must have already been notified and are buying the flagship smartphone designed by Google right now. With so many shortages of Nexus 6 stocks worldwide, we suggest you hit the "buy now" button as soon as possible.
TAGS: Mobile Phones, Android, Motorola, Google Nexus 6, Google