HTC Schedules Its Press Event At CES While Hima Specs Get Confirmed | TechTree.com
HTC Schedules Its Press Event At CES While Hima Specs Get Confirmed
After a number of leaks and rumours, the specs of what would be one of the much-awaited smartphones this year, finally get confirmed.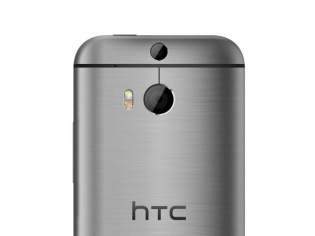 Update: HTC has confirmed with an official invitation that the company will showcase a Desire handset. So we guess that the Hima will make an appearance at the MWC instead. HTC has finally made things official and we can now confirm that the Taiwanese smartphone maker will be present at CES to put up a show. While Sony, Samsung, Sharp and Panasonic have also scheduled events, we are pretty sure everyone will be interested in checking out what HTC has in store as the smartphone maker may actually be the first one to launch a Snapdragon 810-based smartphone.
The press event takes place a day before the official CES opening and since we have not heard from LG yet, we can safely say for now that HTC will steal the show with the announcement of its upcoming flagship, codenamed Hima.
Meanwhile, like true HTC tradition (similar to the One M8) we have been seeing plenty of leaked information regarding the specs of the HTC Hima. But today leaker @upleaks, took things up a notch by delivering the official AnTuTu specs of the smartphone (to prove all his past leaks right).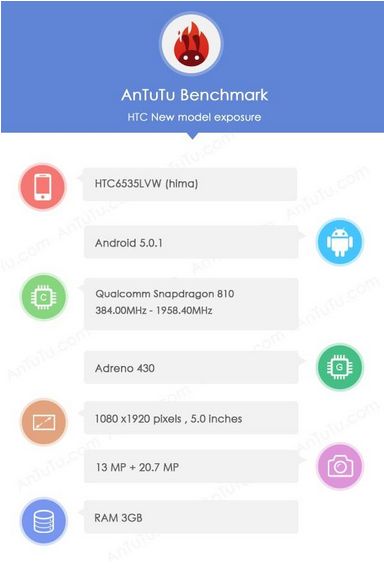 The specs look pretty impressive for now.
While the display remains at 5 inches, it's the Full HD resolution that worries us. But this could indeed work at HTC's advantage thanks to the lower pixel count.
Next up is the processor, which is the all-powerful Qualcomm made Snapdragon 810 SoC clocked at 2.0 GHz, paired with the Adreno 430 GPU and comes with 3 GB of RAM.
With the camera, HTC goes from last to first and will showcase a 20 MP sensor on the back which may or may not be an UltraPixel one. The front-facing sensor seems to be obtained from the Desire EYE handset and remains at 13 MP.
On the software side of things, HTC's Hima will be the first smartphone by the company showcasing the Sense 7.0 UX with Android 5.0 Lollipop below.
Indeed all eyes will be on HTC at the announcement at CES in a week from now, but sources say that the smartphone will launch only after the Mobile World Congress event that happens a few months later in March at Barcelona.
TAGS: Mobile Phones, Android, HTC