Nexus 6 To Include 'Ambient Display' Setting For Smarter Notifications | TechTree.com
Nexus 6 To Include 'Ambient Display' Setting For Smarter Notifications
Obviously this will take a sizeable bit of your Nexus 6' battery life.
While the Android world simply cannot get enough of Google's newest 6 inch Nexus 6, it seems that company may have missed out on some features during its soft launch. One of those has now surfaced ever since a leaked dump of the Nexus 6 has shown up online. Upon installing it on the Nexus 4, a user seems to have found an extra setting under display called 'ambient display'. The feature will allow the phone's display to wake up when it has been picked up, or when notifications arrive.
Yes this is very similar to the original Moto X, the feature that had its name changed from Active Display to Moto Display. Also those into custom ROMs will already be running a software that will allow one to do the same.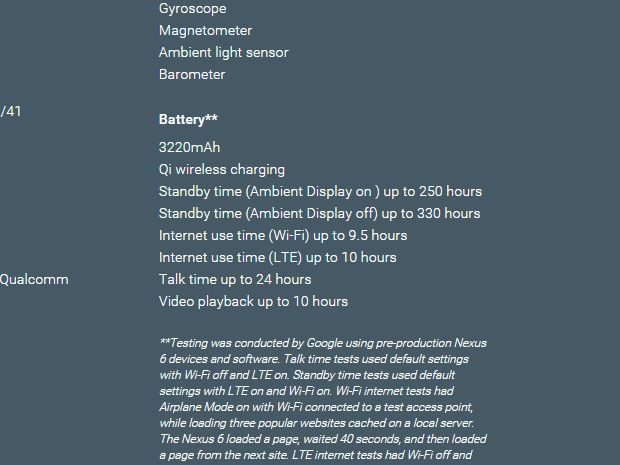 While the feature does sound pretty cool, Google seems to have already made things clear when it announced the Nexus device right on the Nexus 6 page. Apparently, the Ambient Display will chew on some standby time off your Nexus 6. Google mentions that the 3220 mAh will deliver a standby time of up to 330 hrs with Ambient Display off and 250 hrs with it on.
Obviously this is technology that has trickled down from the Moto X since Motorola is the manufacturer for the Nexus 6. But we are pretty sure Nexus users will enjoy it, since they already have plenty of battery life to spare, not forgetting that new Battery Saver mode that comes with the Android Lollipop.

TAGS: mobile devices, Google Nexus 6, Android, Google