The First Android One Smartphones Are Coming In Early September | TechTree.com
The First Android One Smartphones Are Coming In Early September
Expect the devices to be priced between Rs 7,000 and Rs 10,000, which is higher than the planned $100 price tag.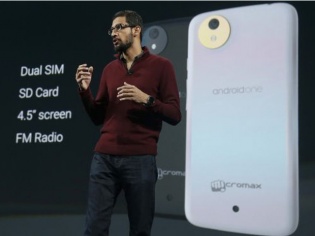 Android One is Google's take on what affordable smartphones should be, and starting early next month the first wave of these devices should make their way to the market. According to the Economic Times, the devices will be priced between Rs 7,000 and Rs 10,000, which is slightly above the target price of $100 (approx Rs 6,000).
Google's partners – Micromax, Karbonn and Spice – will each launch at least one device initially, providing users an experience similar to that of mid-to-high-end smartphones. In an essence, Android One is a minimum hardware standard which the three Indian manufacturers have to follow.
The devices will be powered by quad-core processors, which will most likely be supplied by MediaTek, following news of Google tying up with the chip making giant. The devices will come equipped with 1GB of RAM, little internal storage, but will offer users the capability to expand memory.
Apart from this, smartphones being launched under the Android One umbrella will come with screen sizes ranging from 4.3-inch to 4.5-inch at first. The devices will run on Android 4.4.4 KitKat, but will receive the Android L update sometime in October, which is mighty close to the expected launch date of Google's new software.
[Also read: Google To Spend Rs 100 Crore To Publicise Android One In India]
Great performance and timely updates directly from Google is what should set Android One devices apart from the rest. The concept which the company is adopting is mighty similar to what has made Motorola so successful, especially in the low and mid-range smartphone markets.
The report adds that Google might roll out the Android One program in other emerging markets following its debut in India. The company chose the market as its first due to the fast paced growth, and an incredible demand for low and mid-range devices.
Android One may seem like a superficial term for a set of hardware standards for manufacturers, but Google will take it much further with other activities. The Internet giant made a mention that it would tie up with operators to provide cheap data packs for users of these devices, and will also spend Rs 100 crore on marketing activities.
[Also read: Google To Tie Up With MediaTek For Android One]
Google is putting such a great amount of focus to make sure Android One will be successful, which in turn rewards it with a large number of users of its services. The move also future-proofs the dominance of Android, with many first-time smartphone users being inducted into the Google ecosystem.
TAGS: Google, Android One, Micromax, Karbonn, Spice, budget smartphone, Android L