Facebook's Messenger Finally Gets A Version Built 'For The iPad' | TechTree.com
Facebook's Messenger Finally Gets A Version Built 'For The iPad'
Now users of the iPad won't have to juggle between their smartphone and tablet to message friends and foes.
Instant-messaging clients for smartphones are plentiful, but there's supposedly a market for them on tablets too. Backing that claim is Facebook, who recently launched a version of its Messenger app specifically designed for the iPad.
Apple iPad users will now be able to continue their conversations on Facebook Messenger when they set aside their smartphones, and not having to dig deep within the 'big blue' Facebook App to do so. Messenger for iPad comes with all the features on its smartphone counterpart, except the split-screen selfie camera and tap-to-hold quick video recording function.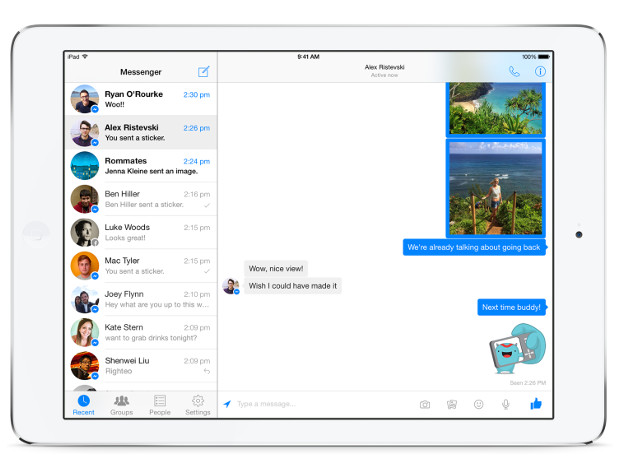 The company so far has given no indication of bringing a version of its Messenger app tailored for Android tablets. The allure of having Messenger on a tablet is quite obvious, with users not having to juggle between devices to do something as simple as sending a message.
[See also: Facebook Messenger Update For Windows Phone Brings It On Par With The Rest]
There's an additional benefit of having both Facebook and Messenger apps installed on your iPad. Tapping the Messages button within the Facebook app opens up Messenger. If you want to go back, all you have to do is tap on the bar at the top of the Messenger app.
Recent surveys show that people use an average of just 23 apps in any given month, and instant-messaging apps, browsers and social networking apps are the ones that get most used on smart devices. This is what makes it so important for Facebook to grow its app base, getting more users to spend more time on its own services.
[See also: Facebook Messenger For iOS Gets Updated; Adds Instant Video Messaging]
TAGS: Facebook, Messenger, Apple, iPad, Apps, instant messaging