Samsung Enters The Dual-SIM Android Fray | TechTree.com
Samsung Enters The Dual-SIM Android Fray
Launches three Gingerbread phones in India.
Indians love dual-SIM phones. Not surprisingly, Samsung had announced dual-SIM Androids at the end of last year. The Korean electronics giant has kept its word by launching three capacitive, touchscreen-equipped Androids at varying price brackets.

The Android 2.3 (Gingerbread) equipped Samsung GALAXY Ace Duos is priced at Rs 17,000. The phone is powered by an 832 MHz processor and bears a 3.5" LCD display. This dual-SIM, dual-active variant of the popular GALAXY Ace will allow you to answer two concurrent calls. The phone can hold GSM and CDMA SIM cards at the same time. Samsung has provided a healthy 1650 mAh battery to cope with the power-hungry OS.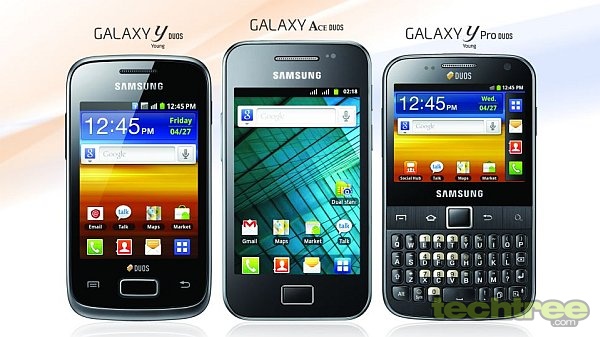 The Samsung GALAXY Y Pro Duos and GALAXY Y Duos are priced at Rs 11,100 and Rs 10,500 respectively. The Pro version mates a 2.5" touchscreen with a QWERTY keypad - much like Nokia's E6 - whereas the plain-vanilla GALAXY Y Duos is outfitted with a larger 3.1" touchscreen sans the keypad.

Like the substantially expensive GALAXY Ace Duos, these cheaper Androids bear the same 832 MHz processor. Other specs include a 3 MP fixed-focus camera and a 1350 mAh battery. According to the Samsung rep, these phones are dual-SIM, dual-standby, which means they won't handle two concurrent calls. At the moment, it's not clear if these budget dual-SIMs are dual-GSM handsets, or a combination of GSM and CDMA.

There's a great demand for cheap Sino-Indian dual-SIM Android phones from brands such as Micromax, Karbonn, and Spice. Samsung just might hit the jackpot, at least with the Y Duos series. However, the GALAXY Ace Duos may turn out to be a hard sell considering its price.
TAGS: Mobile Phones, Multi-SIM, Android, Samsung, GALAXY, Nachiket