Google Locks Android UI For Wearables, TVs And Automobiles | TechTree.com
Google Locks Android UI For Wearables, TVs And Automobiles
In simpler words, no TouchWiz, Sense or other similar skinnings for devices other than mobiles and tablets running on Android.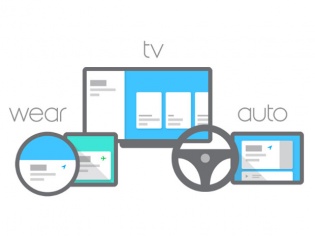 Google made several announcements at last week's I/O event, but most headlines were dominated by Android Wear, Android TV and Android Auto. As the world's most popular mobile OS matures, Google is beginning to push it onto several devices and form-factors, in the hope to create a universal operating system.
However, the company has quietly shifted its strategy when it comes to Android for Wearables, TVs and Cars in comparison to its strategy for mobile. Google will not allow any skinning or modifying of the Android user interface by manufacturers of devices other than mobiles, in an attempt to provide a consistent experience.
Samsung, LG and HTC (and others) have for long released their very own flavours of Android on their smartphones and tablets in order to differentiate themselves from the competition. Manufacturers of any of the newer forms of Android devices will not have such a degree of freedom.
"We want to just have a very consistent user experience, so if you have one TV in one room and another TV in another room and they both say [run] Android TV, we want them to work the same and look the same," said David Burke, Google's engineering director, in an interview with ARS Technica.
While we've heard of no such developments on the front of Android on mobile, the tech community will unanimously agree that it is in fact one of Google's future goals. Another announcement made by Google at its I/O (Android One) even showed that the company wanted a greater control over the hardware OEMs use.
The ultimate goal of all this restraint? Google wants greater control of rolling out software updates and providing a consistent and better user experience. In many ways Google's dream is to be more like Apple, the only difference being Apple provides users with both the hardware as well as the software.
[See also: Android 'L' Is Much More Than Google's 'Next Mobile OS']
Why didn't Google exercise a similar control over OEMs in the early days of Android? Well at that time Google was trying to promote the use of Android on devices manufactured by third parties, and exercising control back then would have scared the manufacturers off. Now however Android devices dominate the market, and Google has proven to OEMs that its operating system is the best out there.
Moreover, an Google's Nexus line of devices running a pure version of Android have been well received by consumers. While the profits earned off selling the devices may be slim to non-existent, the company is using its devices as a reference for other manufacturers to follow.
[See also: Google's Sub-$100 'Android One' Phones Coming First To India]
Motorola's recent rise to success is yet another prime example of how Google's plan has worked, though the argument that it was only possible because Google owned Motorola also stands true. Still, the biggest thing we can take away from this is that Google doesn't want to be a hardware manufacturer, it just wants to make some darn good software.
TAGS: Google, Android, Android Wear, Android TV, Android Auto